1st Lieutenant Thedford O. Davis
Introduction
1st Lieutenant Thedford O. Davis; Born 9 Jan 1898 – Mount Hope, WV; Died 11 Oct 1918 – Morgantown, WV; Co. D, Students' Army Training Camp, Medical Training Camp WVU – US Army
Images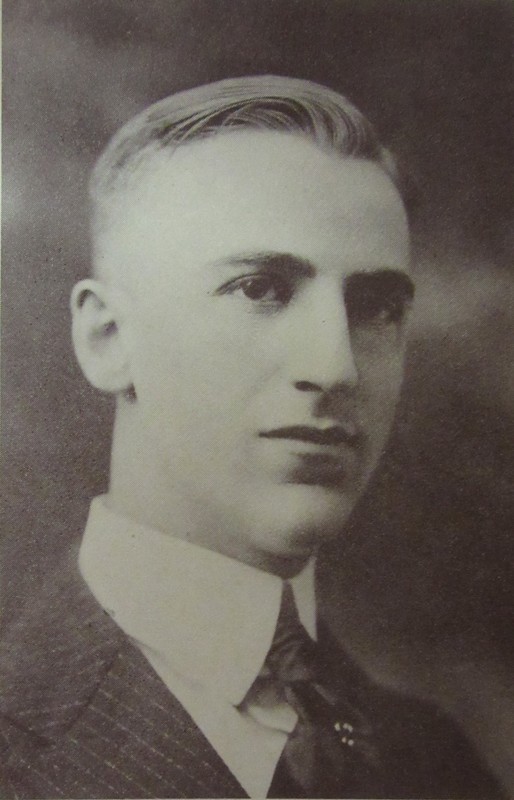 Thedford O. Davis - 1916 Huntington High School Yearbook

Backstory and Context
Thedford Owen Davis was born on October 11th, 1918, in Morgantown, West Virginia, to Dr. Owen and Ida (Duesenberry) Davis. He graduated from Huntington High School in 1916 and attended the Kentucky Military Institute for 4 years. He attended West Virginia University and was enrolled in the University of Michigan's medical program, intending to follow in his father's occupational footsteps. He entered service on September 24th, 1918, and was assigned as a First Lieutenant to Company D of the Medical Training Camp of the Students' Army Training Corps at WVU. This program trained college students to be soldiers in the US Army. He caught pneumonia and died only 17 days after his enlistment, on October 11th, 1918, at Morgantown.
THEDFORD DAVIS PNEUMONIA VICTIM
Thedford Owen Davis, twenty-one, died at the officers' training school, Morgantown University, Friday evening according to word received in this city. He had been ill since Sunday, the cause of his death being pneumonia, His mother, Mrs. Ida M. Davis, Keister apartments, had been at his bedside since Monday.
Young Davis was well known in Huntington, having moved here from Beckley, W.Va.
Davis graduated from Huntington high school in the class of '16 and won many honors there. He then attended Kentucky Military Institute and later the West Virginia University. Deciding to study medicine and follow the profession of his father, the late Dr. Owen Davis, Beckley, W.Va., he entered the medical department of the University of Michigan a few years ago.
 – Huntington Advertiser, October 12th, 1918
Though he never fulfilled his dream of becoming a medical professional, he was buried next to his father in Wildwood Cemetery, Beckley, West Virginia, following a funeral on October 13th:
DAVIS FUNERAL
Rites For Thedford Davis Will Occur At Calloway Home this Afternoon
The remains of Thedford Davis, who died in Morgantown, on Friday, arrived in Huntington last night, and the funeral will occur at three o'clock this afternoon at the home of C.M. Calloway, 1650 Fifth avenue. The body will be taken to Beckley on Monday, where it will be interred beside that of his father.
 – Huntington Herald-Dispatch, October 13th, 1918
As an alumnus, he was honored at Huntington High School's remembrance ceremony:
Proud Offering to Humanity By Huntington High School
SERVICE EMBLEM WITH 245 STARS GIVES EVIDENCE
Memorial Friday Afternoon One of Most Impressive of its Kind Ever Held in City
REV. MAUZZE MADE SPLENDID ADDRESS
Placing of Gold Stars on Flag Was the Feature That Gripped Hearts the Tightest
THREE GOLD STARS SHINE IN FIELD OF LOYAL BLUE
(At the dedication of the high school service flag yesterday afternoon, three stars of gold were placed among over two hundred of blue in memory of David Noble, class of '14, who died in France; Thedford Davis, '16, who died at the mechanical training school at Morgantown, and Halsey Notter, '18, whose death occurred at the Cleveland training school.)…
…The feature of the memorial that gripped the heart the tightest was the placing of the three gold stars over the blue emblems that stood for the three boys who made the supreme sacrifice. This service was performed by members of the respective classes to which these boys belonged. Helen Hutchinson Dickinson affixed the star for David Noble, '14; Loles Prose for Thedford Davis, '16, and Mae Yoho for Halsey Notter, '18….
…Miss Prose dwelt feelingly and lovingly on the qualities of Thedford Davis, that had endeared him to the class of '16….
 – Huntington Herald-Dispatch, November 23rd, 1918
He was also honored in their 1919 yearbook:
Thedford was a graduate in the class of '16 and was personally known to a large circle of Huntington High students and alumni. His classmates wrote at his graduation, "his heart and hands both open, both free. For what he has he gives, what he thinks he shows", and so it proved to be. He gave his life for his country and no man hath greater love than this. Thedford was a member of the S.A.T.C. at W.Va. University when he was attacked with influenza and died a few days later.
[From In the Service of Their Country - used with permission of the author]
Sources
Woodard, Benjamin. In the Service of Their Country: The Story of the Soldiers from Cabell County, West Virginia, Who Gave the Ultimate Sacrifice in the Great War. Sixth Printing. Benjamin Woodard - Lulu, 2019.
Image Sources
Honor Roll of Cabell County, W.Va.

1916 Huntington High School Yearbook - Cabell County Public Library Online Local History Collection

Additional Information