South Park Lofts
Introduction
Built in 1924, the South Park Lofts were originally constructed as an eight-story parking garage. It was one of the first parking structures in the United States and is also one of the few parking garages listed in the National Register of Historic Places. The building has since been converted into lofts and is now known as South Park Lofts. It was designed by Claud Beelman and is one of ten of his buildings that made its way onto the National Register of Historic Places. Other buildings of his include the Board of Trade Building, the Culver Hotel, the Roosevelt Building, and Woodbury University.
Images
A shot of the building as it stands today.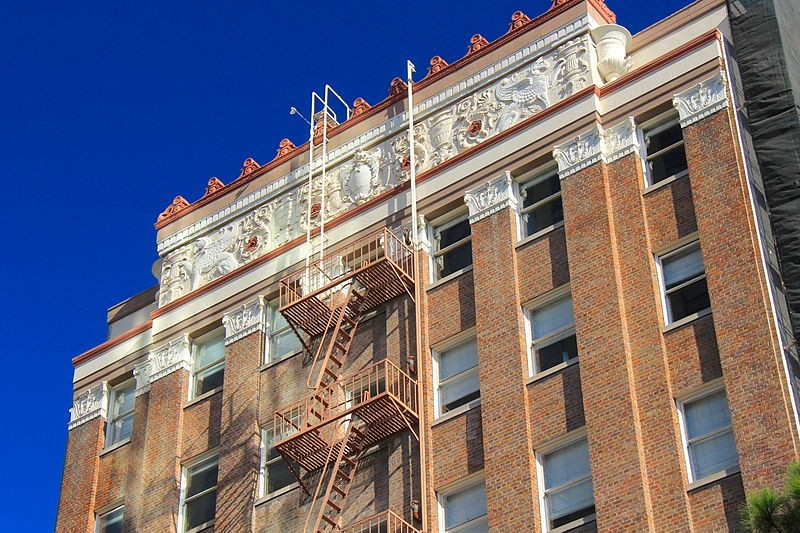 Backstory and Context
As the prominences of automobiles began to rise in the early 20th century, traffic congestion and parking space started to become a big problem, especially in downtown areas. In 1923, the Downtown Business Men's Association, along with Mayor George Cryer, began advocating for the construction of parking structures.
And that's exactly what local business man Ken Stoakes did. He constructed an 85,000 square foot parking garage on Grand Avenue. He hired Claud Beelman to design a building that would maintain a continuity with other office buildings, stores, and hotels on the street. The result was the Beaux Arts structure that still stands today, complete with windows and other decorative details that mirrored the streets other buildings.
The garage opened in 1924 to much buzz among city residents. In 1925 "Stoakes told the LA Times, "Parking along the curb downtown is bad enough at best. With the frantic attempt of thousands of Christmas shoppers to squeeze in the already available jammed parking space, it is almost suicidal to the appearance of any respectable-looking car". Throughout its early years, the new garage was used primarily by Bullock's department store. Shoppers could park in the garage for free for two hours if they made a $1 purchase at Bullocks.
In the 1950s the building was taken over by Pacific Telephone & Telegraph Co. They originally used it as employee parking, but eventually converted it for use as offices and storage. The building maintained its use as an office block for a few decades, changing ownership a few times along the way.
In 2002 it was purchased by Martin Building Co. and converted into 49 upscale lofts at a cost of $10 million. In August 2004, the California Historic Resources Commission granted historic landmark status to the building.
Additional Information