Lorado Taft Midway Studios
Introduction
This historic artist studio is now the home of the visual arts department at the University of Chicago. The studios date back to Lorado Taft, an influential sculptor who converted two barns and a Victorian house for use as his studio from 1906 to 1929. Lorado produced several noted Beaux–Arts monuments, including Fountain of Time near the University of Chicago campus. He was also a relative of President William Howard Taft. Lorado Taft was one of the most accomplished sculptors and art educators in the state of Illinois during the late 19th and early 20th centuries. His sculptures can be found across the city and the country, and he is particularly renowned as being one of the earliest American sculptors to work with group compositions . His main studio was within a large, deserted brick barn located on Ingleside Avenue. The site was added to the List of National Historic Landmarks in Illinois in 1965, and it is owned and managed by the University of Chicago. The original studios have been refurbished, and now serve as the university's Department of Visual Arts.
Images
Established in 1907, this studio became the epicenter of artistic exploration in this section of Chicago and the work of artists at this studio influenced for decades to come.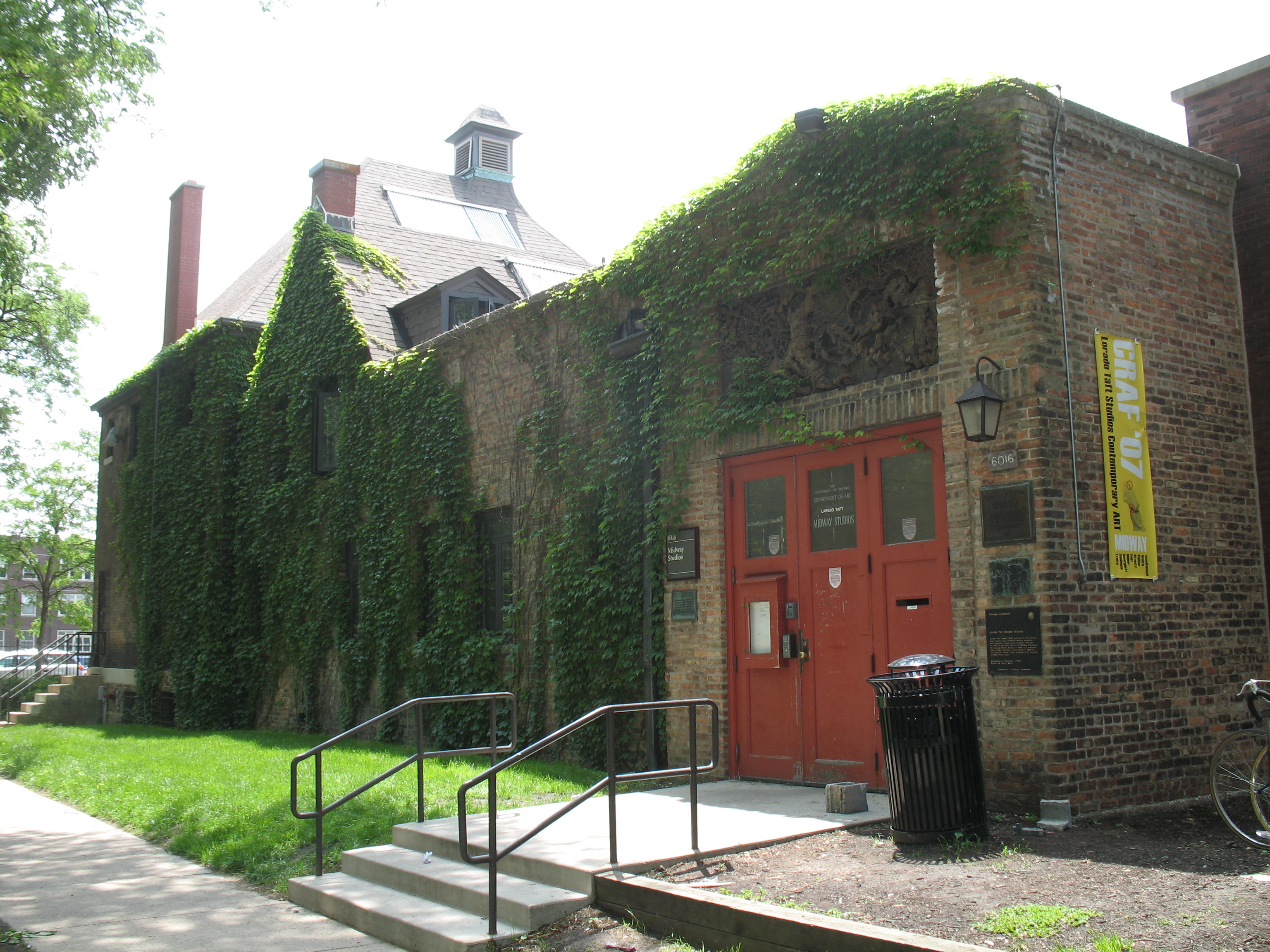 Fountain of Time (1910-22), Midway Plaisance, Chicago, Illinois. By Photograph: Conrad LeeSculpture: Lorado Taft (1860–1936) - Transferred from en.wikipedia to Commons., Public Domain, https://commons.wikimedia.org/w/index.php?curid=11336031

Fountain of the Great Lakes" by Lorado Taft. http://galleries.apps.chicagotribune.com/chi-lorado-taft-sculptor-vintage-photos-20150422/#chi-lorado-taft-sculptor-vintage-photos-201504-004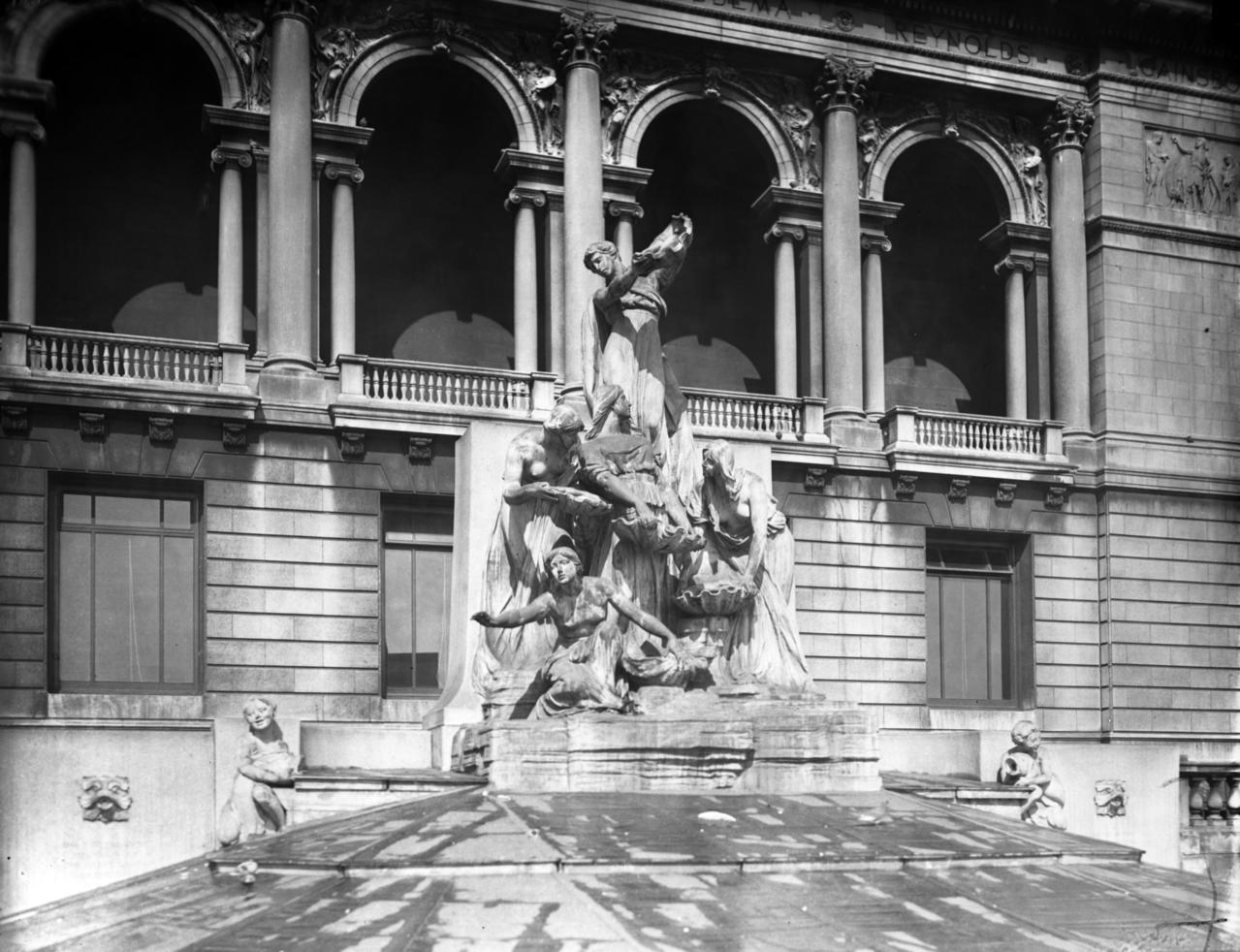 Backstory and Context
The Lorado Taft Midway Studios date back to the work of sculptor Lorado Taft (1860 - 1936) who worked out of these studios from 1906 to 1929. Taft specialized in sculpting realistic works of monumental scale including memorials, and military monuments; large fountains, group sculptures; and portraits. Along with his art, Taft wrote and worked as an art teacher and lecturer, All told, Taft extraordinarily influenced Midwestern artists and American sculpture.
Taft was born in Elmwood and studied at the Illinois Industrial University (known today as the University of Illinois at Urbana-Champaign), earning a bachelors with honors and a Master of Arts before moving to Paris in 1880 to study sculpture.There he attended the École nationale supérieure des Beaux-Arts. Taft returned to Illinois in 1886, and took a job teaching at the School of the Art Institute of Chicago, where he introduced marble carving to the institute's curriculum for the first time. During this time he created a staggering range of memorials, fountains, group and individual sculptures, civilian and military monuments, and portraits. Amongst the most notable of these are "Lincoln, the Young Lawyer", "The Pioneers", "Alma Mater", the"Columbus Memorial Fountain" in Washington, D.C. and his monument "Black Hawk" in Oregon, Illinois.
Taft attended the University of Illinois from 1875 to 1879, where he graduated with honors as an undergraduate, which led to obtaining a Master of Arts degree in 1880. Afterward, he spent three years in Paris as a student at the Ecole des Beaux Arts where he was cited as "top man" in his studio, and also exhibited his work twice at the Salon.
Taft returned to Chicago in 1886 and subsequently opened a studio and joined the faculty of the Chicago Art Institute, where he taught art and lectured until 1907. As an instructor, he introduced new sculpting methods comprised of carving marble instead of traditional clay and plaster carving. He was also known for his technique of assigning group composition projects to students rather than concentrating on sculpting individuals.
Taft taught at the Chicago Art Institute until 1907. In 1906 he had acquired the brick barn on Midway and moved his studio there. He extended the original building with two additional frame barns, to be used as dormitories and studios for other artists and his assistants. In time, he extended the labyrinthine complex to include a warren of corridors, hidden spaces, balconies, and thirteen high-ceilinged studios surrounding a large, roofed courtyard with a fountain. On one end of this courtyard was a plaster case of Taft's well-known bronze work, "Great Lakes". Other buildings that were added include a kitchen, a room for cutting marble, and a stage where they held theatrical performances. He also made use of the Victorian building on the corner of East 60th Street, which is today the University's Department of Sociology. Although Taft did not give lessons during his time at the Midway Studios, young artists were encouraged by him to observe and help as he worked.Taft called a space underneath his own studio the "Dream Museum". In here, he stored most of his original plaster models and studies, and his sculptural group "The Blind". He also made dioramas depicting the studios used by eight of the best-known Greek and Renaissance sculptors.
Taft left the Midway Studios in 1929, at which point ownership of the building transferred to the Associated Sculptors. When Taft died in 1936 the complex was used for storage by the university, until it was given to the Art Department. They did major renovations to the studios in 1966, in which a new painting studio was constructed and new kitchen facilities were installed, though the character of the original studios remained largely unchanged.
Today, the courtyard is used as a gallery space for sculptors-in-residence and the students of the Department of Visual Arts, who continue to use the original studios.
Taft's influence as a teacher matched his success as an artist. His favorable reputation afforded him many opportunities including sculpting William Le Baron Jenney's Horticultural Building (1893) at the World's Columbian Exposition. He followed that project with numerous other expensive public projects such as the Blackhawk (Oregon, Illinois, 1911), The Columbus Fountain (Washington DC, 1912), The Fountain of the Great Lakes (Chicago, 1913), The Fountain of Time (Chicago, 1922), and Alma Mater (Urbana, 1929).
Inspired by his love of public beautification, he also became a prolific writer, contributing various articles to both newspapers and journals, as well as his most well-known work, a comprehensive survey known as The History of American Sculpture (1903).
Sources
Cioffi,, Daniel Vincent. Lorado Taft (American, 1860–1936). University of Chicago Arts. Accessed July 20, 2017. https://arts.uchicago.edu/public-art/by-artist/lorado-taft.
Garvey, Timothy J. Lorado Taft and Chicago Sculpture. Encyclopedia of Chicago. Accessed July 21, 2017. http://www.encyclopedia.chicagohistory.org/pages/1723.html.
Schroer, Blanche Higgns,. Nomination Form: Lorado Taft Midway Studios. National Register of Historic Places. September 08, 1983. https://npgallery.nps.gov/GetAsset/0f845ee0-52e5-41d4-af27-15fab00ca554.
Weller, Allen Stuart.
Lorado Taft: The Chicago Years
. Edited by La France Robert G., Adams Henry, and Thomas Stephen P. University of Illinois Press, 2014. http://www.jstor.org/stable/10.5406/j.ctt6wr6mb.
Additional Information