Temple Beth-El
Introduction
This beautiful Moorish Revival synagogue was built in 1900. It is one the few surviving temples in Texas designed in this style. Its most striking features are the two onion domes that sit atop towers on each side of the building, making the synagogue arguably the most unique structure in Corsicana. It was added to the National Register of Historic Places in 2000. Today, members of the Jewish community in Corsicana and other towns worship here one Friday every month when it is available.
Images
Temple Beth-El was built in 1900 and is a striking reminder of Corsicana's once thriving Jewish community of the first half of the 20th century.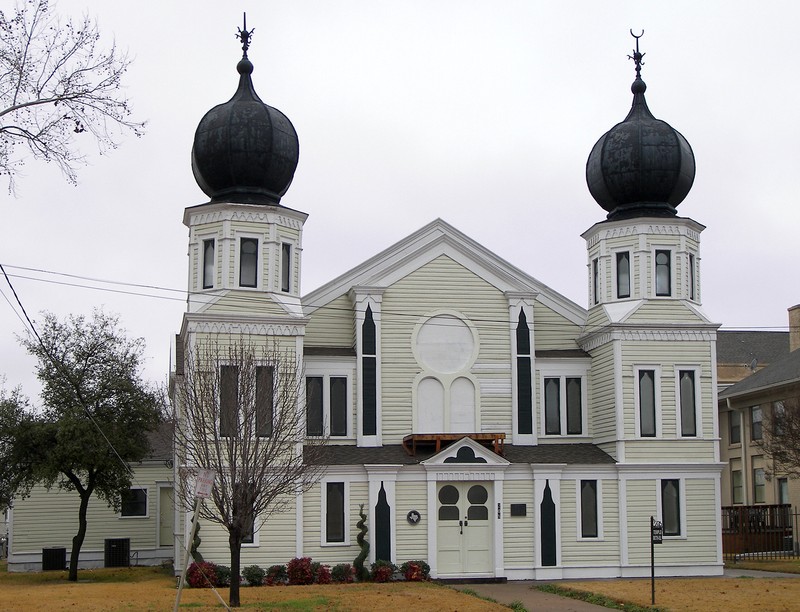 Backstory and Context
The temple is not only significant architecturally, it is a reminder of what was once a vibrant Jewish community in Corsicana. The Jewish community was established in 1871, the same year the Houston and Central Texas Railroad arrived. The surrounding fertile land attracted the railroad, farmers, and merchants, many of whom were Jewish. By 1898, the community grew enough to justify the arrival of its first permanent rabbi and the construction of the temple. Before that, the community worshipped in homes. In 1894, oil was discovered. This, of course, was a boom for the town's economy and further attracted Jews and others to Corsicana.

The Jewish community began to decline in the mid-1950s as young people moved to bigger cities and elderly members began to pass away. By 1982, the congregation decided to disband and the poor state the temple was in threatened it with demolition. However, locals, led by the Navarro County Historical Society, recognized that the architectural and cultural significance of the building justified its preservation and it was ultimately saved.
Sources
"Corsicana: Historical Overview." Encyclopedia of Southern Jewish Communities. Accessed August 1, 2017. http://www.isjl.org/texas-corsicana-encyclopedia.html.

Fahey, Linda & Stringer, Tommy. "Temple Beth-El". National Park Service - National Register of Historic Places Nomination Form. February 3, 1987. https://atlas.thc.state.tx.us/NR/pdfs/86003687/86003687.pdf.

Photo:
Larry D. Moore, via Wikimedia Commons
https://en.wikipedia.org/wiki/Temple_Beth-El_(Corsicana,_Texas)#/media/File:Temple_beth_el_corsicana...
Additional Information