McFarland Park
Introduction
McFarland Park is one of the crown jewels of the Florence Parks and Recreation department and has been been enjoyed by the citizens of the area for over 10,000 years! This park, nestled between the Tennessee River and Downtown Florence, is conveniently located to almost everything Florence has to offer. The park is host to numerous festivals and special events such as the annual Trail of Tears motorcycle ride and the BassMasters Fishing Tournament. Families will feel right at home in this park. There are playgrounds, lighted walking trails, a floating restaurant, a lighthouse, and a beach area.
Images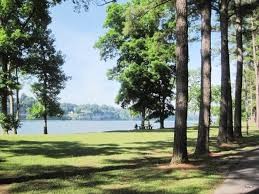 Backstory and Context
Park History
McFarland park, near the mouth of the Cypress Creek, was inhabited by Archaic people as early as 8,000 B.C. Their main food consisted of freshwater mollusks from the river. The mussels and the bicep shape formed by the bend in the river here, were the origin of the name "Muscle Shoals."
The Woodland and Copena cultures, associated with he nearby Florence Mound, arrived around 2,000 b.c. and remained almost 3,000 years. About 800 A. D. the Mississippian Civilization established villages here and on adjoining islands. Many of the Indian mounds in the Tennessee Valley were built by them.
For almost 300 years this area was home of the people known as Historic Indians. The first were the Euchees from the Great Lakes areas. They were soon ousted by the Shawnees from the Ohio River. The Shawnees were evicted in 1715 A. D. by the Cherokee and the Chickasaws. The Cherokees signed away their rights to this areas in 1806. The Chickasaw held their claim until the treaty of 1816. In the Summer of 1787, a skirmish occurred nearby between a party of Creeks and a company of militia from Nashville. The Chief, Bigfoot was killed.
1)
http://florenceal.org/City_Departments/Parks_Recreation/Parks/McFarland_Park/index.html
Sources
http://florenceal.org/City_Departments/Parks_Recreation/Parks/McFarland_Park/index.html
Additional Information