Montgomery's Slave Markets and First Emancipation Observance Historical Marker
Introduction
This historical marker was erected in 2001 and its two sides represent significant milestones in Montgomery's history. The first side shares the history of this location as home to the Artesian Besin Slave Market. The second side commemorates the first observation of a ceremony commemorating the end of slavery which was led by former slaves at this location in 1866.
Images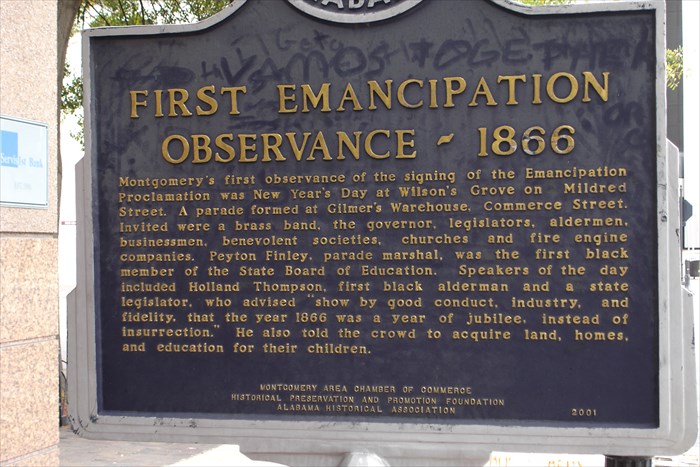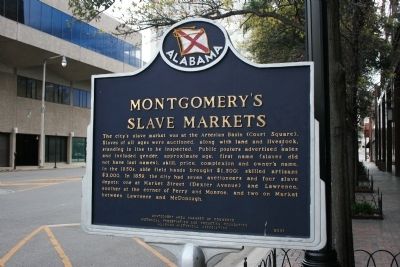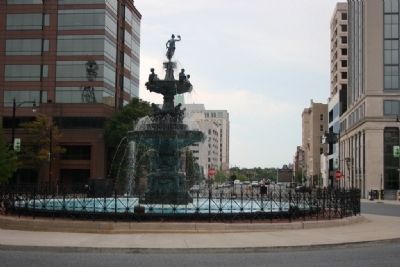 Backstory and Context
At this location, slaves of all ages were auctioned publicly alongside other commodities such as land and livestock. Sales were advertised with the slave's gender, approximate age, first names (slaves last names often changed with each sale), skills, price, complexion and the name of the last owner. In 1859, the city had seven auctioneers and four slave depots: one at Market Street (Dexter Avenue) and Lawrence, another at the corner of Perry and Monroe, and two on Market between Lawrence and McDonough.

According to historians, slaves shipped from the Alabama River were traded along with mules and other livestock. The marker recounts the story about the telegram to fire on Fort Sumter, sparking the Civil War. This spot also marks the location where Rosa Parks boarded a bus in December 1955, an event that led to her arrest and the Montgomery Bus Boycott.

While one side of the marker represents shame and despair, the other side represents a triumphant moment in African American history.In 1863, President Abraham Lincoln declared in the Emancipation Proclamation stating that all persons being held as slaves in the rebellious states would be recognized by the Union government as being free unless the rebel states returned to the Union. When the Confederacy crumbled under the weight of the Union army, the South agreed to ratify the 13th Amendment which ended slavery.

Montgomery's first observation of the Emancipation Proclamation was on New Year's Day at Wilson's Grove on Mildred Street. A parade formed at Gilmer's Warehouse on Commerce Street. There was a brass band, with the governor, legislators, aldermen, businessmen, benevolent societies, churches and fire engine companies in attendance. Peyton Finley, the parade marshal, was the first Black member of the State Board of Education. Speakers of the day included Holland Thompson, first Black alderman and a state legislator, who advised "show by good conduct, industry, and fidelity, that the year 1866 was a year of jubilee, instead of insurrection." He also told the crowd to acquire land, homes, and education.
Sources
Carr, Timothy. Montgomery's Slave Markets / First Emancipation Observance - 1866. The Historical Marker Database. March 04, 2010. Accessed August 04, 2017. https://www.hmdb.org/marker.asp?marker=28187.

Spear, Ken L. Marker Tells Stories of Slave Trade, Freedom. Alabama Black History. January 02, 2002. Accessed August 04, 2018. http://www.alabamaBlackhistory.com/news/news-020102-Marker.htm.

First Emancipation Observance - 1866. Alabama Historical Markers on Waymarking. October 08, 2011. Accessed August 08, 2017. http://www.waymarking.com/waymarks/WMCRYM.