Ruhstaller Building
Introduction
Frank Ruhstaller was a Swiss immigrant who came to Sacramento as a young man. In 1881, he founded the Ruhstaller Brewery, which became one of the city's leading breweries. The building is listed on the National Register of Historic Places.
Images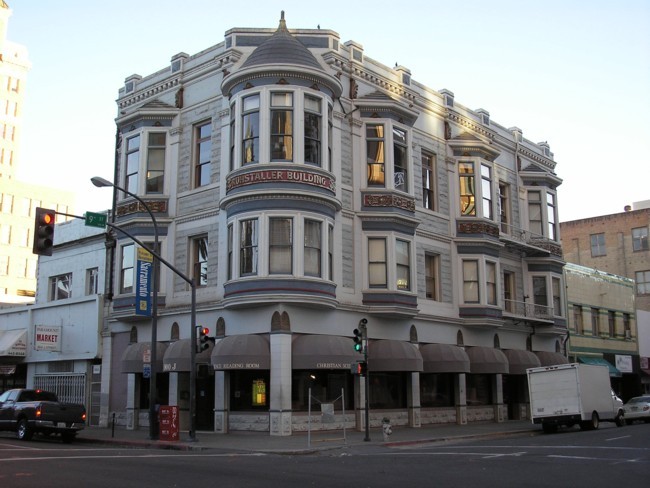 A view of Ruhstaller Brewery in its heyday. A Swiss national who immigrated to the United States in 1862, Ruhstaller worked at breweries in New York, Kentucky, and Indiana before moving to California. California Public Library.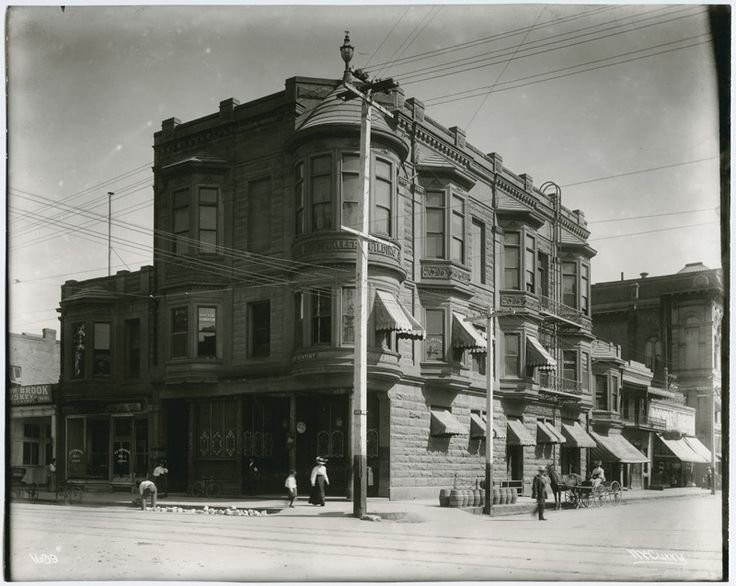 Captain Frank Ruhstaller. Though his business interests eventually spanned several industries, including banking, he was a brewer by trade, having learned the craft in his native Berne, Switzerland. Center For California History.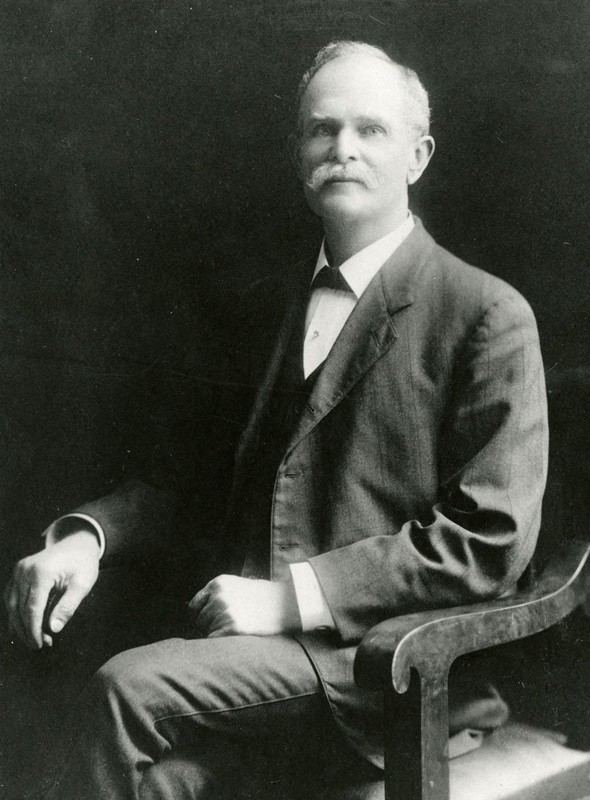 An excerpt from Ruhstaller's obituary in the Sacramento Union in 1907. He was known as "Captain" Ruhstaller due to his service in the California Hussars, a National Guard unit from the 19th Century. Ruhstaller was also an accomplished marksman.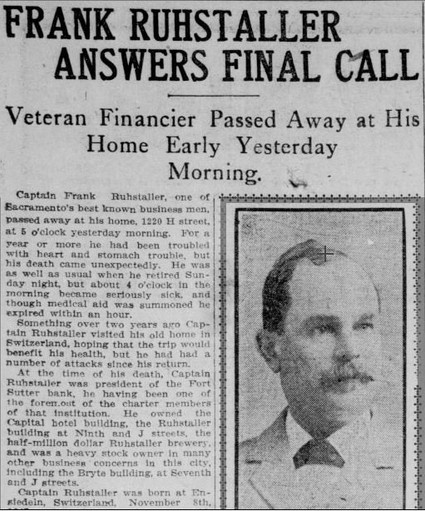 Though he worked for several California breweries before starting his own, Ruhstaller's beer soon became "hardly second to any in the state." The Gilt Edge was particularly well known. Courtesy of Midtown Monthly.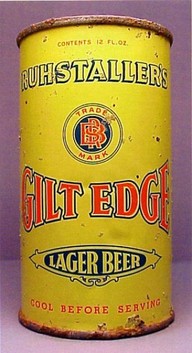 Ruhstaller was also known for his "judicious advertising," which no doubt helped propel his brand to new heights. He is buried in the Sacramento City Historic Cemetery, along with several other prominent brewers of the era.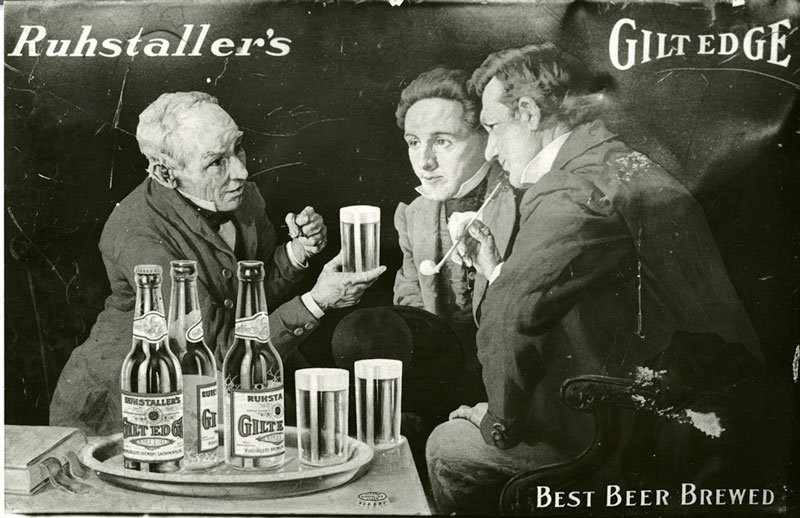 Ruhstaller's advertising went to great lengths, as seen in this 1899 Gilt Edge baseball team photo. Company baseball teams, such as those sponsored by coal operators in West Virginia, were not unusual for the time. Sourced from Esteban Kadle, Pinterest.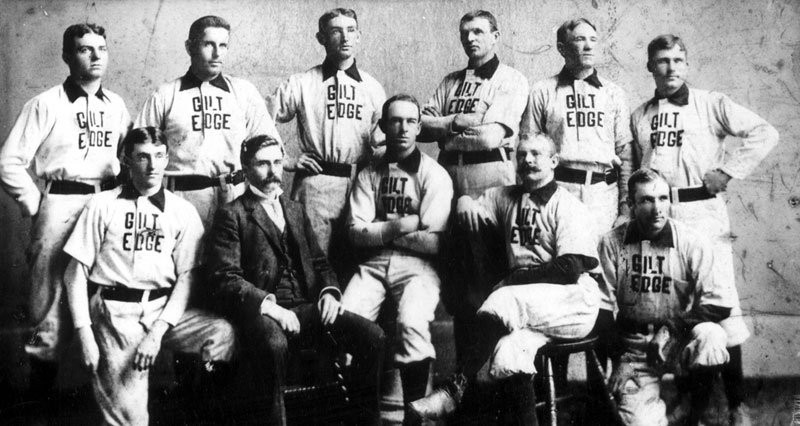 Backstory and Context
In the late 1800s, the beer industry was a major part of Sacramento's economy. The city was well-known for its locally-grown hops, and a number of breweries flourished there. Hops continued to be widely grown in and around Sacramento until Prohibition in the 1920s.

Frank Ruhstaller immigrated to the United States from Swtizerland as a young man in 1862. He helped found and managed the Buffalo Brewing Company--at that time the largest brewery west of the Mississippi--and the Forum Investment Company. By the time he was 35, Ruhstaller was successful enough that he began his own brewery, Ruhstaller Brewing. To house his business ventures, he had the Ruhstaller Building built at the corner of 9th and J Streets. The building was one of the first in the city to use air conditioning.

Prohibition ended Sacramento's beer producing heyday. For many years, the Ruhstaller Building housed offices and businesses. Recently, however, breweries are making a comeback in Sacramento. In 2011, entrepreneur J.E. Paino, who had long been fascinated by the building, bought the Ruhstaller brand and launched a new, Sacramento-produced beer called Ruhstaller 1881. Like its namesake's products, the new beer is produced with only locally grown hops.

The Ruhstaller Building was added to the National Register of Historic Places in 1982.



Sources
1. History. ruhstallerbeer.com. Accessed August 07, 2017. http://ruhstallerbeer.com/history/.

2. "Frank Ruhstaller Answers Final Call." Sacramento Union(Sacramento), October 29, 1907. https://cdnc.ucr.edu/cgi-bin/cdnc?a=d&d=SU19071029.2.61


Additional Information