The Chestnut Street Methodist Church
Introduction
One of the few remaining buildings designed in the Gothic Revival architectural style in the entirety of the city, Portland, Maine's Chestnut Street Methodist Church stands as an exemplary specimen of an architectural style that is fading from the face of Maine. The Church was designed by a renowned architect of the time by the name of Charles A. Alexander, whose other marvelous designs dot the City of Portland. Having served the City of Portland in multiple faculties over the years since its construction in 1856, the Church now serves as the home of the "Grace" restaurant, which seeks to offer a quality dining experience beneath the colored sunlight that pours in through the Church's stained glass windows.
Images
The Methodist Church on Chestnut Street in December of 2011, Photo by user Namiba of Wikimedia Commons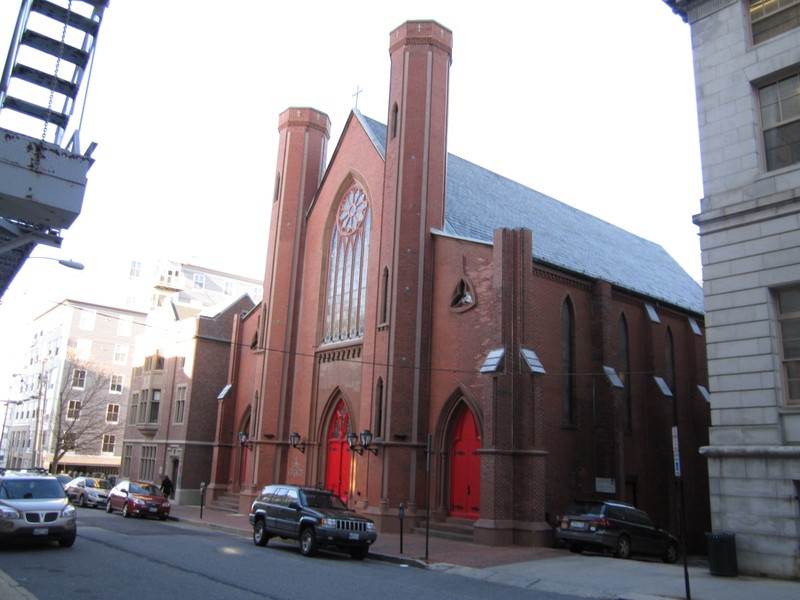 Backstory and Context
Previous to 1856, the stalwart Methodist community of Portland had been meeting in the buildings that previously inhabited the site since at least 1808. Charles Alexander was the one to undertake the project to give the Methodist community a spiritual home in the physical world. Alexander designed the Church in the Gothic Revival style, which was characterized by complex, intricate designs, stained glass windows, and lancet arch-work. The Chestnut Street Church exhibits all of these features, including set-back buttresses that are frequently seen in the architectural works of the original Gothic era.
Charles Alexander had done extensive works in the City of Portland previous to his work on the Chestnut Street Methodist Church. His work included St. Lukes Episcopal, J.B. Brown's "Bramhall" estate, the Libby House, J.B. Brown's Sugar House, and the Union Street Church. Most of his works have been either demolished throughout the years, or heavily altered. Only the Chestnut Street Methodist Church stands as a largely unaltered example of his work.
The Chestnut Street Church holds a special title that no other Methodist church in the world can claim: it was the first Methodist church to house a pipe organ. Much of the original organ still resides within the Church to this day. In 1924, as the result of a growing congregation from a union with two nearby churches, the church constructed a community house and a gymnasium that were built to match the Gothic Revival architectural style.
Located so close to the downtown of Portland, amid buildings of much different styles, the Chestnut Street Methodist Church stands out as a solitary reminder of the style that so many great architects of the late 1800s worked in. Though it is no longer used as a church, the Grace restaurant has sought to preserve the Church's historical integrity whilst ensuring the building maintains financial viability. The interior has been somewhat renovated to allow for restaurant usage, but the majority of the core architecture remains. The restaurant preserves the original pews in the central area of the Church, and the original pulpit is maintained for use by the host/hostess.
Sources
Chestnut Street Methodist Church. Wikipedia.org. Accessed August 12, 2017. https://en.wikipedia.org/wiki/Chestnut_Street_Methodist_Church_(Portland,_Maine). Meta-source for general information on the church

NRHP Nomination Filing for Chestnut Street Methodist Church. National Park Service. February 15, 1977. Accessed August 12, 2017. https://npgallery.nps.gov/pdfhost/docs/NRHP/Text/77000063.pdf. Official NPS NRHP nomination filing for the Chestnut Street Methodist Church

About Us, the Grace Restaurant. The Grace Restaurant. Accessed August 13, 2017. https://www.restaurantgrace.com/about-us. Information about the current caretakers of the Chestnut Street Church

Gothic Revival Architecture. Wikipedia.org. Accessed August 13, 2017. https://en.wikipedia.org/wiki/Gothic_Revival_architecture. Meta-source for general information on the Gothic Revival architectural style


Additional Information