Lewis Temple Monument
Introduction
A monument to a local innovator named Lewis Temple was erected on the front lawn of the New Bedford Public Library in 1987. Temple was a former slave who became a free man and a skilled blacksmith. He invented a toggle harpoon used by the local whalers. His design was a massive contribution to the whaling industry. The monument shows Temple standing and examining the end of his harpoon.
Images
Lewis Temple Monument outside of the New Bedford Public Library (Courtesy of the New Bedford Guide)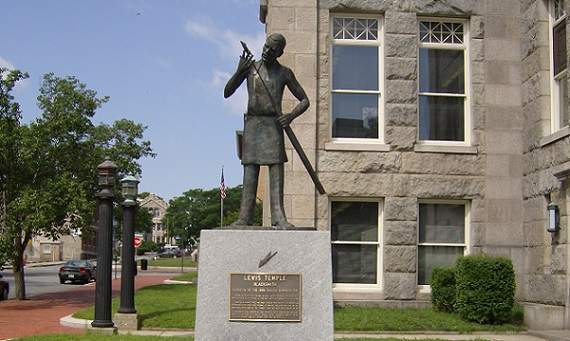 Lewis Temple Memorial Plaque (Courtesy of the New Bedford Guide)
Backstory and Context
Lewis Temple was born in Richmond, Virginia in 1800. By 1829, he had arrived in New Bedford, Massachusetts. Temple had been born a slave over sixty years before the American Civil War ended the trade. He was a free man once he made it to New Bedford. Temple became an active member of the abolitionist movement in New Bedford, perhaps due to his past experiences as a slave in the South. He was one of the black auxiliaries to the Massachusetts Anti-Slavery Society and served as Vice President of the New Bedford Union Society.
Temple was a skilled blacksmith who is credited with inventing a new, better type of whaling harpoon. The "Temple Toggle Iron" was first created in 1848. His design had a pivoted tip. When the tip penetrated the whale's body, it would twist and become embedded in the blubber. This improved the whaling industry since previous harpoons simply pierced the animal's skin but could slip out while the whale struggled to regain its freedom.
Lewis Temple died in 1854, a few weeks after an accidental fall. He was walking by the construction site of his new shop and slipped from a plank that was held over an open sewer trench. He sued the city and won $2,000, but did not live long enough to see any of it. After his death, the money was used to pay off various business debts. Unfortunately, his family was left with very little.
A monument to Temple's memory was commissioned by the City of New Bedford in 1985. A local African-American sculptor, Jim Toatley, started work on the project but he died after completing only a small model of the memorial. His design was mechanically enlarged to show a six-foot tall figure. Temple is dressed in an apron, examining the end of one of the harpoons he has been producing. The likeness used as a model for Temple's statue is actually his son, Lewis Temple, Jr. Lewis Temple lived in an era when photography was reserved primarily for the wealthy elite. Therefore, no picture of him was available when the monument was planned. The Lewis Temple Memorial was dedicated before the Free Public Library in New Bedford, Massachusetts on July 5, 1987.
There is a plaque on the pedestal, below Temple's standing figure, which reads: ""Lewis Temple / Blacksmith / Inventor of the iron toggle harpoon tip / Born in Richmond, Virginia, in 1800, Lewis Temple established himself as a blacksmith on the New Bedford Waterfront by 1836 / Temple manufactured his first toggle-iron in 1848. It's fastening power revolutionized the catching of whales. The invention was never patented, therefore his only royalty was the name that clung to it / He died in New Bedford in 1854. Millions were made in the whaling industry because of Temple's toggle. After business debts were cleared, there was no legacy left for his family."
Sources
Lewis Temple. New Bedford Historical Society. Accessed September 29, 2017. http://nbhistoricalsociety.org/Important-Figures/lewis-temple/.

Lewis Temple, Inventor for the Whaling Industry. African-American Registry. Accessed September 29, 2017. http://www.aaregistry.org/historic_events/view/lewis-temple-inventor-whaling-industry.

Silvia, Joe. Historical Personages of New Bedford: Lewis Temple. New Bedford Guide. May 08, 2013. Accessed September 29, 2017. https://www.newbedfordguide.com/lewis-temple/2013/05/08.

Lewis Temple Memorial. Destination New Bedford. Accessed September 29, 2017. http://destinationnewbedford.org/listing/lewis-temple-memorial/.

Additional Information