Thorny Mountain Fire Tower
Introduction
Built in 1935 by the Civilian Conservation Corps, this 53-foot steel tower provides incredible vantage over Seneca State Forest, with views all the way across the state line into Virginia. It is available for overnight rental through the state park. Plans are being made to restore some of the original fire lookout tools so guests can experience more of what it was like during the tower's active service.
Images
View from the ground of Thorny Mountain Fire Tower.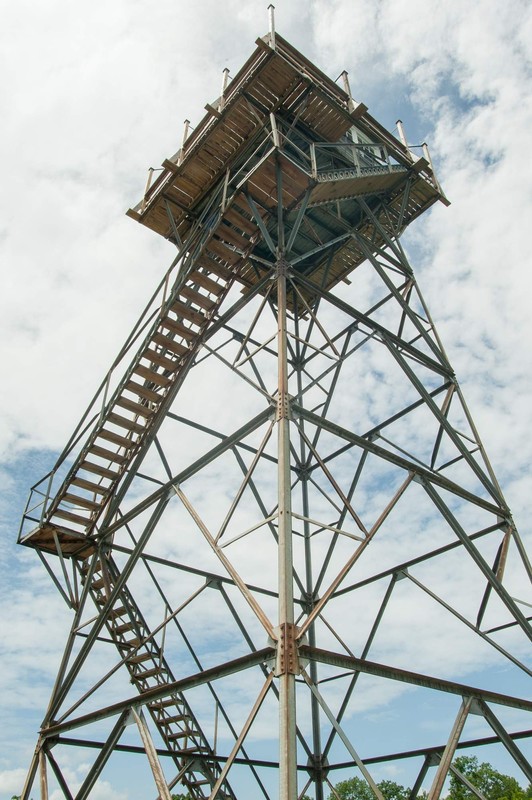 Aerial View of Thorny Mountain Fire Tower.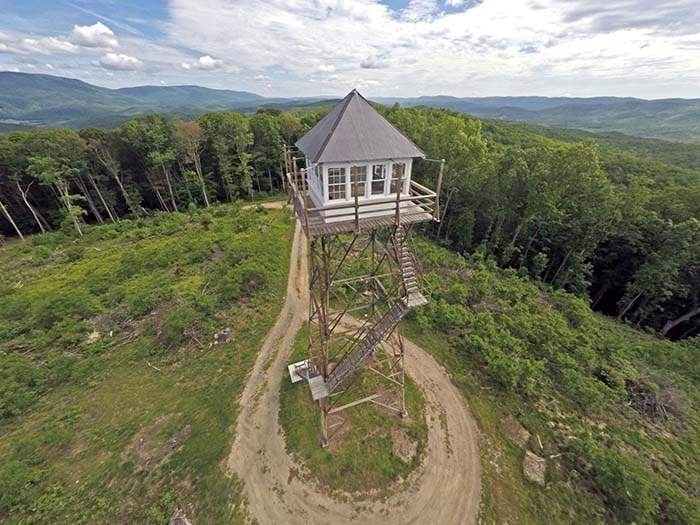 Current refurbished interior of Thorny Mountain.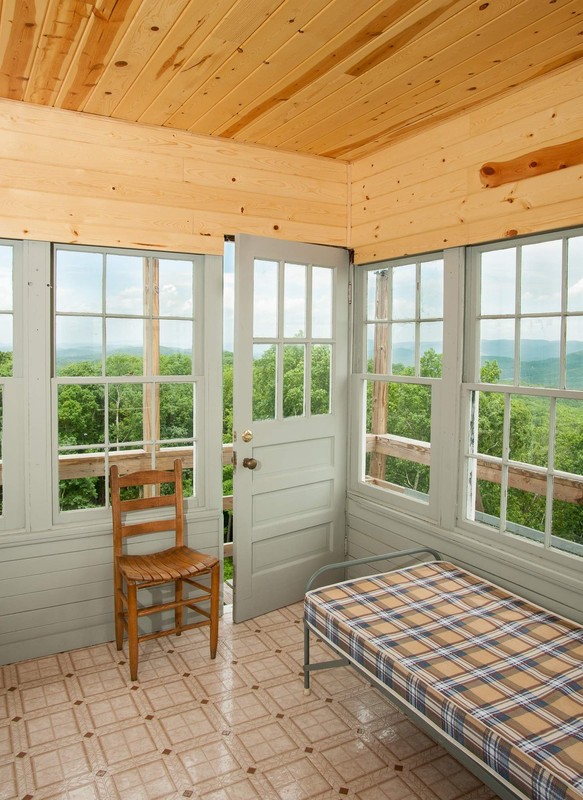 An Osborne Fire Finder alidade, used to calculate the coordinates of a fire. Photo courtesy of Charles White, https://commons.wikimedia.org/w/index.php?curid=45478559.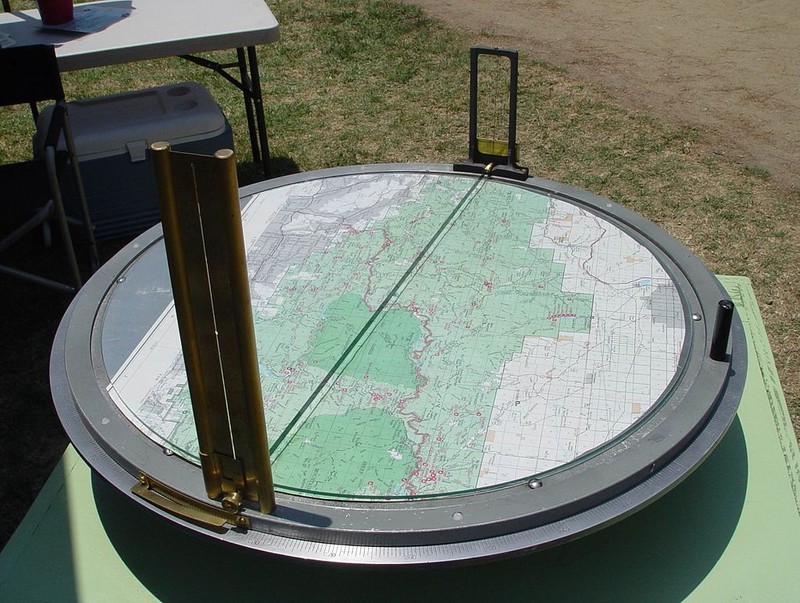 A primitive early fire observation tower at Turkey Mountain, Webster County. These were replaced by more permanent structures in the 1920s.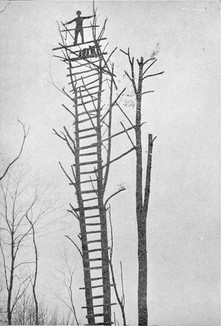 Olson Fire Tower in Tucker County. Note the cab is too small to provide living quarters, unlike the larger cab at Thorny Mountain. Photo by Chris Lawrence, MetroNews.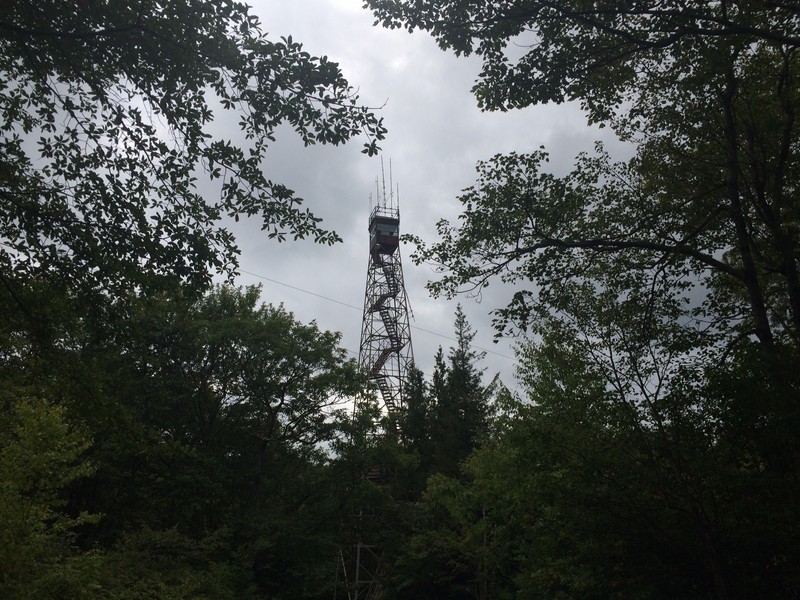 A "Jenny Lind" style fire tower at Signal Knob in Pocahontas County. A simple wooden structure, where the top floor was used for observation and the bottom for living quarters.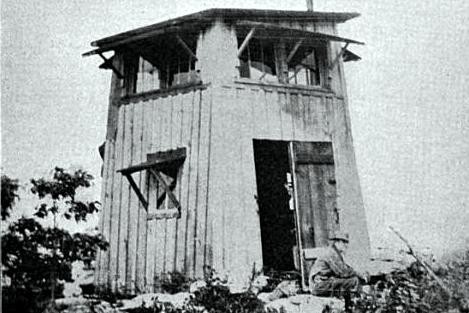 The refurbishing of Thorny Mountain. Materials were hauled up to the cab by rope and pulley, as supplies would have been during the days of the tower's operation. Photo by Chris Dorst.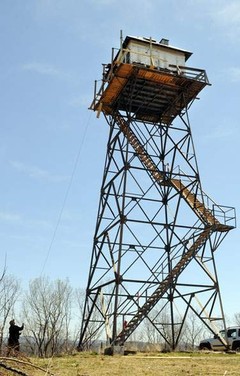 Backstory and Context
"A lot of the early towers were simply planks nailed to the side of a tree...All the early day forest rangers had to do was climb to the top of that tree, spot a fire, jump on their horse and go put it out, then come back and go on to the next one. That's all there was to it."3
Despite primitive beginnings, fire tower construction in West Virginia soon took on more advanced methods in the 1920s. By the end of the 1930s efforts by the state and the Civilian Conservation Corps had resulted in a statewide network of approximately 100 fire towers. Fewer than a dozen remain standing today, and all have been retired from service.
Of those that survive, Thorny Mountain Fire Tower is unique. Though the original fire tower was constructed at Michael Mountain on the eastern side of Seneca State Park in the 1920s by the Civilian Conservation Corps, the present site was found to be a better choice. The tower was reconstructed there in 1935. The Bluefield Telegraph described it as:
"A new type fire tower--with observer's cabin and living quarters atop a 40-foot steel framework...This tower, of the type used by the federal government in the far west, enables the observer to work, sleep and eat in his quarters 40 feet above the ground. CCC labor from Camp Seneca constructed it."
Indeed, its construction is unique in West Virginia and rare in the Eastern United States. The steel frame construction was different, since most of the fire towers in the state were simple, two-story buildings, wherein the first floor served as living quarters, and the second for observation--this was commonly called the "Jenny Lind" style. Even those that did have steel frames were usually topped by a "cab" that measured only 7'x7', necessitating a cabin on the ground to serve as the observer's living quarters. Only a few towers in West Virginia possessed a 14'x14' cab like Thorny Mountain, of which Thorny Mountain is the only one still standing today.
"'Observers at the Thorny Mountain Tower slept in cots, got heat from a wood stove, and used a rope-and-pulley system to bring food, firewood and water into the cab."2
Observers stationed in the tower used an Osborne Fire Finder alidade to accurately calculate coordinates for any fires they spotted.
"The alidade uses a circular tabletop covered with a correctly centered topographical map and two sighting apertures on opposite ends of the table.The fire lookout moved the sights along a circular track marked with degree gradients of 0 to 360 until both sights aligned with the smoke plume at the base of a fire, providing the coordinates needed to map the blaze."2
Gradually, many fire towers were replaced with aerial observation beginning in the 1970s--as observers patrolling in planes were more cost-effective than staffing the tower system. Nevertheless, Thorny Mountain Fire Tower remained in operation until 1988. Manned observation towers were completely phased out by 1990.
Thorny Mountain languished for two decades until it was decided to refurbish it for guest rentals. Having reopened in 2016, the interior is fully refurbished for occupancy, and can presently be rented for overnight stays through Seneca State Park--there are even plans to reinstall the Osborne Fire Finder for guests to use.
Sources
1. Thorny Mountain Fire Tower. National Historic Lookout Register. January 26, 2017. Accessed August 31, 2017. http://nhlr.org/lookouts/us/wv/thorny-mountain-fire-tower/.

2. Steelhammer, Rick. "Want to get away from it all? Rent a fire tower." Charleston Gazette-Mail(Charleston), April 25, 2013. http://www.wvgazettemail.com/Outdoors/201304250164

3. Lawrence, Chris. "Fire towers still an attraction for the curious in West Virginia." Metro News(Charleston), August 19, 2017. http://wvmetronews.com/2017/08/19/237022/

4. Beanblossom, Robert "Fire Towers." e-WV: The West Virginia Encyclopedia. 21 February 2011. Web. 06 September 2017. Accessed 09/06/2017.

5. Forest Fire Lookout Association. Accessed September 06, 2017. http://easternuslookouts.weebly.com/west-Virginia.html.


Additional Information