Breckinridge Statue at Cheapside
Introduction
In Lexington, Kentucky, two monuments to Confederate soldiers stand on the ground which was once the city's slave auction site. One is dedicated to John Hunt Morgan, the other to former U.S. Vice President and Confederate Secretary of State John C. Breckinridge. Following white supremacist demonstrations in Charlottesville, Virginia over the weekend of August 11-13, 2017, Lexington's mayor proposed to move the statues to Lexington Cemetery, where both men are buried, a relocation with approval from many citizens on opposing sides of the issue. The statue of Breckinridge was erected in 1887 by the state of Kentucky, during the Jim Crow era and the resurgence of the Ku Klux Klan.
Images
Breckinridge Statue (image from the Huffington Post)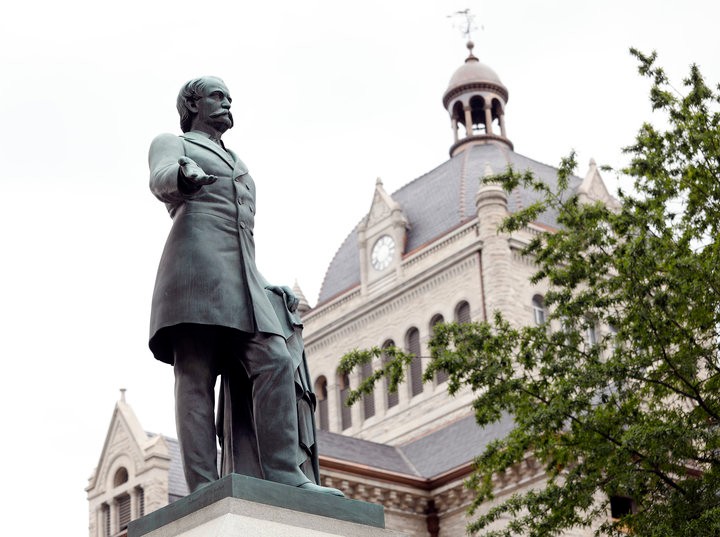 John C. Breckinridge (image from Wikimedia Commons)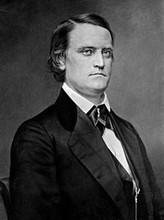 Cheapside Slave Auction Block, Lexington, Kentucky (image from the New York Public Library)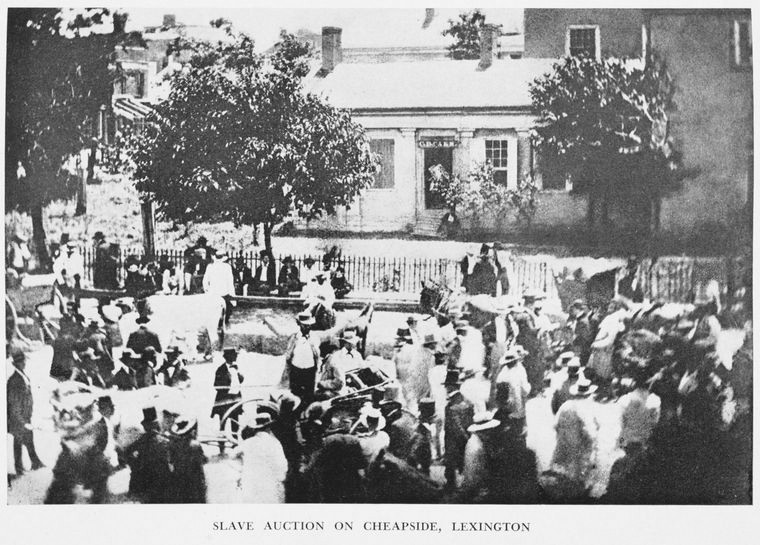 Take Back Cheapside demonstration (image from Take Back Cheapside)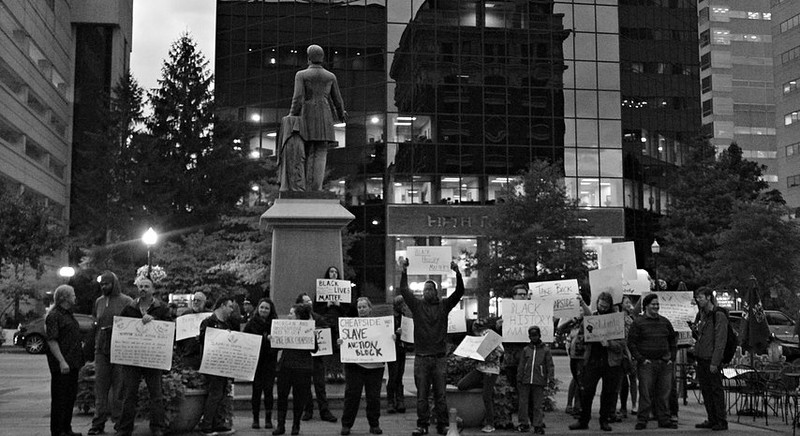 John C. Breckinridge in Confederate Uniform (image from American Battlefield Trust)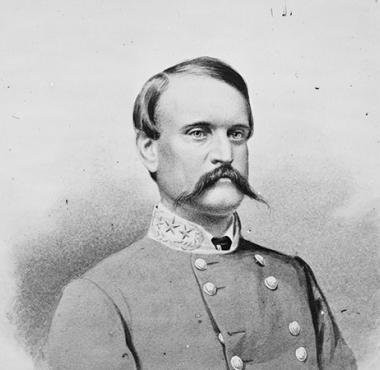 Backstory and Context
Context and History
Nationwide, there are over 700 Confederate monuments and statues on public property such as courthouses and other official buildings, as well as parks. Though some were erected immediately following the American Civil War, there was a sharp increase in public art dedicated to the Confederacy in the late nineteenth and early twentieth centuries, particularly in the South. During this time, states were enacting oppressive, segregationist Jim Crow laws while the Ku Klux Klan (formed immediately after the Civil War) revived dramatically. In Kentucky, there were 205 recorded lynchings of African Americans between 1882 and 1968. The Confederate monuments at the historic Fayette County Courthouse in Lexington were erected during this "Lost Cause" movement, which sought to minimize the horror of slavery and the central role of slavery in the South's attempt to secede.
One of the primary objections to the Breckinridge monument is its particular location's history. These two Confederate statues stand on the ground of what was once the Cheapside Slave Auction Block. In 2015, a group called Take Back Cheapside formed to protest the presence of the statues on the old slave grounds. The organization also seeks to promote more accurate historic markers in the city, dealing with its status as the "unofficial capitol of Kentucky's slave trade." In the decades before the Civil War, Lexington was a central part of the slave trade of not only the state, but the South in general; it was the second largest slave auction site in the nation, and one quarter of the city's population in 1860 were slaves. Auctions were a part of daily life in Lexington, as was the presence of slave traders and the prison pens in which they kept individuals and families who were often forcibly and permanently separated from each other as part of the auction process. A whipping post stood nearby for the punishment of both enslaved and free Black Kentuckians. Though there were historical markers relating the history of the auction block and the whipping post, they and the statue of Breckinridge were moved in 2010 when the city constructed Cheapside Pavilion. The markers, unlike the Confederate monument, have yet to be replaced.
John Cabell Breckinridge (1821-1875) was born in Lexington, KY. He attended Centre College before going to Princeton to study law. He returned to Lexington to study at Transylvania University. He went to practice law in Iowa and Kentucky before serving in the Mexican War, though he never faced combat. He went on to serve in the Kentucky state house of representatives in 1849 to start his political career.
As a cousin of Mary Todd Lincoln, Breckinridge became friends with Abraham Lincoln in spite of their political differences (including their differing positions regarding the issue of slavery). Breckinridge supported allowing new states and territories to hold slaves, though he was viewed as a moderate who, like his uncle Robert Breckinridge, may have supported gradual emancipation. Part of this position included the plan that emancipated African Americans would be deported and resettled outside of the United States. Breckinridge, though he owned only a few house slaves, staunchly defended slavery and the lifestyle it allowed white Southerners to attain. He believed in the supremacy of the white race, in spite of the criticism others in his time offered to the idea.
Nonetheless, his position was a popular one, and his skill at public speaking helped him become James Buchanan's Vice President at the age of 36, making him the youngest Vice President in American history to date. After he lost the Presidential election of 1860 to Abraham Lincoln (he came in third in the popular vote behind Lincoln and Stephen Douglas), he was appointed to the U.S. Senate by Kentucky in 1861.While in office, he encouraged his state to secede, but following the state's choice to stay with the Union, he went south in fear of being arrested. The United States Senate expelled him on the grounds of treason in 1861.
Breckinridge was commissioned to command the "Orphan Brigade," a Kentucky unit whose troops felt betrayed by their home state. He commanded the Reserve Corps at the Battle of Shiloh. Shortly after, he was promoted to a major general. Some other famous battles Breckinridge played a part in were the Battles of Stones River, Chickamauga, and Chattanooga.
In 1865, Confederate president Jefferson Davis named Breckinridge secretary of war, but the army surrendered soon afterward. Breckinridge opposed further guerilla action on the part of the Confederacy, and fled the country, from Cuba to England to Canada. President Andrew Johnson's blanket pardon in 1868 allowed Breckinridge to return to Lexington, where he publicly denounced the Ku Klux Klan. Until his death due to ill health in 1875, he practiced law and became president of the Elizabethtown, Lexington and Big Sandy Railroad.

Sources
1. Green, Marcus. "Kentucky renews 'sometimes rancorous' debate on Confederate monuments." WDRB News. September 2, 2017. Accessed September 3, 2017. http://www.wdrb.com/story/36278606/sunday-edition-kentucky-renews-sometimes-rancorous-debate-on-conf....
2. Harris, Jordan. "Replace Jefferson Davis statue with Ali in Kentucky Capitol." The Courier-Journal. Louisville, Kentucky. July 24, 2017. Accessed August 25, 2017. http://www.courier-journal.com/story/opinion/contributors/2017/07/24/replace-jefferson-davis-statue-....
3. History.com Staff. "John C. Breckinridge." A+E Entertainment. 2009. Accessed September 3, 2017. http://www.history.com/topics/john-c-breckinridge.
4. History.com Staff. "John C. Breckinridge." A+E Entertainment. 2009. Last Updated: 2018. Accessed March 30, 2019. http://www.history.com/topics/john-c-breckinridge.
5. Light, Christopher. "U.S. Vice President." Historical Marker Database. December 1, 2008. Accessed September 3, 2017. https://www.hmdb.org/marker.asp?marker=14019.
6. Patrick, Andrew. "Cheapside Slave Auction Block." Explore Kentucky History. Accessed September 3, 2017. http://explorekyhistory.ky.gov/items/show/171?tour=9&index=11.
7. Sayers, Justin. "Lexington Mayor Jim Gray wants city cemetery to take two Confederate statues." The Courier-Journal. Louisville, Kentucky. August 31, 2017. Accessed September 3, 2017. http://www.courier-journal.com/story/news/local/2017/08/31/lexington-mayor-jim-gray-asks-cemetery-ta....
8. Southern Poverty Law Center. Whose Heritage? Public Symbols of the Confederacy." 2017. Accessed August 20, 2017. https://www.splcenter.org/sites/default/files/whoseheritage_splc.pdf.
9. Take Back Cheapside. Official website. 2017. Accessed September 3, 2017. https://www.takebackcheapside.com.
10. United States Senate. "John Cabell Breckinridge, 14th Vice President (1857-1861)." Accessed September 3, 2017. https://www.senate.gov/artandhistory/history/common/generic/VP_John_Breckinridge.htm.
11. Waldron, Travis. "Lexington Officials: White Supremacists Can't Intimidate Us On Confederate Statue Removal." The Huffington Post. August 14, 2017. Accessed September 3, 2017. http://www.huffingtonpost.com/entry/lexington-Confederate-statue-removal_us_599237abe4b09096429961fc.
12. WKYT Staff. "Statues come with hate, support and history." CBS News. August 17, 2017. Accessed August 23, 2017. http://www.wkyt.com/content/news/Statues-come-with-hate-support-and-history-440949373.html.

Additional Information