David Ortiz Drive and David Ortiz Number Monument
Introduction
David Ortiz is a retired Major League Baseball (MLB) player, who played a majority of his career with the Boston Red Sox. He was beloved by the city of Boston and Red Sox fans elsewhere for his slugging; he holds the Red Sox record for single-season home runs with 54 in 2006. He has also been very active in the Boston community, particularly in the aftermath of the Boston Marathon Bombings, when he gave a powerful speech at a Red Sox game, uniting the city. As a result of Boston's love for him, the city decided to rename Yawkey Way Extension, a street across from Yawkey Way by Fenway Park where a parking lot exists and the commuter rail trains stop, to David Ortiz Drive. Ortiz's number '34' was also added to a line of other retired number monuments on David Ortiz Drive when his number was retired by the Boston Red Sox.
Images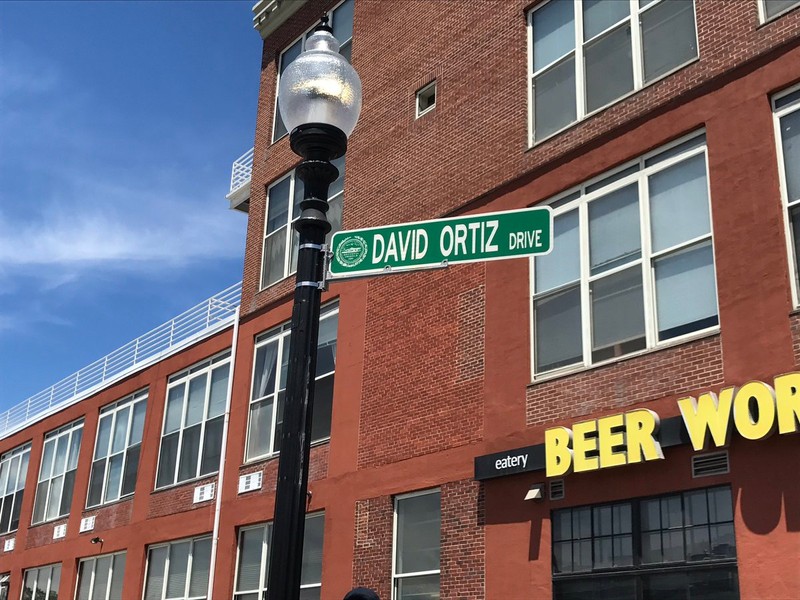 The dedication of David Ortiz's retired numbers monument on David Ortiz Drive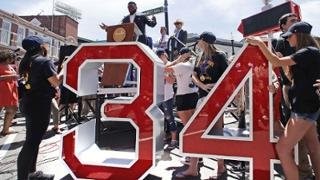 Backstory and Context
David Ortiz, also known as "Big Papi," is a retired Major League Baseball player, who played 20 seasons in the MLB as a First Baseman and Designated Hitter. Born and raised in the Dominican Republic, Ortiz arrived in the United States when he was barely 17 years old to begin his baseball career with the Seattle Mariners. Ortiz spent a majority of his career on the Boston Red Sox, where he helped the team to the first World Series Championship in 86 years in 2004, along with two other World Series Championships. A famous slugger, he is 17th on the MLB all-time home runs list with 541 home runs.1 In an era in which the allure of baseball as America's sport has been fading for years, a player whose main skill is hitting home runs was naturally popular.
After being cut by the Minnesota Twins in 2002, Ortiz was given an opportunity to work out with Dave Jauss, a Red Sox scout, in the Dominican Republic. Days after the work out, in which Jauss saw potential in Ortiz beyond anything the Minnesota Twins had seen, the Boston Red Sox signed Ortiz. While his start in Boston may have been slow, it was the beginning of a long career for Ortiz in Boston, where only a year later, he helped the team to a World Series Championship. Ortiz's talents on the field are certainly worthy of all of the praise he has received in his career – with the Red Sox alone, Ortiz notched 445 home runs and 1,910 hits.2 However, there have been stains on his career. In a 2003 drug probe by the MLB, he tested positive for Performance Enhancing Drugs (PEDs), and by the time this was made public in 2009, Ortiz had already cemented a place in Boston Red Sox history.3
On April 15, 2013, when the Boston Marathon Bombings occurred, Ortiz had been with the Red Sox organization and the city of Boston for ten years. He was home at the time recovering from an injury, while the rest of his team traveled to Cleveland, and he watched the aftermath of the Bombings from his home in Weston, Massachusetts. When the Red Sox returned to Boston for a game at Fenway Park on April 20, 2013, Ortiz delivered a speech from the middle of the field, declaring "This jersey that we wear today, it doesn't say 'Red Sox.' It says 'Boston.'…This is our f------ city. And nobody's going to dictate our freedom. Stay strong."4 This speech stands out as the moment that Ortiz's reputation in the city of Boston transcended baseball. Ortiz spoke from the heart, was genuinely affected by the events surrounding the bombings, and became a spokesman for the city of Boston, saying what everyone else was feeling about the whole situation. He will always be remembered so fondly because of the personality he brought to the city of Boston. At the David Ortiz Drive naming ceremony, Mayor Marty Walsh expressed what makes Ortiz so memorable, stating, "He has a heart as big as our city."5
When Ortiz retired following the 2016 baseball season, it was no surprise that the retirement was met with sadness and love from the city of Boston and Red Sox fans alike. In June of 2017, less than a year after Ortiz's retirement in 2016, Yawkey Way Extension was renamed to David Ortiz drive in honor of the unforgettable Red Sox slugger. His number, '34' in giant, statue form, was also placed on David Ortiz drive, alongside the retired numbers of other Red Sox greats. To put in perspective the short time between Ortiz's retirement and the retiring of his number, Ted Williams' number was not retired for 24 years after his retirement from baseball. Red Sox President Sam Kennedy said of this, "That short amount of time is a symbol of how everyone…feels about the player who was the most important player in the history of the Red Sox."6
Sources
1. David Ortiz. Wikipedia. Accessed November 06, 2017. https://en.wikipedia.org/wiki/David_Ortiz.

2. Kilgore, Adam. David Ortiz's origin story with the Boston Red Sox. The Washington Post. November 18, 2015. Accessed November 06, 2017. https://www.washingtonpost.com/news/sports/wp/2015/11/18/how-david-ortiz-became-a-star-and-an-icon-f....

3. Burchfield, Will. Why Is David Ortiz - Steroids And All - So Beloved?. CBS Detroit. August 22, 2016. Accessed November 06, 2017. http://detroit.cbslocal.com/2016/08/22/why-is-david-ortiz-steroids-and-all-so-beloved/.

4. Lauber, Scott. David Ortiz's finest moment with the Red Sox wasn't at the plate. ESPN. http://www.espn.com/mlb/story/_/id/15175959/david-ortiz-finest-moment-red-sox-plate.

5. 'Small gesture' for Big Papi: Boston names street for David Ortiz. USA Today. June 22, 2017. Accessed November 06, 2017. https://www.usatoday.com/story/sports/mlb/2017/06/22/small-gesture-for-big-papi-boston-names-street-....

6. Boston renames street after retired slugger David Ortiz. ESPN. June 22, 2017. Accessed November 06, 2017. http://www.espn.com/mlb/story/_/id/19704999/boston-renaming-street-retired-boston-red-sox-player-dav....