Murphy House
Introduction
This historic home was built by commission merchant John Murphy, a native of Scotland, in 1851. It is one of the finest Greek Revival homes in the city and during the Civil War, was an important social center for the South. Confederates of note including Jefferson Davis and William Yancey attended gatherings here. Placed on the National Register of Historic Places in 1972, the home was converted to office space for the Montgomery Water Works and Sanitary Sewer Board in 1970.
Images
The Murphy House is one of the finest historic homes in the city. It houses the office space for the city's water works department.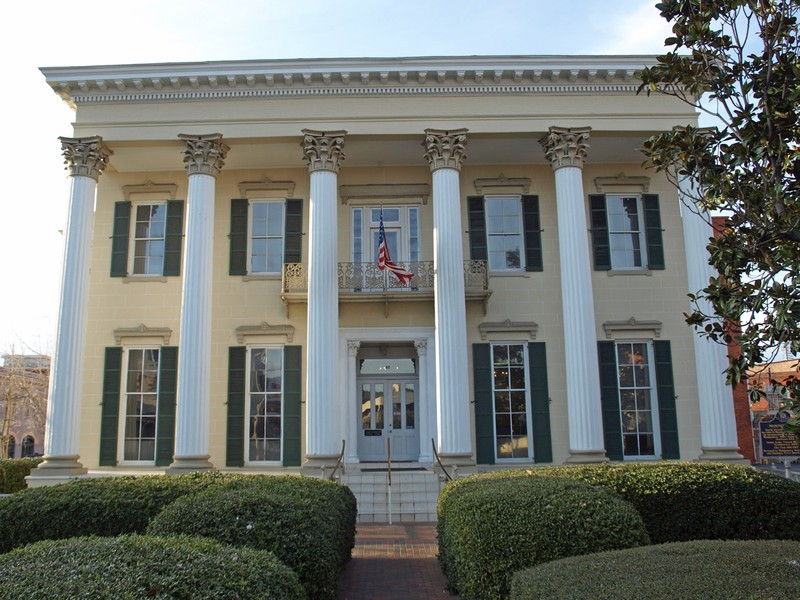 Backstory and Context
John Murphy was born in 1806. He arrived in Virginia in the mid-1820s and eventually made his way to Montgomery in 1844. He bought a warehouse and soon became one of the wealthiest people in the city. He also invested in real estate and was one of the incorporators of the city's first water works in 1854 (he also owned 23 slaves). He died in 1859 but the house remained in the family until 1902.

On April 12 1865, just days after the official end of of the Civil War, the Murphy House and the city were occupied by Union forces after General James H. Wilson conducted a cavalry raid into central Alabama beginning on March 22 to destroy the state's arms manufacturing factories and other war-related industries. General Ulysses S. Grant directed Wilson several months earlier to lead the campaign. Over 13,000 cavalry were under his command. They met little resistance as Confederate forces were too low in numbers and spread out in the state (and many were sent to fight General Sherman on his "March to the Sea" campaign). In military terms, Wilson's raid was successful, as it destroyed the last vestiges of the state's arms manufacturing capabilities. However, historians dispute its significance because the Confederacy was already close to defeat, and General Robert E. Lee surrendered on April 9, 1865.

The Murphy family's wealth declined after the war and were forced to rent the house out. In 1902, they sold it to an Elk's lodge. It was sold to the Montgomery Water Works and Sanitary Sewer Board in 1967, which restored and converted it to office. They continue to own the building today.
Sources
Herbert, Keith. "Wilson's Raid." Encyclopedia of Alabama. October 23, 2007. Last updated April 17, 2017. http://www.encyclopediaofalabama.org/article/h-1375.

"The Murphy House." National Park Service - National Register of Historic Places Nomination Form. March 24, 1972. https://npgallery.nps.gov/GetAsset/0d666f0a-642f-46fd-87fe-a791c5847380.

Photo: Chris Pruitt, via Wikimedia Commons
https://en.wikipedia.org/wiki/The_Murphy_House#/media/File:Murphy_House_01.jpg