Albert E. Cox House (1896 Club)
Introduction
This historic house at the intersection of 15th Street and 3rd Avenue was designed by J.B. Stewart for Huntington businessman Albert E. Cox in 1896. The Cox family history in Cabell County can be traced back to Albert's grandfather, William T. Cox, who was the founder of Cox Landing as well as an avid supporter of Prohibition. As its ownership changed hands over the years, the home was repurposed to house apartments and later a popular nightclub, the 1896 Club. The Cox house has endured many natural disasters over the years, from floods to fires, but the structure remains mostly intact today. Although it has now stood empty for over 20 years, the house continues to fascinate the community and may one day be restored.
Images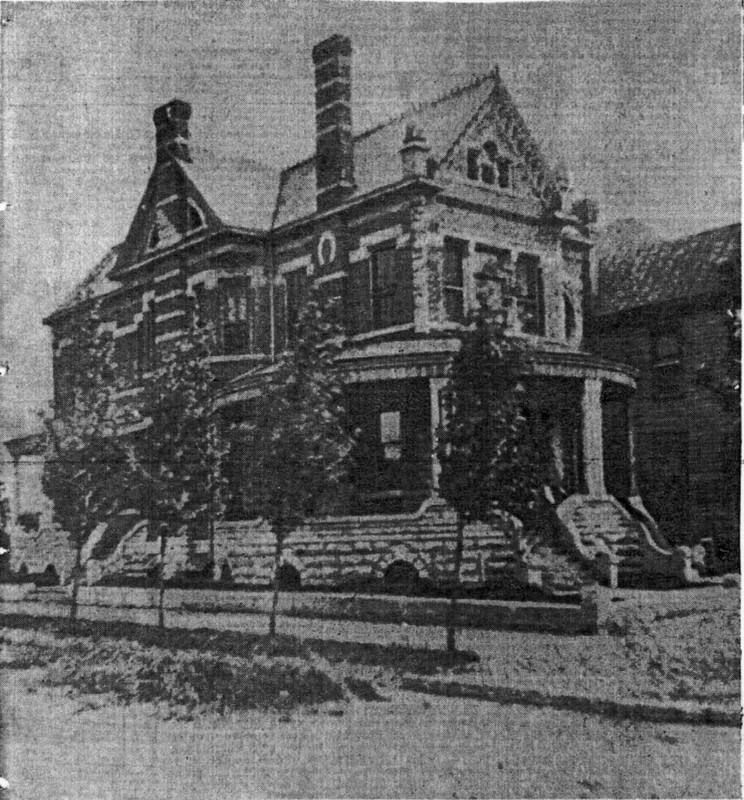 The rounded veranda and descending stairs to an elegant archway set this home apart.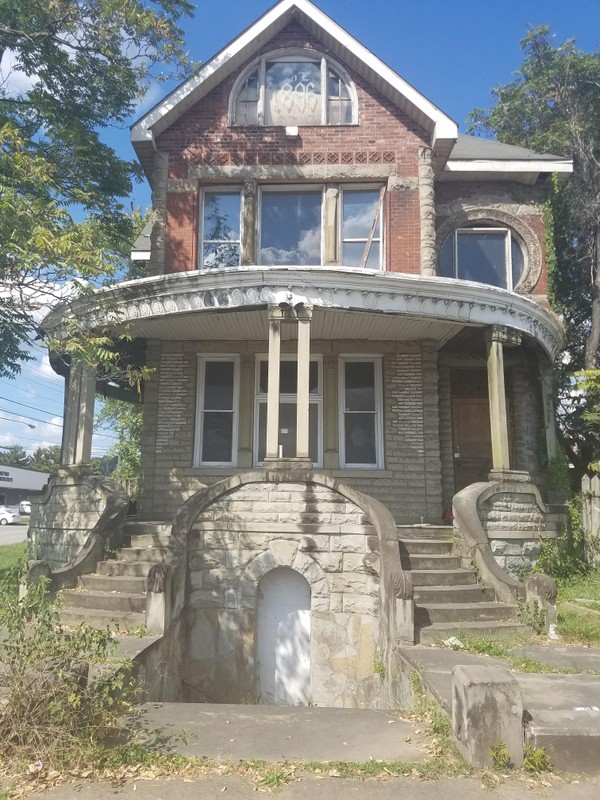 The original stained glass windows do not remain; however, the stone crests still adorn the red brick walls.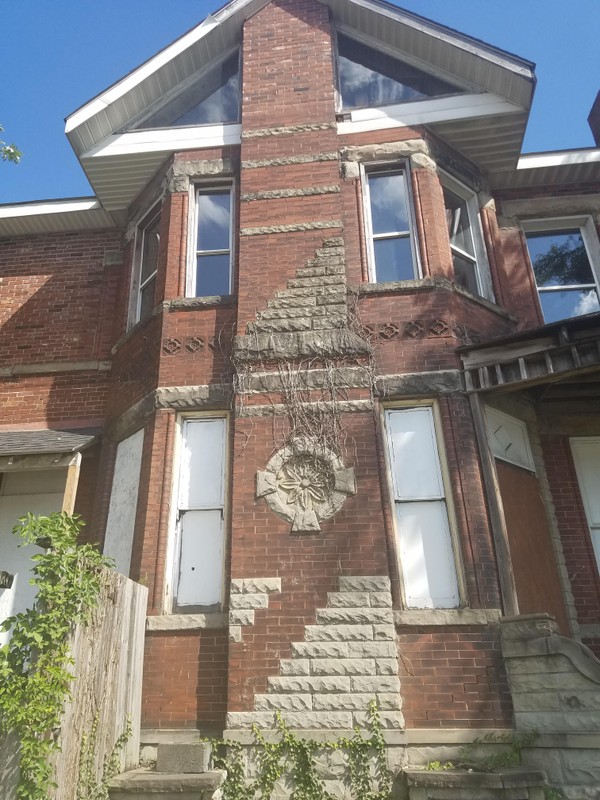 Red terracotta crests are banded along the the outside walls while a sandstone crest adorns the chimney stack.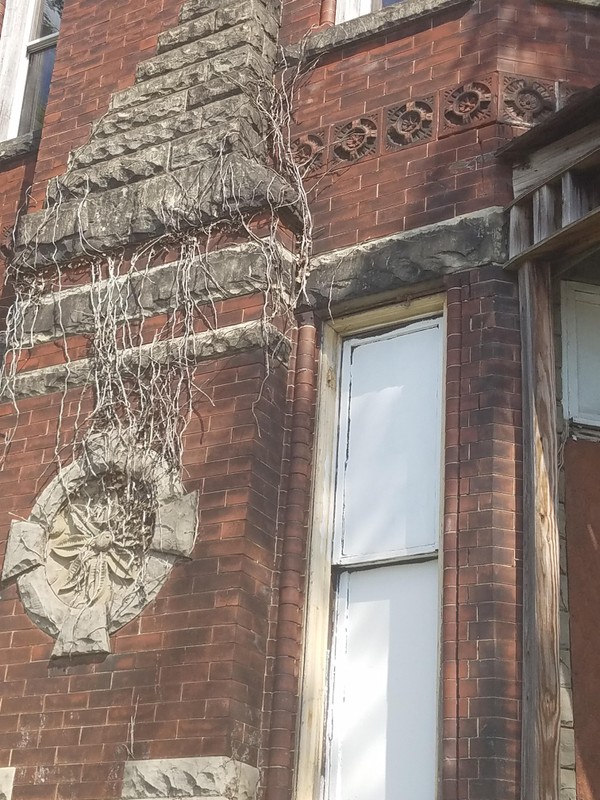 The roof covering this romantic rounded veranda is falling in yet the sandstone foundation remains strong.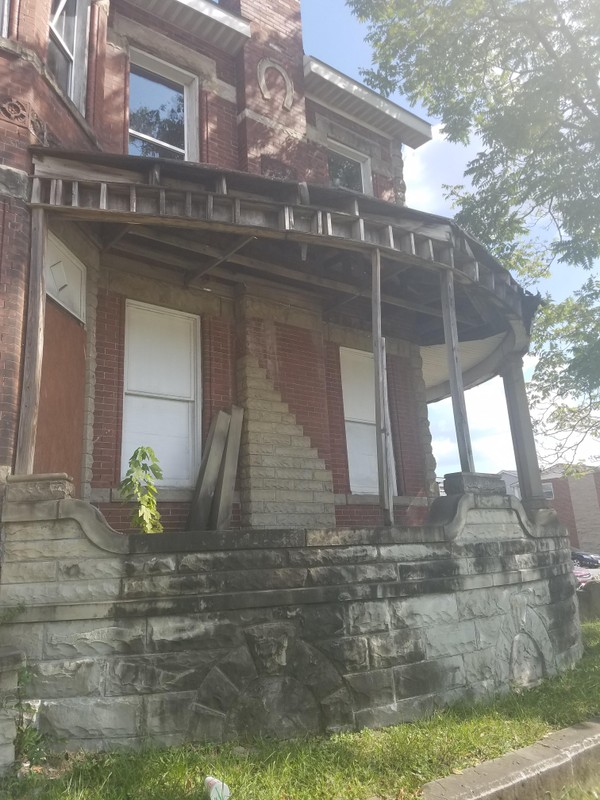 Backstory and Context
The Cox family was one of the first to settle in the region. Albert Cox's grandfather, William T. Cox, moved from Buckingham County, Virginia in 1795. He married Sarah White in 1811 and settled in Mason County before moving to Cabell County in 1835 when he purchased a farm. He established Cox's Landing on the banks of the Ohio River, opening a general store and using timber from the trees that covered the area to fuel the steamboats that traversed the river. He remained in business there for many years and employed countless members of the community. During the nineteenth century, Cox Landing was a location where local families could help escaped slaves flee to Getaway, Ohio on the Underground Railroad. William T. Cox was also one of the area's first citizens to announce his support of Prohibition. In 1876, William wrote to the National Temperance Union, "I do pledge my word and honor, God helping me, to abstain from ALL intoxicating liquors as a beverage, and that I will by all honorable means encourage others to abstain." 
Albert E. Cox was born at Cox Landing in 1860 to John A. Cox and Adela Fuller. As a young man, he worked at his grandfather's general store. He became a very successful businessman, buying over fifty-eight bankrupt businesses and selling them for profit, and came to own many properties throughout Huntington. In 1885, he married Cora Emily Chase, with whom he had eight children: Norma, Flossie, Alberta, Ernest, Howard, Chase, Thelma, and Dorothea. 
The Albert E. Cox home was built in 1896. It was designed by J.B. Stewart, one of Huntington's earliest and best-known architects, in the Queen Anne style. The Queen Anne style was popular in the United States between 1880 and 1905. An eclectic style of the Victorian era, it was characterized by features such as irregular roof shapes, patterned shingles, bay windows, decorative ornamentation, multiple gables and dormers, towers and turrets, and differing wall textures. The Cox house sits upon a sandstone foundation, with intricate brands inlaid in its red brick and terra-cotta exterior. The front facade, round verandas, square columns, descending stairs to an arched doorway, and round windows are signature Queen Anne features that set the Cox house apart from others in the area. 
The home was occupied by Cox's descendants for many years after his death on January 15, 1935. During the 1960s, the house was sold and divided into apartments. In the 1980s, the 1896 Club was established at the house. The 1896 Club was a unique club in Huntington, with different forms of entertainment available on each of its floors. The basement held a dance floor under a mirrored ceiling, the main floor held a bar and a stage for live bands, and the second floor had a more relaxed atmosphere with pool tables. As one Huntington resident said, "You would walk into a Victorian Huntington home and go down to the basement where you said, yeah, this is where we are going to have a good time."  
Many memories are tied to this location, not only for the families who lived here but also for those who visited the nightclub. However, the Albert E. Cox house has remained empty since the 1896 Club closed its doors in 1993. Despite a fire in 1993, and another in the early 2000s, the structure still stands. It is unknown who currently owns the house and whether there are any plans for its future, but many in the community have expressed a desire to see the house restored like other historic homes of Huntington have been. 
Sources
Kyle, Mrs. John. "Early History of Little Seven Mile Community." West Virginia Archives and  History. http://www.wvculture.org/history/agrext/little7.html. Accessed September 5, 2017.
"Local Family Business Key on Underground Railroad." The Herald Dispatch, September 13, 2009. http://www.herald-dispatch.com/features_entertainment/local-family-business-key-on-underground-railr...
McMillian, Don Daniel. Images of America: Huntington. Arcadia Publishing, 2003.
McMillian, Don Daniel. On the Threshold of Splendor Historic Homes and Families. BookSurge Publishing, 2007.
Additional Information