Folsom Prison Museum
Introduction
California's Folsom State Prison has been operating since the late nineteenth century. Few prisons are famous enough to warrant a museum, however, Folsom Prison earned its place in popular culture in 1968 when singer Johnny Cash recorded "Folsom Prison Blues" inside its walls. The album not only rejuvenated Cash's career but made Folsom one of the country's most well-known correctional facilities. The prison is home to a small museum that allows visitors a glimpse inside prison life.
Images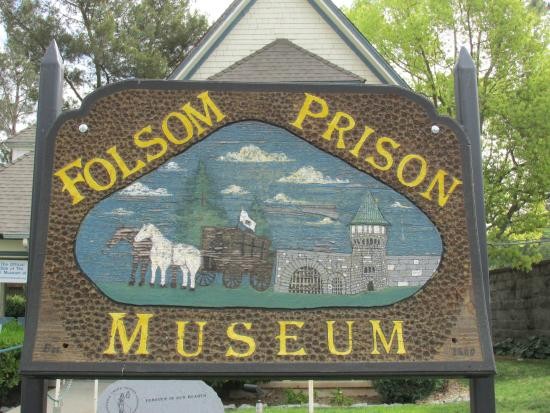 Johnny Cash outside Folsom Prison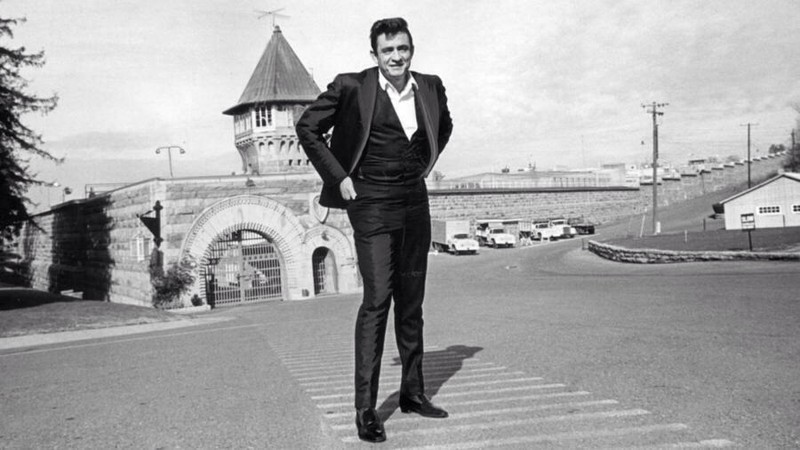 The Toothpick Ferris Wheel built by William J.B. Burke.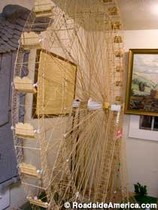 A collection of prisoner-made weapons on display (Photo courtesy of California Through My Lens)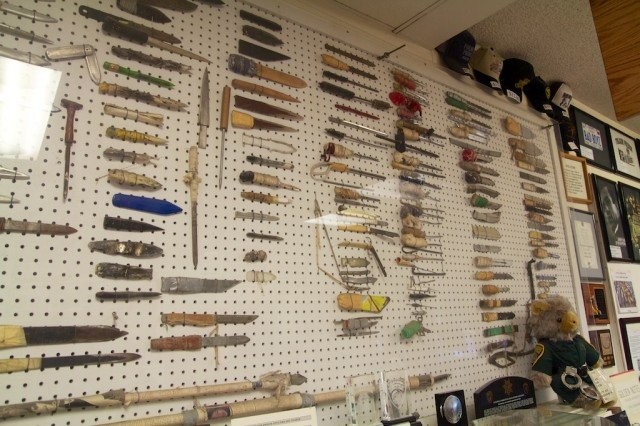 Backstory and Context
Folsom Prison was the second state prison opened in California. On July 26, 1880, it received its first inmate, an arsonist named Chong Hing. On the first day, a total of 44 inmates moved into Folsom. By 1897, there were 900 prisoners serving time in the institution. The prison's long and storied history was a good reason to establish the Folsom Prison Museum on the grounds in 1975. Located on the Folsom Prison property in House No. 8, the Folsom Prison Museum is staffed by former prison guards, as well as one animatronic prisoner named "Sam," who describe life inside the prison. The museum is located on prison property, but just outside the imposing, stone walls and strong, iron gates.
Not surprisingly, the museum contains a number of items related to Johnny Cash and the famous concert in the prison. There are photos of Cash striking bad-boy poses and fake mug shots, and a small gift shop at the museum also sells prints of Cash photos. The gift shop once sold art made by prisoners, but that practice was discontinued because it was a way for prisoners to get drugs in and out of the facility.
The museum also displays a number of items confiscated from inmates, including shivs (knifes made of various materials found inside the walls), fake pistols, and various methods used to sneak contraband into or around the prison. An impressive piece of artwork is also exhibited at the small museum. A convicted burglar named William J.B. Burke passed his time by constructing an eight-foot tall Ferris wheel out of 250,000 toothpicks. A picture of the Ferris wheel is shown above.
One of the rooms is a replica of a small prison cell. Inside, "Sam the Perpetual Prisoner" sits on the bed with a bible on one leg and a fake cockroach on the other. If a museum visitor presses a button at Sam's cell, he will come to life and tell his story about the conditions and life inside Folsom State Prison.
Folsom State Prison has earned its place in history because artist Johnny Cash recorded his popular album "Folsom Prison Blues" inside the walls in 1968. However, it is also the first prison in the nation to use electric light (1893). Like many American prisons, it has seen numerous escape attempts (some successful) and deaths over the years. Between 1895 and 1937, a total of 97 prisoners were hanged at Folsom. The warden (Clarence Larkin) and an officer (Harry Martin) were murdered by the inmates during an incident in 1937. Larkin was killed using a wooden pistol created by an inmate – the actual weapon is on display inside the museum.
Folsom State Prison museum is open daily to the public, from 10:00 AM to 4:00 PM. The price of admission to the museum is very affordable at only $2.00 per ticket. The profits made at the museum are donated to cancer research.
Sources
Folsom Prison Museum. Roadside America. Accessed June 30, 2018. https://www.roadsideamerica.com/story/21567.

Inside Johnny Cash's Folsom Prison. NPR Music. November 18, 2005. Accessed June 30, 2018. http://www.npr.org/templates/story/story.php?storyId=5018930.

Folsom Prison Museum: Johnny Cash & Jail History. California Through My Lens. Accessed June 30, 2018. https://californiathroughmylens.com/folsom-prison-museum.

13 Fascinating Facts, Stories, and Tales About Folsom Prison. Johnny Cash Trail. September 23, 2016. Accessed July 07, 2018. https://folsomcasharttrail.com/blog/articles/postid/26/13-fascinating-facts-stories-and-tales-about-....


Additional Information