Mississippi Industrial Heritage Museum
Introduction
The Mississippi Industrial Heritage Museum was founded in 2002 after Soule Steam Feed Works closed after 110 years of being open. The museum offers exhibits that share the history of the company and George Wilberforce Soule who held over 25 patents for machines related to the lumber industry. It also includes exhibits that share the history of industry and labor in Mississippi.
Images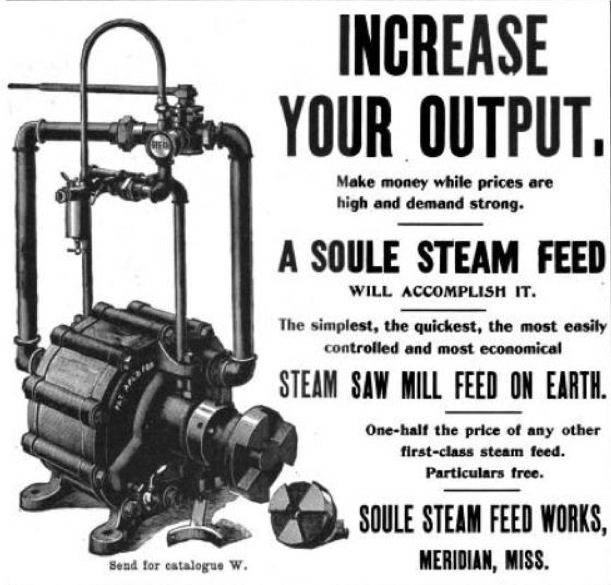 Backstory and Context
Soule Steam Feed Works was founded in 1893 by George Wilberforce Soule. The company lasted over 100 years with help from George and his family members. They created a product line of feed works that focused on serving the lumber industry. From 1892 until the mid-1950s, steam was the only portable and dependable source of power. George Soule patened the Soule Rotary Steam Engine which was used in several types of lumbering operations. The rotary engine was used to drive a sawmill carriage. Ads that appeared regularly in The Tradesman announced, "The Soule Steam Feed is the best on Earth, because it is the most durable and most easily controlled." Over the years, the Soule rotary engine became known as "steam hogs" because they consumed a great amount of steam during operation.
Soule Steam Feed Works became a non-profit corporation founded in 2002. The museum is listed on the National Register of Historic places since 1979. It is also a Mississippi Landmark since the fall of 2003. The museum is also an Official State Historical Industrial Museum in July 2004. By 1922, the Soule Spee-D-Twin, a two-cylinder reciprocating steam engine, became a favorite feed engine among saw mill operators. Over George Soule's lengthy career, he held over 25 U.S. patents. 
Sources
Souleslivesteam.comSoulelivesteam.com.
http://vintagemachinery.org/mfgindex/detail.aspx?id=1639.