Fort McPherson
Introduction
Fort McPherson was a U.S. Army base from 1889-2011. It is named after Union Major General James "Birdseye" McPherson, who was killed in the Battle of Atlanta, which eventually resulted in the fall of the city and an important victory for the North during the Civil War. The fort's history dates back to as early as 1835 when the state militia drilled here. During the Civil War, both Union and Confederate forces had encampments here. In 1867 the Army built barracks and occupied a site a few miles away until 1881. As stated above, permanent military presence did not begin until 1889, when the 4th Artillery Regiment arrived.
Images
The commanding officer's residence is one of the several Victorian homes that line what is called the "staff's row".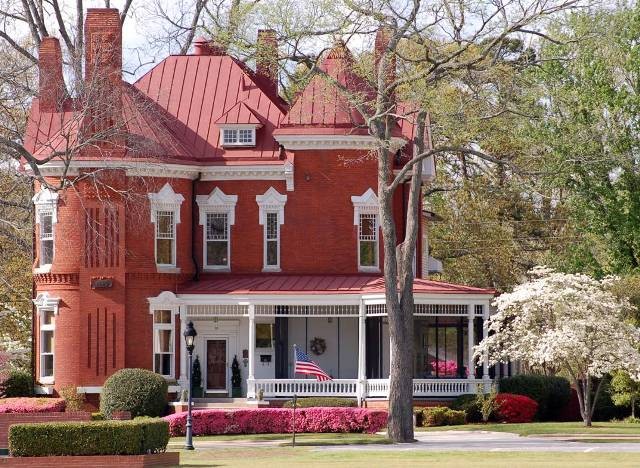 Backstory and Context
The original section of the fort (located on the northern end), built between 1889-1910, was added to the National Register of Historic Places in 1974. Many of the structures in this older part were designed in the High Victorian style and built with red brick. Of particular note is building No. 10, the former Commander's House.

The fort's size grew during its lifetime, beginning with the Spanish-American War. The 4th Artillery was transferred to another location and the 5th Infantry Division took its place. During World War I, a military hospital was established and an adjacent military installation, Camp Jessup, was built to accommodate the influx of new troops. The size and scope of the fort increased again before and during World War II, including the establishment of the fort as a major command post

The military decided to close the fort as part of a realignment and closure plan. In May 2017, the organization in charge of the fort chose a master developer. Additionally, actor and filmmaker Tyler Pyler bought some of the land to build a new film studio.
Sources
"Fort McPherson." The Historical Marker Database. Accessed October 9, 2017. https://www.hmdb.org/marker.asp?marker=16964.

"Fort McPherson." New Georgia Encyclopedia. Last Updated June 6, 2017. http://www.georgiaencyclopedia.org/articles/government-politics/fort-mcpherson.

Trubey, J. Scott. "Developer named for Atlanta's Fort McPherson." AJC.com. May 17, 2017. http://www.ajc.com/news/local/developer-named-for-atlanta-fort-mcpherson/m9qggcKaaDXn6h6Ue0FYUM/

Walton, Second Lieut. John. G. "Fort McPherson." National Park Service - National Register of Historic Places Nomination Form. https://npgallery.nps.gov/GetAsset/93b2610c-475e-423a-abea-632455fca9e2.

Photo: Saged, via Wikimedia Commons
https://en.wikipedia.org/wiki/Fort_McPherson#/media/File:Quarters10,_Fort_McPherson.jpg