Bacon's Castle
Introduction
Home to planter Arthur Allen in the 17th century, this historic structure is the oldest brick home in the United States and is best known for its role in Bacon's Rebellion, a 1676 uprising against the colonial leaders of Virginia. During that conflict, landless men under the leadership of Nathaniel Bacon drove Arthur Allen's son from the home and occupied the property. The property was acquired by Preservation Virginia in the 1970s, and is open to the public for tours of the grounds and the small museum within the home that shares the history of the home and also offers exhibits related to colonial history.
Images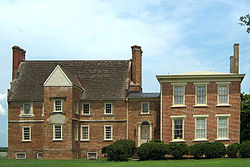 Backstory and Context
Bacon's Castle first developed in 1665. The location is also noted as a rare stylistic example of Jacobean architecture. The home is located in Surry County, Virginia, and is Virginia's oldest brick dwelling. It is significant in architecture as it is one of only three surviving Jacobean great houses in the Western Hemisphere.

The house became known as Bacon's Castle as it was used as a fort by the followers of Nathaniel Bacon. The fort was occupied during Bacon's Rebellion in 1676. Even though the fort is named after Nathaniel Bacon it is said that he never lived there or ever visited. It is believed that the name Bacon's Castle was not used until years after Bacon's Rebellion.

Preservation Virginia acquired the historic property in the 1970s and has carefully restored the property and added a small museum in addition to guided tours. Bacon's Castle was added to the U.S. National Register of Historic Places (1966), U.S. National Historic Landmark (1960), and Virginia Landmarks Register (1969). The site now operates as a house museum and historic site. March and November tours of the Castle are available on Fridays and Saturdays between 10 a.m. and 4 p.m.
Sources
A Brief History of Bacon's Castle. National Park Service. February 26, 2015. Accessed October 12, 2017. https://www.nps.gov/jame/learn/historyculture/a-brief-history-of-bacons-castle.htm.


Additional Information