The Devils Crossroads
Introduction
The Devils Crossroad is a tribute to Robert Johnson, the "King of the Delta Blues." Robert Johnson had a short but influential career and a popular legend suggests that he was only an average guitar player until the devil offered a deal at this very location. Johnson was born in 1911 and only lived until 1938. Towards the end of his short life, the soon-to-be-legendary blues musician recorded songs that demonstrated the talents that led some to believe he must have made a deal with the devil. Regardless of their origin, these songs influenced his contemporaries and future generations of musicians.
Images
Three guitars at the crossroads stand as a tribute to Robert Johnson.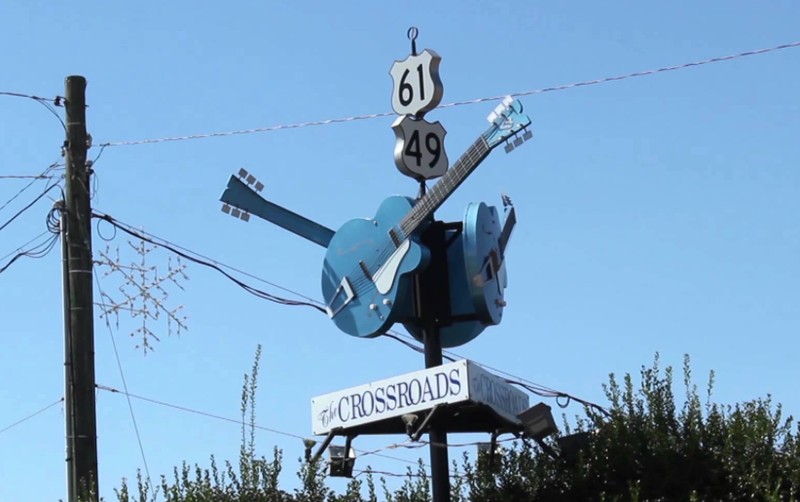 Robert Johnson, posing for picture in late 1920s.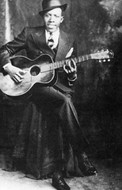 Backstory and Context
Robert Johnson was born in Mississippi to Julia Dobbs and Noah Johnson. Dobbs was married to Charles Dobbs who was a wealthy landowner and furniture builder. Charles was forced out of Mississippi by an all-white lynch mob following an altercation with a white landowner. Julia sent Robert with her husband while she remained in Mississippi and the couple changed their last name to Spencer. In 1919, Robert rejoined Julia in Arkansas to live with her and her new husband and changed their last name to Willis. Then in the late 1920's he got married to a sixteen-year-old girl named Virginia Travis and he went back to the name of Robert Johnson.
Robert was a talented harmonica player but struggled with the guitar until he returned from a year of traveling. Legend suggests that at "Crossroad" in Clarksdale, the devil appeared to Robert who sold his soul then the devil would make him a great guitar player. Robert went on to make a short career of music until his death.
Many rumors of Roberts death have floated around the area, including one that suggests he was poisoned by a jealous husband. The symbol of the three guitars is the crossroad in which Robert Johnson allegedly sold his soul to the devil. The guitars will keep Robert Johnson memory alive as one of the original leading performers of the Delta Blues. People have credited his story to their own success, people like Eric Clapton who have said, "Robert Johnson to me is the most important blues musician who ever lived....I have never found anything more deeply soulful than Robert Johnson. His music remains the most powerful cry that I think you can find in the human voice."
Sources
Robert Johnson. Rock and Roll Hall of Fame. Accessed December 18, 2017. https://www.rockhall.com/inductees/robert-johnson.

Additional Information