Mystery Hill
Introduction
Nestled within a small hillside between Boone and Blowing Rock lies the ever so perplexing Mystery Hill. This kitschy roadside attraction serves as the remains of the eccentric auto-tourism industry of the 1950s, known for their gravitational anomalies where the laws of physics seemed to have no place. Originally known as the Hudson Apple Orchard, the lure of strange occurrences stemming back to the Revolutionary War piqued the interest of the Hudson family and visitors alike. Why did apples seem to collect in bunches that defied the apparent pull of gravity? Why was it easier to push children on their swing uphill and experience so much resistance when trying to swing downhill? Such questions puzzled the Hudson family and visitors alike, thus prompting Mr. Hudson to open "Mystery Hill" in order to share the strange "anomalies" of his orchard with motorists touring through the mountainous regions of Southern Appalachia.
Images
A postcard from Mystery Hill illustrating motorist families that flocked to the roadside attraction. "Mystery Hill," Digital Watauga, accessed October 18, 2017, http://digitalwatauga.org/items/show/335.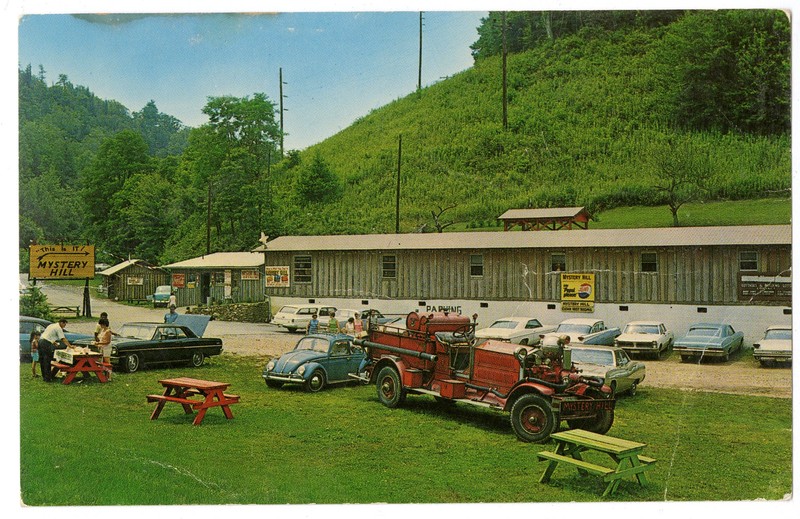 "Mystery Hill," Digital Watauga, accessed October 18, 2017, http://digitalwatauga.org/items/show/335.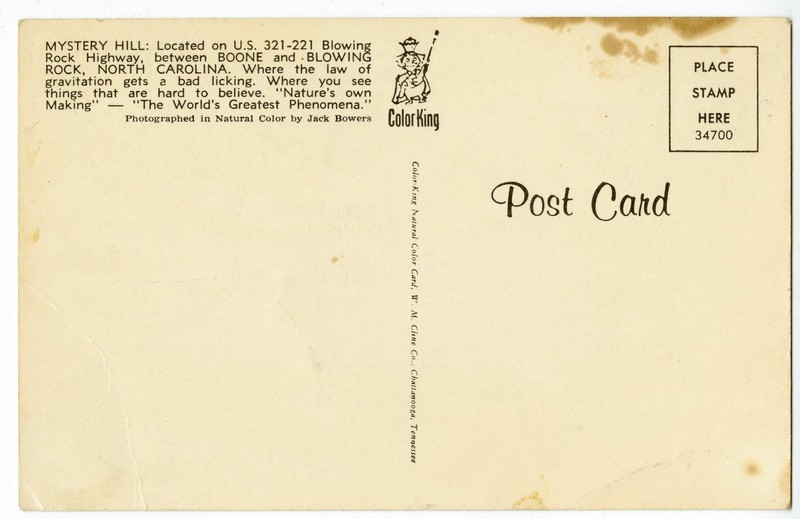 Present day Mystery Hill. Pictured is the main entrance and gift shop to commemorate one's visit to the place that doesn't abide by the laws of physics.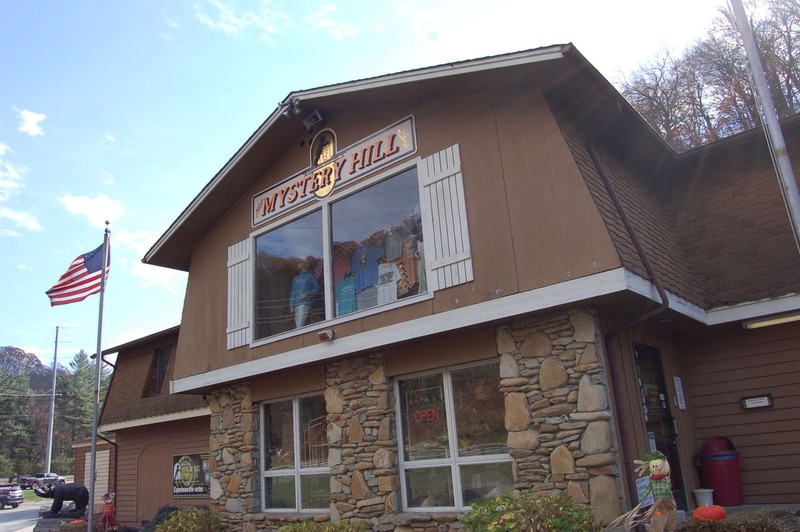 This diagram illustrates how "mysterious" roadside attractions work off of optical illusions.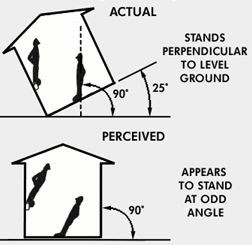 Two women walking up to Mystery Hill circa. 1955. Admission at this time was a mere 50 cents for adults and 25 cents for children! "Two Women at Mystery Hill, 1955," Digital Watauga, accessed October 17, 2017, http://digitalwatauga.org/items/sho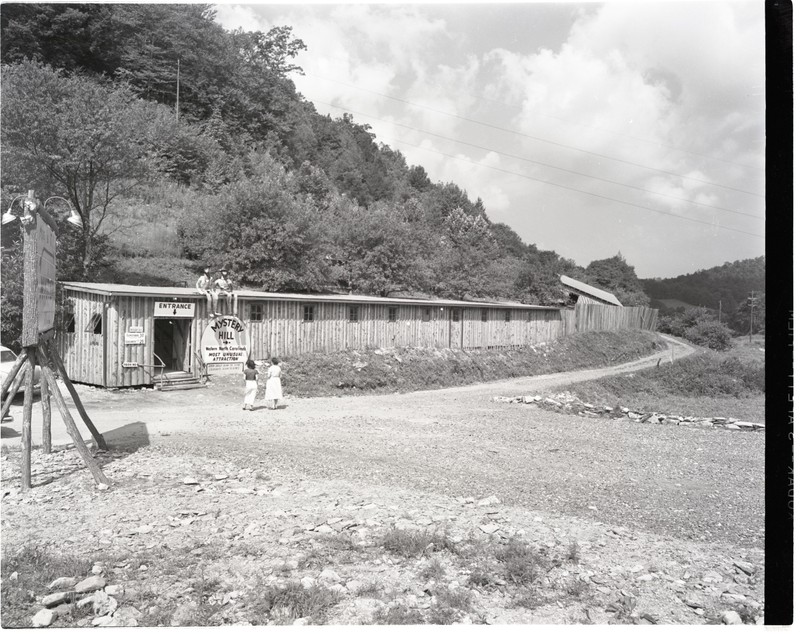 Visual aids such and the ball on a wire and swing were put into place to assist visitors in visualizing the gravitational anomalies of Mystery Hill. "Visitors to Mystery Hill Postcard," Digital Watauga, accessed October 17, 2017, http://digitalwa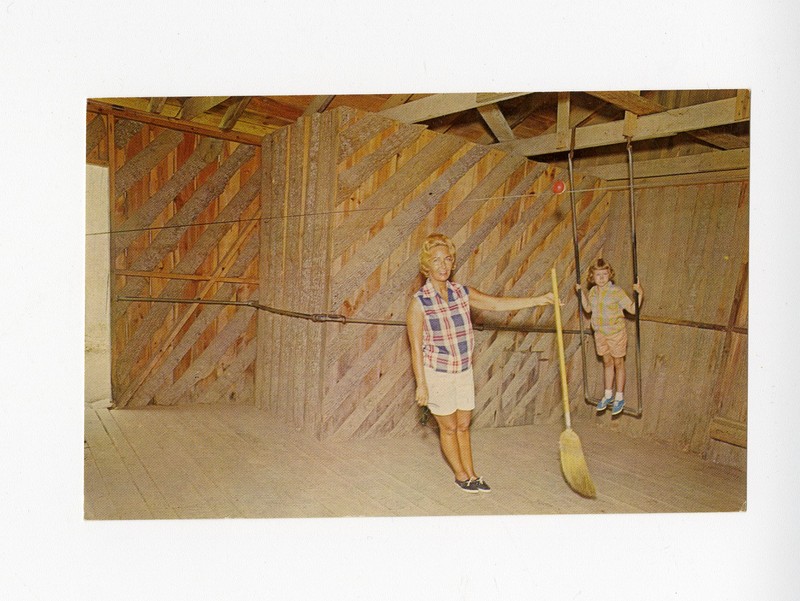 "Visitors to Mystery Hill Postcard," Digital Watauga, accessed October 17, 2017, http://digitalwa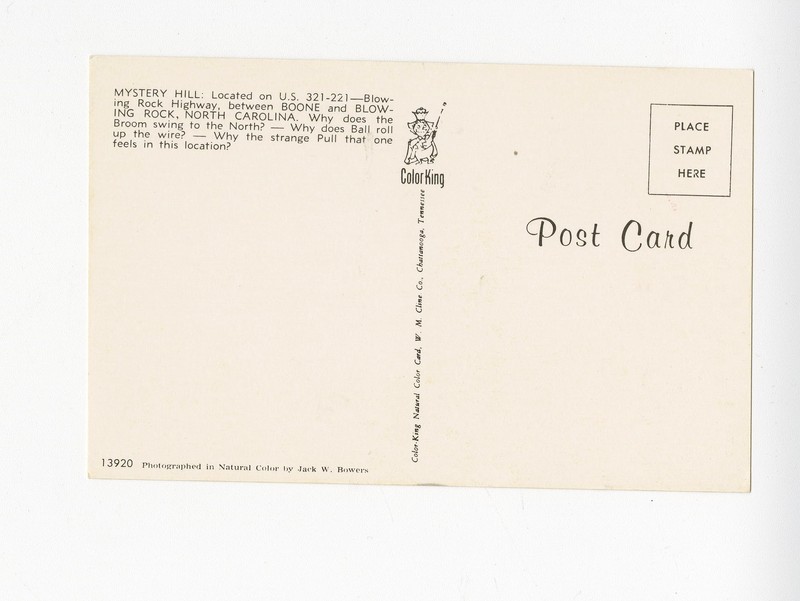 Backstory and Context
For over 65 years, Mystery Hill has been dazzling audiences with the strange gravitational anomalies that seem to occur on their hillside. Prior to its bustling popularity as a roadside attraction, Mystery Hill had quite a humble beginning. In the 1920's the mysterious hill was simply known as the Hudson Apple Orchard. R.L. Hudson took note of the strange occurrences happening in an isolated location of his orchard, as trees grew against the wind and apples collected in piles that seemed to defy the laws of gravity. The notable "mystery platform" was discovered when Mr. Hudson observed his twin workers, of identical height, standing on a newly installed platform to keep their apple press level. Hudson noted that one of the brothers looked six inches taller than the other.

What started as off-the-path tours to marvel at the "mysterious hill" became a full-fledged business thanks to Hudson's entrepreneurial skills. He initially only built a small shack composed of visual aids to display the marvelous anomalies that occurred in his orchard. The boom of highway tourism allowed his roadside attraction to become an immediate hit, reaching staggering heights in the mid-1950's.
Mystery Hill is not unique in its story or essence, as it is one of roughly twenty notable "gravitational anomaly" spots that dot the highways of the United States. Such roadside attractions began to pop up between the late 1930s and early 1950s as the progress of the automobile industry created a more mobile America. Families now possessed the capability to see the US at their own leisure, thus prompting entrepreneurs to create ways in which they could capture the attention of passersby in order to gain a profit. Novelty and eccentric attractions proved to garner high levels of attention from travelers, thus resulting in the success experienced by Mystery Hill in the 1950's.

Most all gravitational anomaly attractions, however, are mere products of clever construction and optical illusions. In its essence, the structures themselves are built on a 25° incline with the flooring cleverly covering this tilted foundation. It was said that RL Hudson was inspired to create Mystery Hill as he picked up a Life magazine in late 1940's that featured a gravitational anomaly attraction in California. After traveling to California to see for himself if other places like his orchard truly existed, he promptly returned home to construct a small shed so that he too might share his "gravitational vortex" with all who passed through.
In 1958 R.W Underwood purchased the property from the Hudson family. As time progressed, it was obvious that tourists were no longer as impressed at seeing a ball roll uphill in a bland wooden shack. The Underwood family understood this and dove head first into sprucing up Mystery Hill in order keep it fresh to those traveling through. A gift shop was installed so that visitors could commemorate their visit to the famed Mystery Hill.

In addition to this expansion, a "Hillbilly" mountain life exhibit was installed, tapping into the stereotypical view of mountain moonshiners. Evolving with the fads of the day, Mystery Hill has continually molded itself to align with the trends of the day in order to pique maximum interest of those passing through. To date, Mystery Hill has added hands-on science and optical illusion demonstrations, as well as the Appalachian Fossil Museum with an expansive collection of Native American artifacts, Doc Rocks Gem Mine, Professor Finnegans Old Time Photo Parlour, and property that will eventually become a part of the Middle Fork Greenway connecting Boone and Blowing Rock.
Despite the various changes and expansions that Mystery Hill has experienced since its opening in the 1950's, they are currently in the stages of going back to their roots--apple roots, that is. The orchard of Mystery Hill was wiped out due to a blight in the early 1960's. The trees were never replanted, and thus the property lost a large part of its early history. Stepping back slightly from the kitschy nuances of mountaineer moonshiners and stepping into the eclectic history of mountain apple orchards, current effort are underway in order to replant and repopulate the hillside with the original variety of apple trees that the Hudson family thrived off of so long ago.
Sources
Our History. Mystery Hill. Accessed October 10, 2017. http://www.mysteryhill-nc.com/history-of-mystery-hill.

Mystery Spots Explained. Sandlot Science. Accessed October 11, 2017. http://www.sandlotscience.com/MysterySpots/Mystery_Spots_1.htm.

Erkan Sezgin and Medet Yolal (2012). Golden Age of Mass Tourism: Its History and Development, Visions for Global Tourism Industry - Creating and Sustaining Competitive Strategies, Dr. Murat Kasimoglu (Ed.), ISBN: 978-953-51-0520-6, InTech, Available from: http://www.intechopen.com/books/visions-for-global-tourismindustry-creating-and-sustaining-competiti...

"The Mystery Spot illusion and its relation to other visual illusions." Psychological Science (0956-7976) 10, no. 6 (November 1999): 501. SPORTDiscus with Full Text, EBSCOhost (accessed October 18, 2017)






Additional Information