Coalinga 1983 Earthquake Historic Marker
Introduction
On May 2, 1983, a 6.2 magnitude earthquake struck Coalinga. The earthquake injured several dozen people and damaged or destroyed most of Coalinga's downtown, but remarkably, no one was killed. A plaque in Coalinga Plaza recognizes the community's joint efforts to rebuild the city.
Images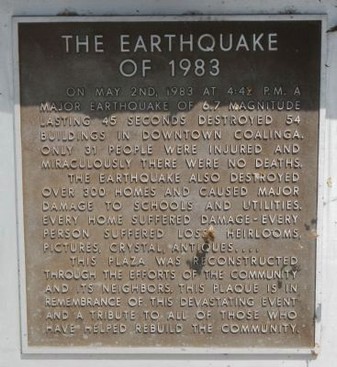 Some of the damage caused by the earthquake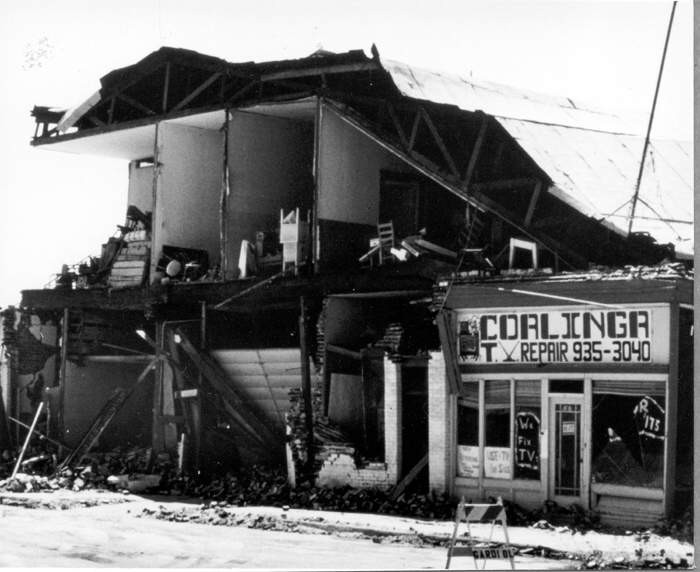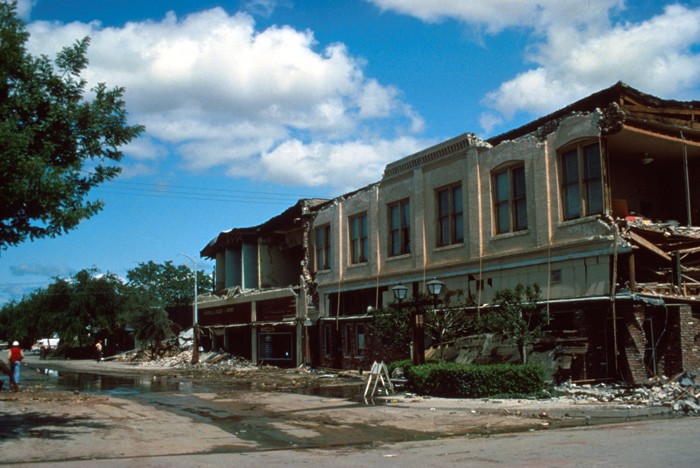 Backstory and Context
On the afternoon of May 2, 1983, at 4:42 PM, an earthquake struck Coalinga. In less than a minute, much of the eight-block downtown was damaged or destroyed, as were 300 homes. The earthquake was felt throughout California and as far east as Reno, Nevada. The epicenter was placed at five miles northeast of Coalinga, roughly 20 to 30 miles north of the San Andreas fault.

The earthquake was caused by an unknown fault deep beneath the earth's surface and was not related to the San Andreas fault. The fault's existence came as a shock to many, as the area was thoroughly researched because of its numerous oil fields.

The Coalinga earthquake caused approximately $10 million in property damage. Roughly 1,000 people were left homeless as a result and 30 percent of the town's homes were left uninhabitable. The earthquake triggered several grass and oil fires as well. Nearly 100 people were injured, but there were no deaths associated with the earthquake. Several dozen aftershocks were reported in the following few weeks.

The plaque in Coalinga Plaza commemorates not only the earthquake, but the efforts of the community to rebuild the plaza.
Sources
Dozens Are Hurt as Strong Quake Strikes California. New York Times. May 03, 1983. Accessed October 20, 2017. http://www.nytimes.com/1983/05/03/us/dozens-are-hurt-as-a-strong-quake-strikes-california.html.