Location of the 1858 Senate Race Debate
Introduction
The northeast side of the Jacksonville Square is the location where Abraham Lincoln and Stephen Douglas had a debate for the 1858 Senate Race.
Images
Abraham Lincoln and Frederick Douglas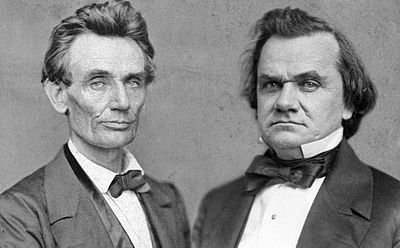 Backstory and Context
This is the location of one of the many debates held by Abraham Lincoln and Stephen A. Douglas over the 1858 senate race. The two did not debate at the same time, but rather came separately on different dates to discuss their political campaign and to attempt to win votes for the senate seat for Illinois in Jacksonville.
Stephen A. Douglas was born April 23, 1813 and became enthralled in politics very early in his life. Before running for Illinois senator in 1858, Douglas successfully was elected as state's attorney for the First Judicial Circuit, Register of the Land Office in Springfield, chairman of the Democratic State Committee, Secretary of State for Illinois, House of Representatives member for Illinois, Illinois Supreme Court Justice, along with many other notable positions. He gave one of his speeches in Jacksonville, IL three weeks before Abraham Lincoln. He was not unfamiliar with the Jacksonville area, because he lived in Jacksonville from 1833 to 1837. In that time, he became fascinated with Andrew Jackson, from whom the town had been named after, and left to pursue his legislative career in Springfield, IL. The speech given in Central Park, Jacksonville, IL was just one of 130 speeches Douglas made during this election.
On September 27th, 1858, Lincoln spoke about his political career and his applicability for the Illinois senator position.This is just one of 63 speeches Abraham Lincoln held across the state of Illinois and he spoke for approximately two and a half hours.
Sources
"Stephen Arnold Douglas - Previous Illinois Supreme Court Justice". 2017.
Illinoiscourts.Gov
. http://www.illinoiscourts.gov/supremecourt/JusticeArchive/Bio_Douglas.asp.

"Douglas, Stephen A. (Douglass)". 2017.
Lawpracticeofabrahamlincoln.Org
. http://www.lawpracticeofabrahamlincoln.org/Reference/html%20files%20for%20biographies/Bio_1052.html.