West - Side Public Square 1910
Introduction
This is part of the Walldog Murals. It was done by Mike Clark from Alton, IL.
Images
Image http://jacksonvilleil.org/walldog-murals/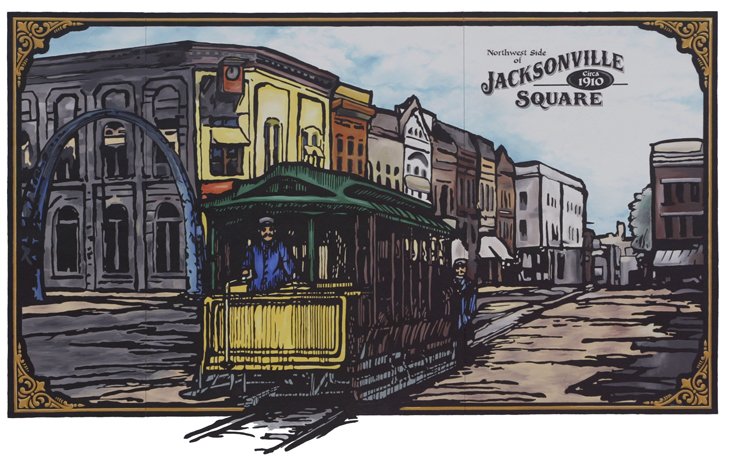 Postcard that inspired the mural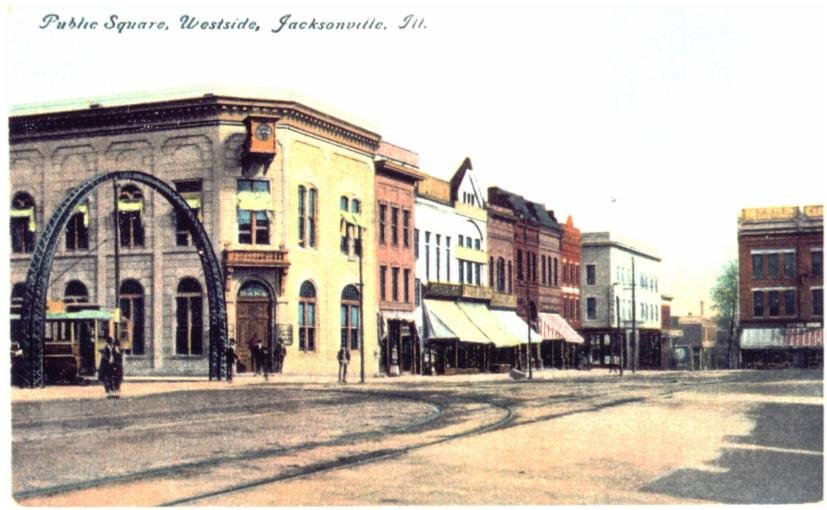 Backstory and Context
This depicts the Public Square in 1910. At the turn of the century, Jacksonville was referred to as "The Elm City" due to one citizen who wanted to spruce up the town. The charm of this town was also due to the vast amount of different churches in the area. Citizens felt at ease in their little town. Not only did Jacksonville provide spiritual relief, it also gave its people physical relief. Jacksonville housed the first medical school in the state. The medical school was located at Illinois College. This also happens to be the oldest college in the state of Illinois. Schools played a major role in the town. It is often called "The Athens of the West" due to the large amount of higher education institutes here. Jacksonville even attempted to get the University of Illinois to open its main doors here. (It lost the competition to Urbana- Champaign.)
The picture mural shows the square before the construction of the Ayers National Bank tower. People were in awe of the arrival of the new building, they thought it was a stunning addition. The former bank was bought out by The Farmers State Bank and Trust Company. The Ayers National Bank had to shut down due to financial reasons during the Great Depression. Also pictured is a streetcar. They were originally pulled by horse and buggy. The mural shows, indirectly, how far the town has progressed.
The mural was inspired by a postcard.

For the kids***
Can you find the blue arch?
Sources
Garner, Bob. History of the City. Jacksonville. http://cms6.revize.com/revize/jacksonvilleil/residents/about_jacksonville/history/index.php