Intrepid Sea, Air & Space Museum
Introduction
This historic aircraft carrier was placed in service during World War II and served the US Navy in a variety of conflicts from 1943 to 1974. The carrier has been a floating museum since 1982 and is presently located along the Hudson River. Hundreds of exhibits await visitors on her historic decks including static exhibits of historic aircrafts from World War II through the Vietnam conflict. The Intrepid also holds the Space Shuttle Enterprise, a British Airways Concorde SST, and an SR-71 Blackbird. The complex also includes a submarine, the USS Growler.
Images
A view of the Intrepid Museum taken from river level.

The Enterprise being lowered onto its deck.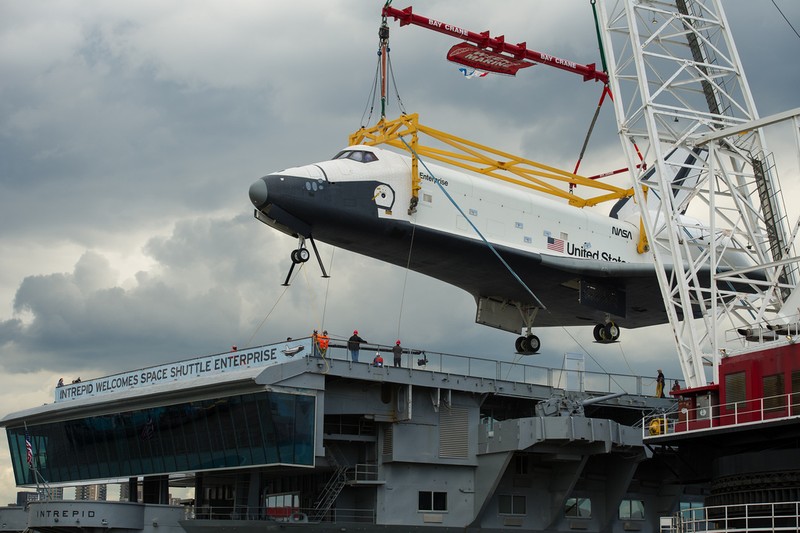 The USS Intrepid is a United States aircraft carrier that is currently a floating museum berthed in New York City.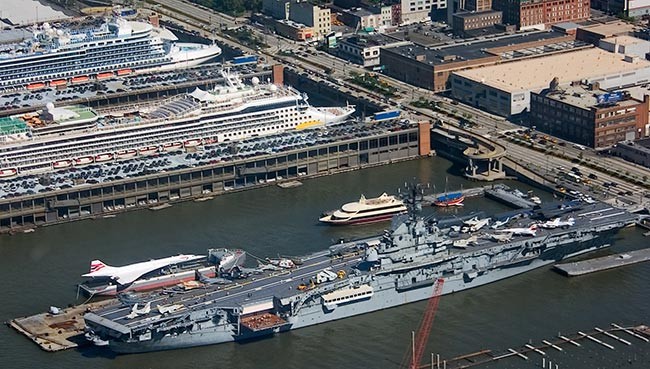 The USS Intrepid underway in the Pacific Theater during World War II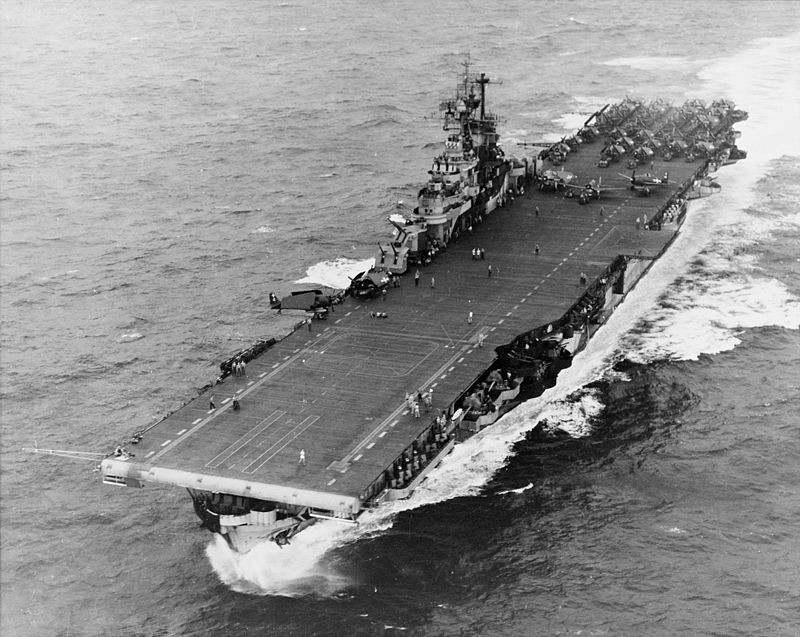 Backstory and Context
The USS Intrepid is an Essex-class aircraft carrier and was launched on April 26, 1943 at the height of World War II. The ship and its crew saw action in some of the Pacific theaters most significant battles including the Battle of Leyte Gulf in late October 1944. The Intrepid was decommissioned after the Korean War but was once again placed into active service during the Vietnam Conflict. The carrier also served as a recovery ship for the Mercury and Gemini space missions.

The Intrepid was decommissioned in 1974 and might have been used for scrap had it not been for the intervention of real estate developers Zachary and Larry Fisher. The two brothers launched a campaign with the help of philanthropist Michael Stern to save the Intrepid and operate the historic carrier as a naval air and space museum. The Intrepid museum opened in 1982 and was designated as a National Historic Landmark four years later.

On August 8, 1988, the museum was awarded the USS Growler; a Grayback-class submarine. Following the September 11 attacks, the ship was used as a field office by the Federal Bureau of Investigation during the early stages of their investigation into the attacks.

The museum has undergone two major renovations between 2006 and 2009. The first renovation included the expansion of exhibit space and facilities. The museum closed temporarily due to damage from Hurricane Sandy but reopened with new exhibits and a variety of new static exhibits of historic aircrafts. The Intrepid is home to some of the most famous and significant military and commercial aircrafts - the SR-71 Blackbird, a British Airways Concorde, a replica of the Aurora 7 Mercury capsule, a Russian Soyuz descent module, and the Space Shuttle Enterprise. The Enterprise is housed on the flight deck in its own pavilion.

Sources
"The USS Intrepid." US Navy website. Accessed March 28, 2017. http://www.navy.mil/navydata/nav_legacy.asp?id=28.


Additional Information