Gesu Church
Introduction
On May 21, 1893, the cornerstone of Gesu Church was laid on 12th Street and Grand Avenue (now Wisconsin Avenue). The building was modeled after the Cathedral of Chartres in France. Nearly 125 years later, the Jesuit parish serves both Marquette University and the larger Milwaukee Catholic community.
Images
Detailed view of the Gesu Church spire Photograph of the Gesu Church, 1977-1978, D-6, series 2.1, Hilltop Photo Collection Box 8, Department of Special Collections and University Archives, Marquette University, Milwaukee, WI.
Interior view of Gesu Upper Church Photograph Gesu Church, 1908, 4.5, series 10, 00695 file, Department of Special Collections and University Archives, Marquette University, Milwaukee, WI.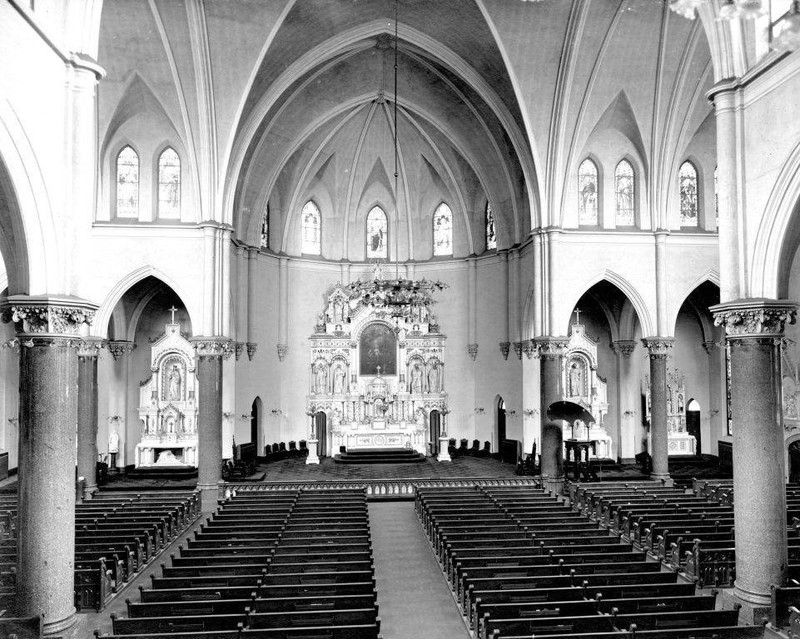 Backstory and Context
Gesu began in 1849 as St. Gall's Church on 2nd and Sycamore (present day Michigan Street) where Bishop Martin J. Henni presided over a predominately Irish Catholic congregation. A year prior, Henni, on a visit to Rome, had met with Jesuit Priest Chevalier Guillaume DeBoey. DeBoey gave Henni a gift of $16,000 on the stipulation Henni would establish a Jesuit college. Sixteen years later, in 1864, Marquette College secured its charter from the state legislature. Nine years later, the Archdiocese bought land on 12th Street and Grand Avenue to build Gesu Church. After it was completed in 1873, Gesu served the Catholic population of Milwaukee, mostly Irish and German immigrants. In 1907, Marquette College moved to its present day location next to Gesu Church.
The Church was named after the mother church of the Jesuits in Rome. Renowned German-American Milwaukee architect H.C. Koch designed the French Gothic church. It is noted for its stunning stained glass windows, designed by the Royal Bavarian Institute. Of particular note is the twenty-eight foot Rose Window, set in a Gothic arch above the choir loft. Additionally, the Church displays an original sculpture by Italian artist Giovanni Dupre, the Pieta. Purchased at the Paris Exposition of 1867 by wealthy Milwaukeean Harriet Cramner, it depicts Christ in the arms of the Virgin Mary at the foot of the cross. Gesu can also boast an original Kimball pipe organ with 4,000 pipes and flutes. Acquired by the parish in 1903, it is regarded by musicians as one of the most outstanding church organs in the United States. The Church itself is a work of art. The main alter in the upper church was built by Italian artisans of marble quarried in Italy. Gesu also features two more alters in the upper church as well as eleven alters in the lower church.
Gesu Church can fit up to 2,000 people in the upper church and around 1,2000 in the lower church. The parish remains to this day a thriving center of religious life in the Marquette and surrounding Milwaukee community. In addition to holding daily services and Catholic sacraments, the Parish provides religious education and has many parish and service committees to foster community involvement. In the spirit of Jesuit global service and ministry, Gesu has partnered with Sts. Simon and Jude Parish in Haiti. Along with monetary support, every year members of Gesu Parish travel to Sts. Simon and Jude on a mission trip to meet with local parishioners and meet the needs of the community.While Gesu Parish and Marquette University are separately incorporated, they share a collaborative relationship. The university holds weekly masses at Gesu at which Jesuit priests assist in the liturgy. Gesu also hosts many of the university's special religious events, such as the Mass of the Holy Spirit, which ushers in the start of each academic year. One can also attend many concerts at Gesu, such as performances by the Marquette Liturgical Choir.
Sources
"Church of the Gesu," Marquette University, accessed October 20, 2017, http://www.marquette.edu/sacred-spaces/gesu-church.php
"Gesu Golden Anniversary," Marquette Tribune, December 2, 1943.
"History," Church of the Gesu: A Catholic Jesuit Parish, accessed October 20, 2017, http://www.gesuparish.org/about-history.php
James M. Johnston, "Gesu Called Chartres of Milwaukee," Milwaukee Sentinel, April 22, 1978, Marquette University visitor guide, September 1984.
Additional Information