Union Pacific Water Tower
Introduction
The original source of water for Union Pacific railroad operations in West Yellowstone was a spring located near the South Fork of the Madison River. Water was piped from the spring into town, a distance of over two miles. In 1910, the railroad built a steel water tower southwest of the depot. The tank had a 65,000 gallon capacity and was 24' in diameter and 20' high. It stood on a 50' tower. Adjacent to the tower was a pump house. Water was pumped from a well which was drilled in 1911, replacing the previously used spring water. A 10" water columnn was used to water the locomotives. There was also an underground waterline running to a horse watering trough near the depot. The exterior of the pump house was altered in the 1920s to match the façade of the Dining Lodge and other railroad facilities designed by Gilbert Stanley Underwood.
Images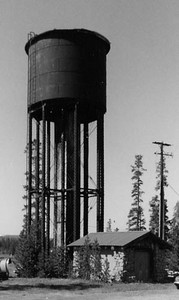 Sources
"The Water Tower." Yellowstone Historic Center. http://yellowstonehistoriccenter.org/Water-Tower/ (Accessed November 2017).
A & E Architects, P.C. Historic Structures Report: Oregon Shortline. Missoula, MT, July 2001.
Additional Information