Robidoux Row Museum
Introduction
Listed on the National Register of Historic Places, Robidoux Row is the house of the first settler in the area, Joseph Robidoux, who founded St. Joseph. He established a fur trading business and the area soon grew into the trading town of Black Snake Hills, which eventually became St. Joseph. His house was also a series of hotel-like apartments for travelers who were waiting for their new homes to be built. Robidoux Row is now a museum that explores the history of St. Joseph and westward expansion. Many of Robidoux's personal items are on display and rooms have been restored to their 19th-century appearance. The building is also the location of the St. Joseph Historical Society.
Images
Robidoux Row Museum was the former home of St. Joseph founder Joseph Robidoux.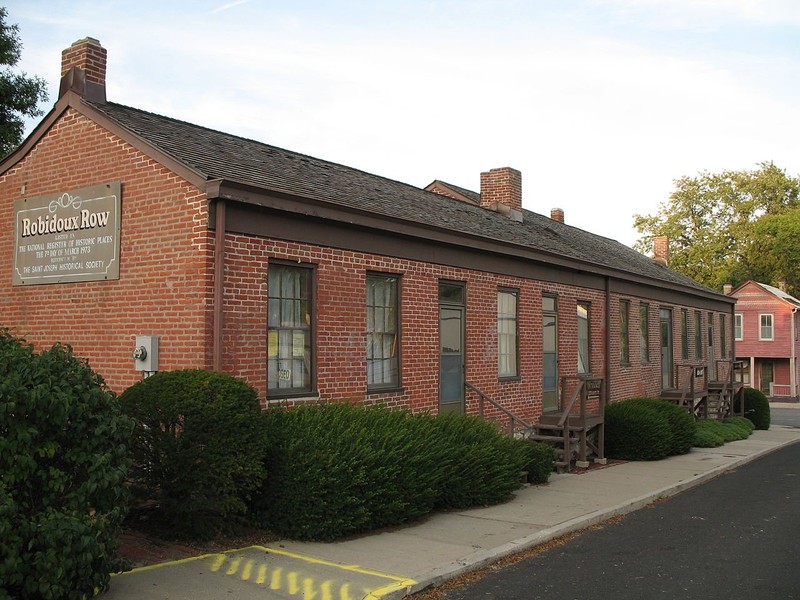 Backstory and Context
Joseph Robidoux was born in St. Louis in 1783 to a family of fur traders and merchants. As a teenager, he traveled with his father on fur trading trips and grew to love the business. As an adult, he established a number of trading posts in the region and as far north as Chicago. He eventually made his way to St. Louis where he was hired by the American Fur Company, which sent him to what is now St. Joseph sometime between 1826-1831 to set up the first trading post in the area. It became a successful enterprise and he encouraged others to establish posts throughout the northwestern part of the state. He earned the respect of both settlers and Native Americans.
To encourage the community around him to grow, he sold some of his lands to others who built houses, churches, and marketplaces. He even donated the whole city block where Buchanan County Courthouse now stands. This is how St. Joseph got its start.

The city grew quickly because of its location. Soon, it also became a starting point for those who were traveling to the west on the Oregon Trail to settle lands that were being claimed by the federal government. The numbers of settlers increased even more after gold was discovered in California in 1848. In 1860, St. Joseph became the official starting point for the Pony Express, the mail carrier service that operated until October 1861.
Given all of these developments, it is clear how important Joseph Robidoux is to city's history. Without his influence, St. Joseph would not be the community it is today.
Sources
Baumann, Emily. "Joseph Robidoux." St. Joseph Community Branding. July 31, 2018. http://uncommoncharacter.com/stories/joseph-robidoux.
Raiche, Stephen J. "Robidoux Row." National Park Service - National Register of Historic Places Nomination Form. March 7, 1973. https://dnr.mo.gov/shpo/nps-nr/73001037.pdf.
"Robidoux Row." Robidoux Row Museum. Accessed January 6, 2019. https://www.robidouxrowmuseum.org.
Photo: Wikimedia Commons
https://en.wikipedia.org/wiki/Robidoux_Row#/media/File:Robidoux-row.jpg

Additional Information