Union Academy
Introduction
As indicated by the state historic marker on 9th Avenue South, the original Union Academy was located at the site of a former Confederate Arsenal just south of the railroad tracks. Documents indicate that in late 1865 the Freedmen's Bureau opened a school for freed slaves at what was known as the Wayside Hospital building. The warehouse-type structure on the south side had been used as a hospital during the Civil War. The Freedman's Bureau school, which precedes the establishment of Union Academy, was probably at the south side site as well.
Images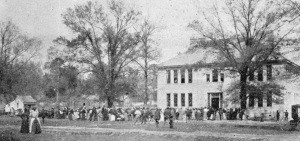 Backstory and Context
History
Union Academy was established following the Civil War. The institution began as an African American school run through the American Missionary Association until 1877 when it became a branch of the all-white Franklin Academy. Professor William Isaac Mitchell served as the school's first African American Principal from 1878 to 1916.
The brick structure seen here opened in March 1903 and was large enough for one thousand children. In the early 1900s, the school added a high school curriculum, but was converted into an elementary school in 1954. This building, located on Tenth Avenue North, was replaced by a new school building in the early 1960s.
Seen below is a class composite from 1948. Professor Hunt is in the second row from the bottom on the far left.
Sources
http://visitcolumnbusms.org/index.php/interactive_map/location/59#top http://lowndeslibarchives.wordpress.com/2012/02/24/union-academy/
Additional Information