Phoenix Trolley Museum
Introduction
The Phoenix Trolley Museum opened in 1975 by a group of train enthusiasts. They bought one of the last remaining original streetcars, Car #116. Unfortunately, in the summer of 2016, the city told the museum it had to move out within a few years because the city plans to undertake a major project to renovate Margaret T. Hance Park. The museum will move to its new location at 1117 Grand Avenue where it will continue to offer displays of the city's early history and its streetcar line.
Images
This former dentist's office housed exhibits of the Phoenix Trolley Museum until December 2017. The new location is at 1117 Grand Avenue.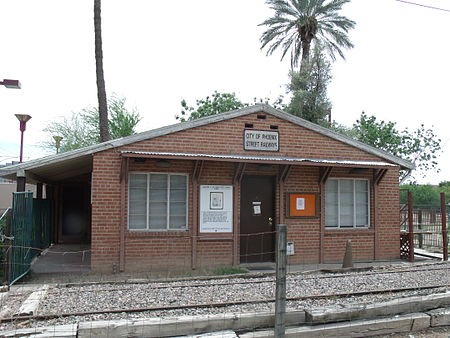 Backstory and Context
From 1887 to 1948, transportation in the City of Phoenix Arizona was provided by the Phoenix Street Railway System. The System founded by General Moses Hazeltine Sherman, utilizing horse cars was converted to electrical power in 1893 and was, in large measure, responsible for the pattern of real estate and other development in the early days of the City. The Glendale interurban line, completed in 1911, was the first of several lines — including Tempe, Mesa, and Scottsdale — planned to be built through the subscription of property owners along the line.
The City of Phoenix acquired the street railway in 1925 and, as the result of a successful bond issue, completely rebuilt the System and purchased 18 modern Streetcars. The Streetcars were very popular with the public and remained in operation until 1948 when, after a fire, they were replaced by buses.
Sources
"About the Museum." Phoenix Trolley Museum. Accessed June 6, 2014. http://www.phoenixtrolley.com/about.html.

Ettleman, Tristan. "Phoenix Trolley Museum gets reprieve before it moves from Hance Park." AZcentral. September 30, 2017. https://www.azcentral.com/story/news/local/phoenix/2017/09/30/phoenix-trolley-museum-gets-3-month-re...

Additional Information