Father Marquette Statue
Introduction
Located in front of Coughlin Hall on the Marquette campus, the Father Jacques Marquette sculpture pays tribute to the university's namesake. Father Marquette was a 17th century French Jesuit missionary and explorer. He is particularly known for surveying and mapping the northern portion of the Mississippi River alongside French-Canadian explorer Louis Jolliet.
Images
Father Marquette statue in its original location near the Joan of Arc Chapel. Photo: Brigid Nannenhorn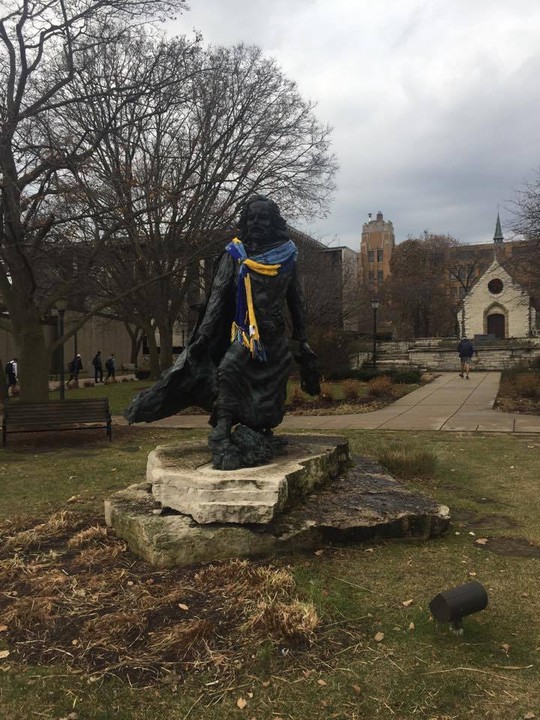 Closer look at the Father Marquette Statue Photo: Brigid Nannenhorn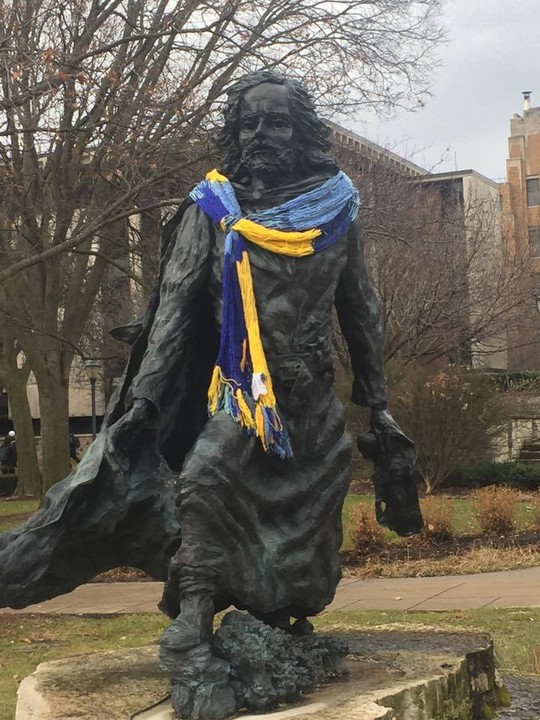 The historical marker to the right of the Father Marquette Statue provides a brief account of Jacques Marquette as well as the statue's artist and benefactors. Photo: Brigid Nannenhorn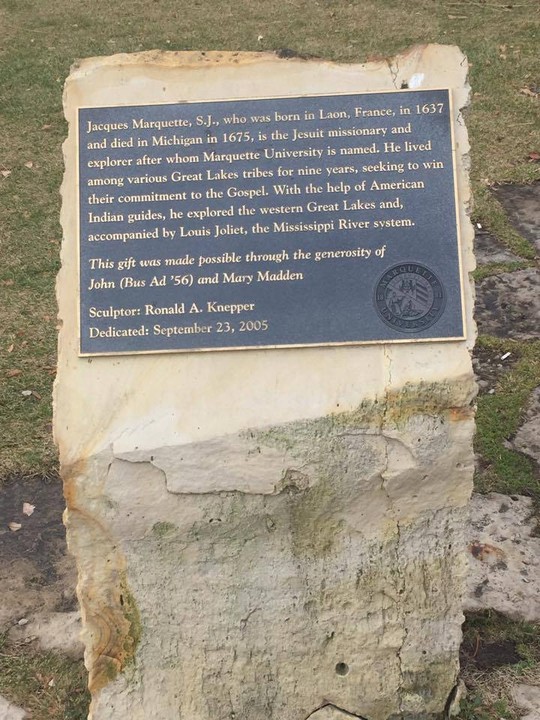 Backstory and Context
As the namesake of Marquette University, Pere Marquette is commemorated in the Marquette University's seal. A statue in Pere Marquette Park (900 N. Plankinton Avenue, Milwaukee, Wisconsin) also features a statue of the missionary. The park is near where Marquette was supposed to have landed his canoe when visiting the area that would become Milwaukee. To commemorate Marquette's impact on Wisconsin history, the state donated a marble statue in his likeness to the National Statuary Hall Collection in 1896.1In 1956 Alumnus John Madden and his wife Mary offered to fund a sculpture of Marquette. The University commissioned New York-based artist Ron Knepper to create the work, which was dedicated on September 23, 2005.2 Located immediately west of Coughlin Hall, the bronze statue portrays a mature Father Marquette. It stands eight feet two inches tall and weighs between 2,500 and 3,000 pounds. The sculpture depicts Marquette carrying a map, a nod to his explorations, and wearing a crucifix at his belt.3 During winter, Marquette students drape a Marquette scarf around the sculpture's neck; graduating students often have their picture taken near the statue.
Sources
1"Jacques Marquette," Architect of the Capitol, accessed November 25, 2017, https://www.aoc.gov/art/national-statuary-hall-collection/jacques-marquette.
2 Josh Hertzog, "Marquette honors namesake with new sculpture," On Milwaukee, September 21, 2005, https://onmilwaukee.com/buzz/articles/mustatue.html.
3 "Father Marquette," Marquette University, accessed November 25, 2017, http://www.marquette.edu/sacred-spaces/father-marquette.php.
Additional Information