Cathedral Mansions Center
Introduction
Cathedral Mansions Center was built between 1923 and 1924 as the central building of a larger apartment complex built by Harry Wardman. In 1925, some of its residences along Connecticut Avenue were rezoned for commercial use. Today, the Center building is known simply as the Cathedral Mansions and its businesses along Connecticut Avenue are popular among visitors to the National Zoo.
Images
Cathedral Mansions Center is directly located across from the National Zoo and makes for both a perfect commercial and residential location. Courtesy of Cathedral Mansions.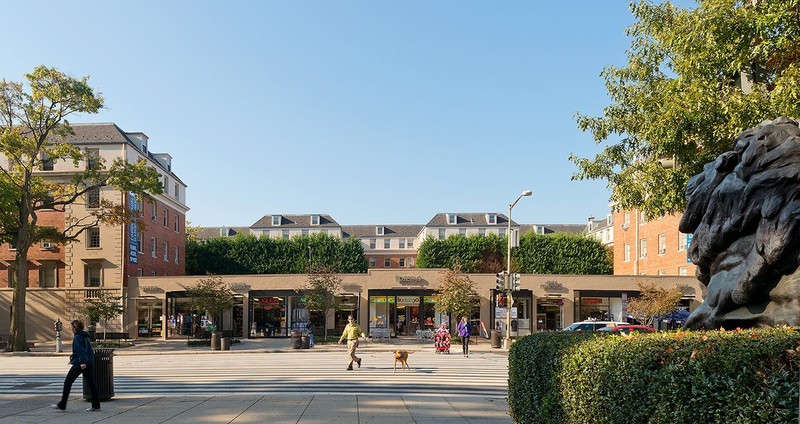 A 1923 article from the newspaper Evening Star says the luxurious Cathedral Mansions Center will include "500 rooms and 200 baths." Library of Congress.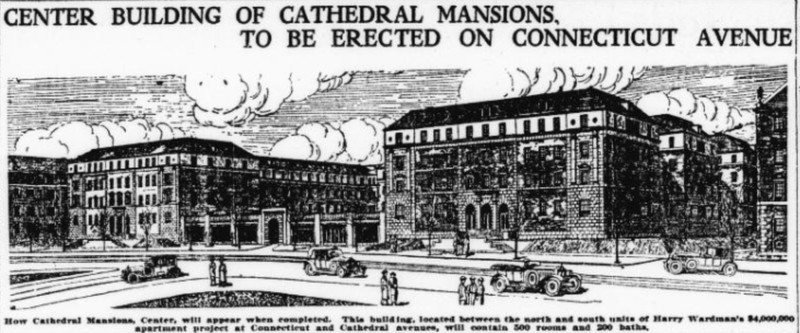 Backstory and Context
Cathedral Mansions Center sits between its sister buildings to the North and South. It was the last of the Cathedral Mansions buildings constructed, completed in 1924 for $1.25 million, and has a uniform and simple design. It continues to operate as an apartment building and is the only one of the original Cathedral Mansions buildings to include a commercial area, established in 1925. These shops have changed over time but their popularity has remained steadfast. Cathedral Mansions Center is an important feature of the local landscape.
Passersby may easily miss the entirety of the building while preoccupied by the shops and National Zoo across the street. Cathedral Mansions Center is a U-shaped structure with several projections; before becoming a commercial area, the ends of the "U" were connected by an arch held up by columnns. This five-story brick structure incorporates limestone details and a stucco finish on the fifth-floor exterior. The building's inner courtyard includes a beautifully landscaped garden for its residents. Cathedral Mansions Center was originally called the Jewett Mansions, named for the old road that is now the entrance to the National Zoo.
When Cathedral Mansions Center was completed in 1924, it put the finishing touches on a project managed by developer Harry Wardman. Born in 1872 in England, Wardman began his career in the United States as a carpenter who built individual houses. He established a contracting business in 1899, and quickly began constructing larger apartment buildings and rowhouses. Wardman proved himself to be a flexible and creative entrepreneur with Cathedral Mansions, designing them in light of D.C.'s new zoning laws established in 1920. He situated this expansive project in what was then a suburban part of the city, one in which new houses and businesses were being built while natural landscapes were preserved in the nearby Rock Creek Park. The National Zoological Park, opened in 1891, also drew a number of visitors to the area.
Cathedral Mansions Center was sold in 1964 to real estate developer Norman Bernstein, whose company still owns the building today. The apartments and its commercial storefronts were renovated and some of the apartments were turned into office spaces.
Sources
National Park Service. "Cathedral Mansions Apartment Buildings." National Register of Historic Places Inventory-Nomination Form. Prepared by Betty Bird. Washington, D.C.: National Park Service, Department of the Interior, 1994. Accessed December 2017. http://focus.nps.gov/GetAsset?assetID=e880cd79-9479-4905-b959-2db5da168739
"Center building of Cathedral Mansions…" Evening star. Washington, D.C. January 13, 1923, Page 14, Image 14. http://chroniclingamerica.loc.gov/lccn/sn83045462/1923-01-13/ed-1/seq-14/

Additional Information