Rutherford B. Hayes Presidential Center
Introduction
Built in 1916, the Rutherford B. Hayes Presidential Center includes the actual home, library, museum, burial site, and the 25-acre estate called Spiegel Grove of the 19th U.S. President Rutherford B. Hayes. Entrance to the property is through one of six sets of original White House gates. The Rutherford B. Hayes Presidential Center houses more than 19,000 three-dimensional objects and more than 30,000 images of these objects. The focus of this museum is to look back at American history from 1850 to 1917 looking back on topics like the Civil War, Spanish-American War, African-American history, education history, the history of Ohio, and the Sandusky River Valley.
Images
The museum of the Rutherford B. Hayes Presidential Center was started by the President's second son, Colonel Webb Cook Hayes and his siblings, shortly after the turn of the 20th century.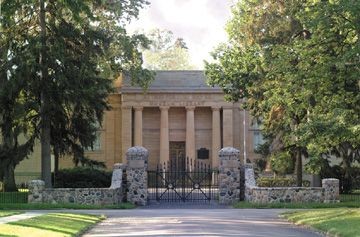 The Rutherford B. Hayes Home is a 31-room mansion constructed during the Civil War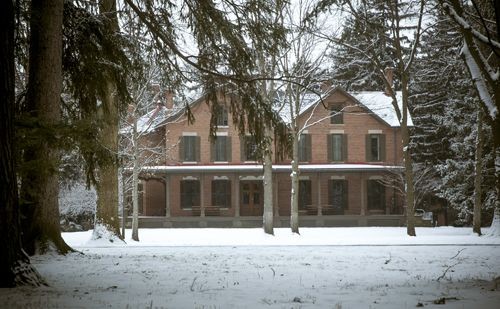 Backstory and Context
Rutherford Birchard Hayes was born on October 4, 1822 in the town of Delaware in Ohio. His father, originally a storekeeper in Vermont, moved his whole family to Ohio in 1817. However, Hayes's father passed away before his son was born ten weeks later. During his early education, he mainly studied Latin, Ancient Greek, and politics becoming interested in the Whig political views. Hayes's classmates contained two notable names: Stanley Matthews, future Senator and Associate Justice to the Supreme Court, and John Celivergos Zachos, a future physician. Hayes graduated from Kenyon College in 1842 with high honors and spoke as his class's valedictorian.
Hayes would attend Harvard Law School to study law and passed his bar exam in 1845 after graduating. He opened his own law firm in Lower Sandusky where business started out very slow for him and he hardly got clients. However, he would start representing many people in court even his own uncle, Sardis, on real estate litigation. Hayes was diagnosed with tuberculosis in 1847 and considered serving in the Army for the Mexican-American War, but his doctor advised against that action. Due to business being slow in Sandusky, Hayes moved his law practice up to Cincinnati, Ohio. He created another law firm with Chillicothe lawyer John W. Herron before moving on to a higher firm and creating new partnerships.
Hayes found his future wife named Lucy Webb during his time in Cincinnati. He didn't consider her at first due to being younger than him, but years later, he began spending time with her getting engaged in 1851 and marrying her in 1852. Lucy gave birth to three sons named Birchard, Webb, and Rutherford. Hayes's political career started when he was appointed to the office of city solicitor and then was elected to a full two-year term by voters in the following election. Hayes also served in the American Civil War along with another future president, William McKinley. While he served, he wrote letters to voters about his political positions after becoming the Republican nominee for the 2nd congressional district of Ohio. Hayes won by 2,400 votes during the general election. Some of his moments during his tenure was working with other Republicans to obstruct President Andrew Johnson's decisions and failing to pass a civil service reform bill.
In 1867, Hayes became the next Ohio Governor, but didn't have much power since a Democratic legislature controlled the lower State Senate and State House. He also endorsed the impeachment of Andrew Johnson when Johnson was tried in the U.S. Senate. He served another term in 1870 where the Republicans flipped control of the legislature and helped ratified the 15th Amendment of the U.S. Constitution. Governor Hayes also focused on expanding suffrage, reducing state taxes, and reforming the state prison system. He chose not to seek re-election and wanted to retire in 1872, but found himself back in the Governor position for a third term in 1876 becoming the first person to do so. During this third term, he reduced state debt and established the Board of Charities.
Hayes then became the Republican nominee for President of the United States running with New York Representative William A. Wheeler as his vice presidential running mate. He would win the election by just 1 electoral vote, but his opponent, Governor Samuel Tiden, won the popular vote. Before the electoral votes were tallied officially, Governor Tiden was favored to win, but some states had suffered from electoral fraud during the counting of the votes so the Compromise of 1877 was signed to let Hayes become President if troops were pulled out of the South.
During Hayes's term as President, the Reconstruction Era would come to a close, but that didn't stop him from supporting African-American civil rights. He curtailed a Democratic effort to monitor federal elections and vetoed a repeal to the Enforcement Acts. Other moments that happened during President Hayes's tenure were the Great Railroad Strike, a debate on currency, a chance at civil service reform, and the appointment of his former classmate Stanley Matthews to the Supreme Court. Hayes pledged not to run for a second term and officially retired from politics altogether. He would soon die January 17, 1893 from a heart attack.
Webb C. Hayes, the second son of Rutherford and Lucy Hayes, endowed the Foundation in 1922. It was Webb who, shortly after the 1893 death of his famous father, started an effort to build a lasting memorial to the 19th President. He deeded the President's estate (Spiegel Grove) to the State of Ohio and the President's personal papers and possessions to the Ohio Historical Society contingent on the construction of a "fireproof building" on the grounds of the estate. Webb's dream came to fruition on May 30, 1916 with the opening of what was then called the Hayes Memorial. The Hayes Museum/Library underwent a major expansion in 1968. Two wings, built onto the east and west ends of the structure, added 35,874 square feet of space. The museum and library goes over Hayes's life, political career, history in Ohio, the presidential term Hayes served, and many other topics. There is even a huge genealogical collection within the presidential center.
Sources
"Rutherford B. Hayes," Miller Center. Accessed June 7th 2021. https://millercenter.org/president/hayes.
"Biography," Rutherford B. Hayes Presidential Library and Museums. Accessed June 7th 2021.
Additional Information