Wolcott House Museum and Maumee Valley Historical Society
Introduction
Built by James Wolcott and his wife, Mary Wells, the Wolcott House began as a log home and evolved into a beautiful 14-room Federal-style mansion between the years 1827 and 1836. Wolcott was a successful merchant and shipbuilder, operating a warehouse next to the Maumee River and building steamships. Wolcott also served as a judge and politician. Listed on the National Register of Historic Places, the house contains period furnishings and decorative arts owned by typical middle-class Maumee families of the day. The house is part of a larger museum complex that features a number of other historical buildings including a church, schoolhouse, and log cabin. The site is operated by the Maumee Valley Historical Society.
Images
This was the home of James Wolcott, a prosperous businessman during the late 1820s to the mid-1840s.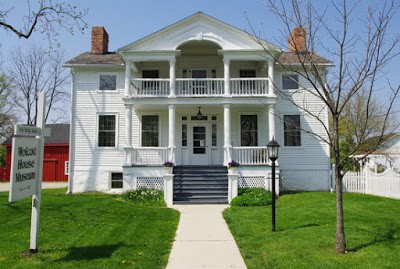 Welcome Center and Gift Shop
Backstory and Context
The Wolcotts were a prominent family as well as a culturally mixed one. James, who was born in 1789 and related to a signer of the Declaration of Independence, arrived in Ohio from Connecticut in 1818. He met and married his wife, Mary Wells, in 1821 in Missouri. Mary was the granddaughter of Miami Chief Li
ttle Turtle, who fought the United States (and its Indian allies) in the Northwest Indian War over control of the Northwest Territory in the 1790s. She and James returned to Ohio sometime in the next few years, eventually settling in Maumee after learning about the project to build canals connecting Lake Erie with the Ohio River in Indiana. James earned considerable wealth and prominence within the community as a result. He and Mary had seven children, two of whom did not reach adulthood. Mary passed away in 1843 and James in 1873.
The roots of the Maumee Valley Historical Society extends back to 1864 when a group of early pioneers and entrepreneurs came together to form the Maumee Valley Pioneer Association. In 1957 Rilla Hull, the last descendant to live in the Wolcott family home, left the building and grounds to St. Paul's Episcopal Church with the hope that it would become a museum to honor the early settlers of the Maumee Valley.
Sources
"History of the Wolcott Family." Maumee Valley Historical Society. Accessed July 16, 2018. https://sites.google.com/view/maumeevalleyhistoricalsociety/museum-complex/the-wolcott-house.

"Wolcott House." The Historical Marker Database. Accessed July 16, 2018. https://www.hmdb.org/marker.asp?marker=27023.
Additional Information