Sir Walter Scott Monument
Introduction
The Sir Walter Scott Monument sits across from the Robert Burns Statue that sit in the Literacy Mall of Central Park. The monument was dedicated in 1872 by the sculptor John Steell, who also did the Burns Statue. Sir Walter Scott was known for his contribution to Scotland history and for his novels as well. He was also able to translate many books for society at that time. Scott sits with his dog on the monument while holding a book and pen.
Images
Close up photograph of the Sir Walter Scott Monument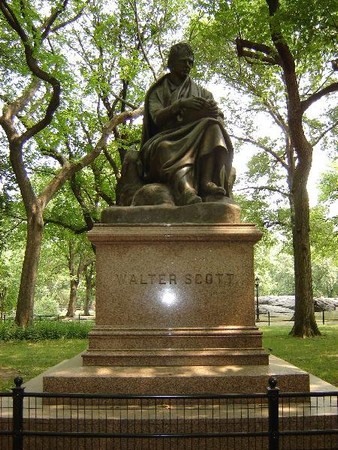 A portrait of Sir Walter Scott.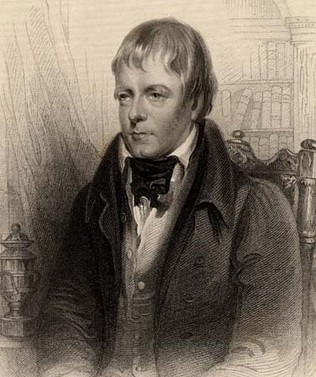 Backstory and Context
For Sir Walter Scott's 100th birthday, immigrants living in New York but from Scotland came together and decided to place a monument of Sir Walter Scott in Central Park. John Steell was asked to sculpt the monument and would later sculpt the Robert Burns Statue that sits across from the Scott Monument. When Steell sculpted the Scott Monument, he sculpted it to where Scott is sitting on a rock, he is wearing a loose clock and shoes for the workingman. He is also holding a book and pen. Scott's dog, Maida, is also sculpted into the monument.
In 1872 on November 2nd, a little after the unveiling of William Shakespeare Monument, the Sir Walter Scott Monument was unveiled. There was a celebration at the unveiling and many people came and spoke about Scott and the future he will impact or has impacted already.
As of 1936, the Scott Monument was repaired from the years before from weather and the public. And then in 1993, the monument became part of the Adopt-A-Monument Program. The monument is now funded by the Saint Andrew's Society, that now cares for and repairs any damages.
Sir Walter Scott was born in 1771 on August 15th. He was born to a father who was lawyer and a mother whose father was a physician. Scott had the best education, where he attended high school in Edinburgh and went to grammar school as well. He was to become a lawyer like his father, who he apprenticed under. Which he did not attend to for long because he wanted concentrate on reading in different languages. He became a translator for books. He translated works by John Dryden, who wrote the popular poem "Lady of the Lake" and Jonathan Swift in his eighteenth and nineteenth volume books that were published from 1808 to 1815.
By 1814, he became to tire from other people's works and decided to finish a book he started in 1805, which was his book "Waverley". It became a sensation of a novel and of of his most popular. Then over the next couple of years, he wrote "Ivanhoe", "Rob Roy", "The Heart of Midlothian" and "The Bride of Lammermoor".
In 1832, he died due to heart complications. He never really became rich for his writings but he would become world famous for his contribution to Scotland history, where he was able to find the crown jewels that were hidden for 100 years in Edinburgh Castle and that of his own writings, that are still read today.
Sources
Sir Walter Scott. Central Park. Accessed December 11, 2017. https://www.nycgovparks.org/parks/central-park/monuments/1411.

Sir Walter Scott. Encyclopedia Britannica. Accessed December 11, 2017. https://www.britannica.com/biography/Sir-Walter-Scott-1st-Baronet.


Additional Information