Cincinnati's New Orphan Asylum for Colored Youth (1845-1967)
Introduction
The New Asylum for Orphan and Friendless Colored Children, also known as the Colored Orphan Asylum, was founded in 1844 "to provide an Asylum for the protection, care, and education of destitute orphan children of color." The efforts to start the institution were led by Lydia Mott, a Philadelphia native and a member of the Society of Friends, whose social standing allowed her to bring prominent white and Black community leaders together in support of the asylum. The organization opened a small orphanage at Ninth Street between Elm and Plum Streets in 1845 with the help of many prominent residents of the growing city. In 1851 the orphanage moved and in 1866 a new facility at Van Buren and Melish Avenue was acquired. The building expanded and in 1895 a new orphanage at this site was completed. The orphanage was expanded again in 1920 and also in the years following the Second World War. The orphanage closed in 1967.
Images
The orphanage was located here on Van Buren from 1896 to 1967 when it closed just ahead of the construction of the interstate.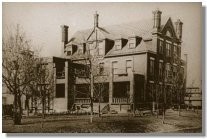 Sources
Taylor, Nikki. Frontiers of Freedom: Cincinnati's Black Community, 1802-1868. Athens: Ohio University Press, 2005.
Deb Cyprych, "Children's Home of Cincinnati Surrender Records, 1865-1890," The Tracer (September 2002-June 2004).

Additional Information