Putnam Museum & Science Center
Introduction
Founded in 1867, The Putnam Museum & Science Center is a science, natural, and cultural history museum, It is one of the first museums established west of the Mississippi River. The museum, which became a Smithsonian Affiliate in 2010, features a wide array of exhibits that explore the history of the Quad City area, ancient Egypt, habitats, and natural history of the Quad Cities. There is also the Hall of Mammals, which features lifesize animals on display. There are also aquariums in the Ocean Experience exhibits.
Images
The Putnam Museum & Science Center is a science and natural and cultural history museum originally established in 1867.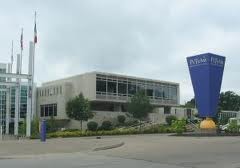 Backstory and Context
Before becoming the Putnam Museum & Science Center, it was named the Davenport Academy of Natural Sciences. It would be founded in the year of 1867 and it became one of the first early museums in the West. The Putnam Family, Charles E. and Mary Louisa Duncan, were strong supporters for the museum. The base started on their son's, Joseph, interest in various insects. Later on, the Academy would be named after the Putnam Family since they started it all those years ago.
The museum began to lose funding money in the year of 1997. Curators there had to use their endowment money in order to make up for the decrease. The board of directors took out a loan in 2002 to help pay for an IMAX theater which costed the museum over $14 million to get. The theater was a big money maker for the museum, but the place started to rack up some debt. From 2005-2006, the development and executive director positions went vacant. A man named Mark Bawden became interim director and he helped raise enough money to eliminate debts caused by the IMAX theater in 2007. He stepped down to fill in for the development director position while a woman named Kim Findlay became the new executive director on May 15, 2007.
Soon, the museum retired the IMAX theater and put two twin DLP projectors to replace it. In June of 2012, the museum started affiliating itself with the National Geographic Cinema Ventures' Museum Partnership Program. One of the most notable exhibits at this museum is a walk-through experience named "Unearthing Ancient Egypt," which takes visitors inside an ancient tomb where they learn about life for Egyptians and how they lived in their era. The "Hall of Mammals" exhibit allows visitors to learn about various mammals around the world. In July 2019, a woman named Rachel Mullins became President and CEO of the museum.
Sources
"About," Putnam Museum & Science Center. Accessed March 21, 2019.  http://www.putnam.org/About.
"Putnam Museum & Science Center," Smithsonian Magazine. Accessed May 31st 2021. https://www.smithsonianmag.com/museumday/venues/museum/putnam-museum-science-center/.
Additional Information