African American Burial Ground Historic Marker
Introduction
Located in the front yard of a private residence on an unassuming part of historic Huguenot Street, a New York State Historic marker identifies the site as the location of an African American burial ground. The site was discovered in 2000, but little is known about it; at present, there is no idea how many people are buried at the site.
Images
The historic marker identifying the African American burial ground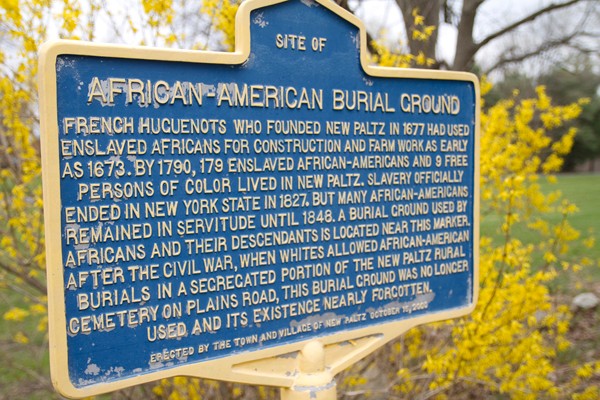 Backstory and Context
There is a common misconception that slavery in the United States was confined to the states of the South. But during the colonial period, New York had the third-highest population of slaves, and more than any other Northern state.

Slavery was common in the New Paltz area and may have even predated the founding of the town. Some of the earliest Huguenot families in the area were slave owners. It's believed that by 1790, there were roughly 300 slaves in the New Paltz area, making up approximately 13% of the population.

The burial ground on Huguenot Street was discovered in 2000. A survey of the land is necessary to know how many people are buried there but thus far, the property owners have refused to agree to a survey. Until that happens, the exact number of remains at the site will be unknown.
Sources
Mancini, Anthony. Undiscovered New Paltz: Slave Burial Site. The Little Rebellion. February 28, 2011. Accessed December 23, 2017. http://thelittlerebellion.com/index.php/2011/02/slave-burial-site-in-new-paltz/.