Eggerss-O'Flyng Building
Introduction
Built in four stages from 1902 to 1928, the Eggerss-O'Flyng Company manufactured various types of box material, used in the shipping of everything from candy boxes to artillery shells during World War II. The building is located near the railroad, a common location for most warehouses during the early 20th century when the prominence of automobiles had yet to emerge. Eggerss-O'Flyng existed as one of the few in Omaha that both manufactured and distributed its goods.
Images
Six-story Section: Built in four phases, the largest of the building's four structures is seen in the foreground. The Eggerss-O'Flyng Company markings are clearly visible on this classic, early twentieth-century warehouse.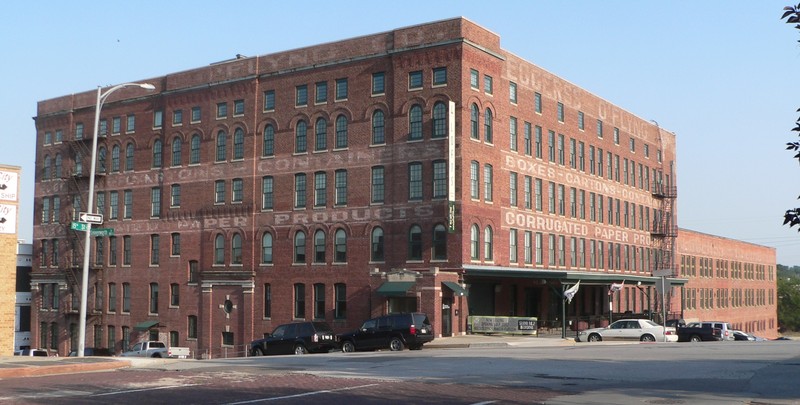 Backstory and Context
The one-half block by one block Eggerss-O'Flyng Building, located in the railroad district, was home to cardboard box manufacturer, Eggers-O'Flying Company. Construction of warehouse occurred in four distinct phases from 1902 to 1928. The company produced various forms of containers ranging from cigar and candy boxes to artillery shells during World War II.
The four-stage construction provides insight into building advancements. Construction began in 1902 with a three-story building, followed by a six-story structure built to its east in 1912. Another three-story addition arrived at the end of World War I, in 1918, and the final stage, another four-story structure, was completed in 1928. The first three structures consisted of wood framing and joists with load-bearing walls comprised of brick. However, the final stage of construction involved the use of reinforced concrete frames and brick curtain walls.
Typical of most urban development in the late nineteenth and early twentieth century, the Omaha warehouse exists near the railroad, a necessity for industries needing materials or shipping its goods elsewhere. Indeed, the Eggerss-O'Flyng Company operated as one of the few businesses within Omaha's wholesale district that both manufactured and distribute its products. For many of its early years, the products it sold consisted of cigar boxes, supplying them to more than 350 independent cigar makers. Later, the company expanded its operation to include a diverse collection of containers such as heavy cellophane boxes used to hold candy and flowers, as well as sizable boxes used to hold mattresses or even cophins.
During World War II, the company -- as did many businesses during the war -- produced goods that helped in the war effort. For instance, Eggerss-O'Flyng developed boxes used to hold artillery shells and bomb fuses.
Omaha was selected to be a hub for the TransContinental Railroad during the Civil War. The completion of that process provided a significant boost to its urban growth and economy as a result. The warehouse stands as a reminder of the significance of railroads to all urban growth during that era.



Sources
Larsen, Lawrence H. and Cottrell, Barbara J. The Gate City: A History of Omaha. Conclusion by Harl A. Dalstrom. Lincoln: University of Nebraska Press, 1997.

Meyer, Lynn. "Nomination Form: Eggerss-O'Flyng Building." National Register of Historic Places. August, 1991. https://npgallery.nps.gov/GetAsset/8427c05b-e479-411f-8e8a-3aeeced79534

Wakeley, Arthur Cooper. ed. Omaha: The Gate City, and Douglas County, Nebraska. Vol. 2. Omaha, Ne. S.J. Clarke publishing Company, 1917.

Photo Source
Six Story Section: By Ammodramus - Own work, CC0, https://commons.wikimedia.org/w/index.php?curid=20085271
Additional Information