1966 Marquette Park March and Chicago's Martin Luther King Jr. Living Memorial
Introduction
The historical place that I talked about was the bridge that MLK had marched through which was here in Chicago. It was the bridge that is by Marquette park, and is still there now. Some background on that bridge and why he marched through it was because people in Chicago did not like him, and he had gone  by Marquette park to talk to the people and try to get them on his side but they refused to listen to him. They would call him names and tell him that he didn't belong there. So then after MLK tried to give his speech, he marched through the bridge and many people followed behind him. After he marched through that bridge, it became a well known part of history.
     Many people actually walk or drive by that bridge and don't think much of it because there is no sign or anything that says that MLk marched through that bridge. So only the people that know about that will actually keep in consideration how cool it is that the bridge is still there. I think it's important for people to actually know about the bridge because MLK is a very well known historian, and the fact that he marched here in Chicago is important for people to know. The bridge itself looks like any other bridge because it's mostly cars that go past it or if you're taking a walk in the park then you can walk through the bridge. But other than that, there is nothing else that shows the bridge is part of history, but if you search it up you can actually find articles on it and then be able to know more about the day that MLK marched through the bridge and why he did it.
  If someone  that had no idea about the bridge and the historic background on it were to walk through the bridge, they would say that it's no big deal. But for someone that does know about it, walking through the bridge, although it's pretty short, makes you feel some type of way. Sometimes when people think of something historical it makes them think that it would be in a museum or in a place that they can only go see. So the fact that this bridge is still up and basically anyone can walk on it, is interesting.
Images
This monument was made possible by a coalition of forty Chicago organizations led by the Inner-City Muslim Action Network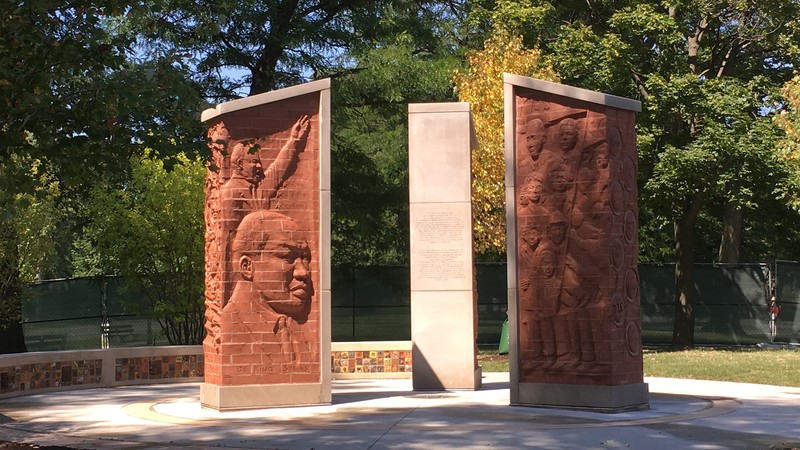 This image from the Beachwood Reporter reveals the existence of heavily-segregated section in Chicago.
This January 7, 1966 SCLC Newsletter announces the start of the Chicago Freedom Movement which was known at the time as a campaign to end slums.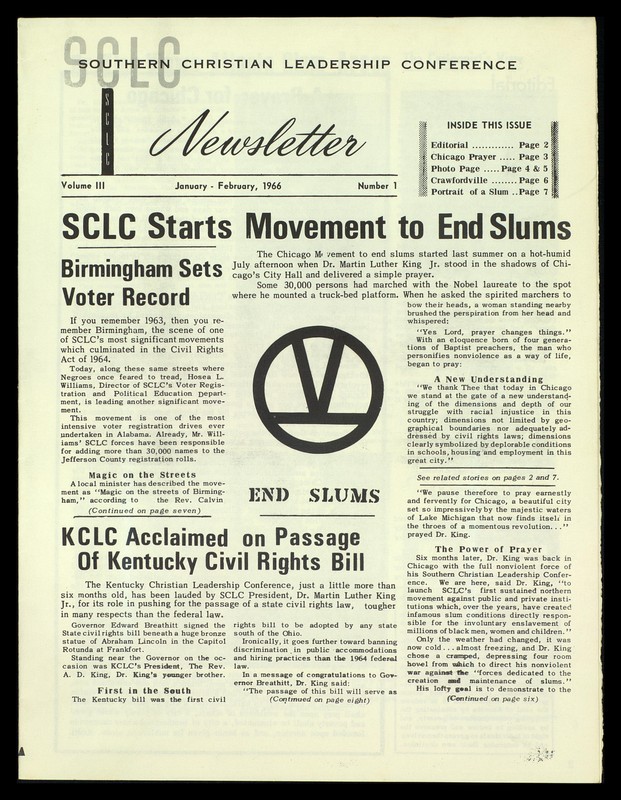 July 10, 1966 rally at Soldier Field. After the rally, thousands of attendees joined King as they marched to City Hall.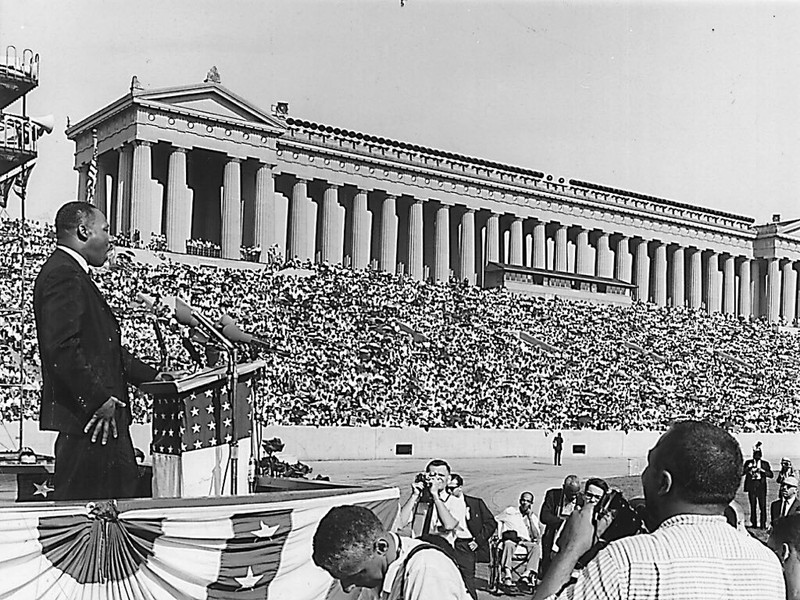 Echoing the 16th century protest of Martin Luther, King pins his demands to the door of City Hall.
Backstory and Context
King spoke about residential segregation and other issues facing Northern communities throughout the 1960s, including an address at Chicago's Quinn Chapel A.M.E. on July 25th 1965. The following day, King joined Chicago leaders in a march to City Hall. In September 1965, King joined local leaders in the Chicago Freedom Movement, a campaign that was aimed at focusing the nation's attention on the issue of residential segregation and its consequences in one of America's leading cities. King moved to the city in January of 1966 to better facilitate the collaboration between national organizations such as his Southern Christian Leadership Conference (SCLC) with the leaders of numerous Chicago organizations and churches. In addition to King, SCLC worked with Chicago and national leaders with other national civil rights leaders such as James Bevel. While national leaders and organizations such as King, Bevel, and the SCLC brought media attention, most of the organizational work was made possible by Chicago churches, local educators, and leaders of Chicago's Coordinating Council of Community Organizations (CCCO).
In 1959, the U.S. Commission on Civil Rights declared Chicago the most residential segregated major city in the United States. For this reason, King and other national civil rights leaders decided to make Chicago the center of their campaign to challenge residential segregation. An estimated thirty thousand Chicago-area residents attended a rally at Soldier Field on July 10th. King addressed the crowd and spoke forcibly about the consequences of discriminatory housing that prevented African Americans from home ownership and forced Black families to rent substandard apartments at above-market prices. "We are tired of having to pay a median rent of $97 a month in Lawndale for four rooms while whites in South Deering pay $73 a month for five rooms…" King explained. "We are tired of being lynched physically in Mississippi, and we are tired of being lynched spiritually and economically in the North." King and his supporters marched to Chicago's city hall, and mirroring the protest of Protestant namesake, Martin Luther King Jr. taped a list of demands to the door. 
Three weeks later, King returned to Chicago for another protest march. This time, seven hundred white supremacists descended upon King and his supporters at Marquette Park. King was hit by a rock or a brick and fell to the ground before being aided back to his feet by supporters. King later told reporters that the hostile mob that he encountered at this location was as mean-spirited as any he encountered in the South. Thanks to the perseverance of civil rights demonstrators who launched similar campaigns throughout Northern cities and Border South cities such as Baltimore, Louisville, and St. Louis, Congress passed the Fair Housing Act in the spring of 1968. President Lyndon Baines Johnson signed the Act into law a week after King was assassinated. 
Sources
Finley, Mary Lou, LaFayette, Bernard et al, eds.. The Chicago Freedom Movement: Martin Luther King Jr. and Civil Rights Activism in the North. Lexington. University Press of Kentucky, 2016.
"The History". MLK Living Memorial. Accessed January 15, 2018. http://www.mlkmemorialchicago.org/mlk-in-chicago/.
Additional Information