Frank D. Yuengling Mansion
Introduction
Now the home of the Schuylkill County Council for the Arts (SCCA), the Frank D. Yuengling Mansion was constructed in 1913 and was a private residence owned by the Yuengling family until 1978. The three-story Tudor-Jacobethan Revival mansion contains over 20 rooms and its early 20th century granduer has been maintained by the SCCA which uses the mansion for its cultural center and educational facility dedicated to the "support and promotion of the arts, educational, historical and cultural heritage of Schuylkill County." The mansion also features two acres of lanscaped grounds, a carriage house and gazebo. It was added to the National Register of Historic Places in 1979.
Images
The Yuengling Mansion has was constructed in 1913 and has been home to the Schuylkill County Council for the Arts since 1978.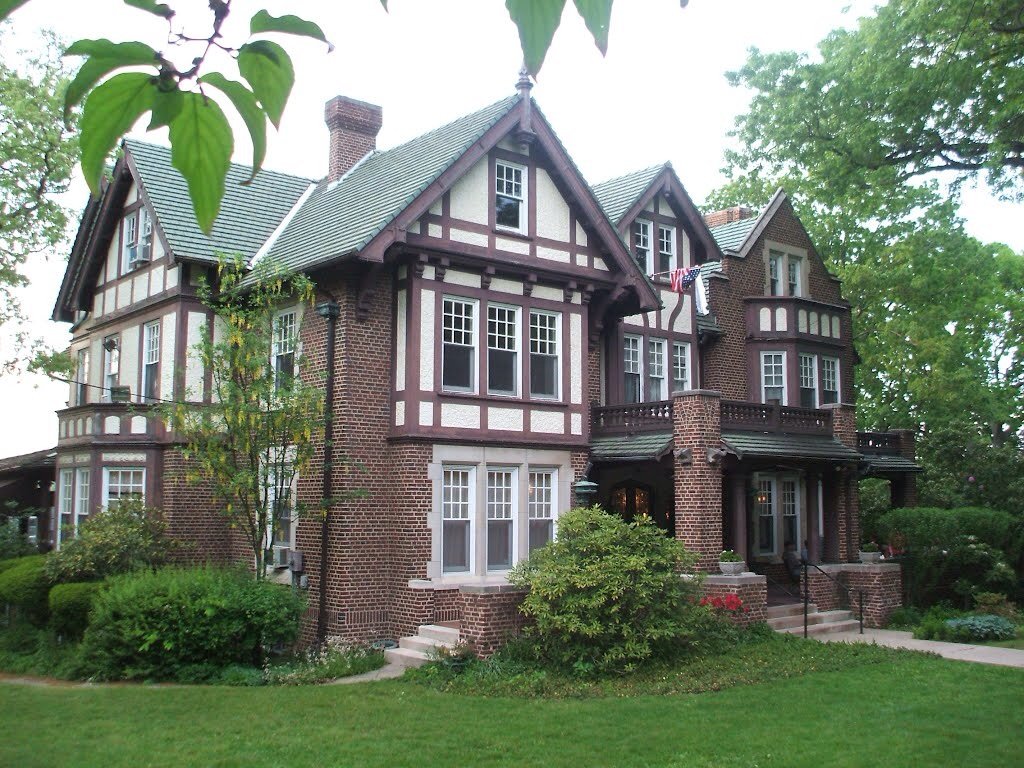 The mansion's sunken garden prepared for a wedding ceremony.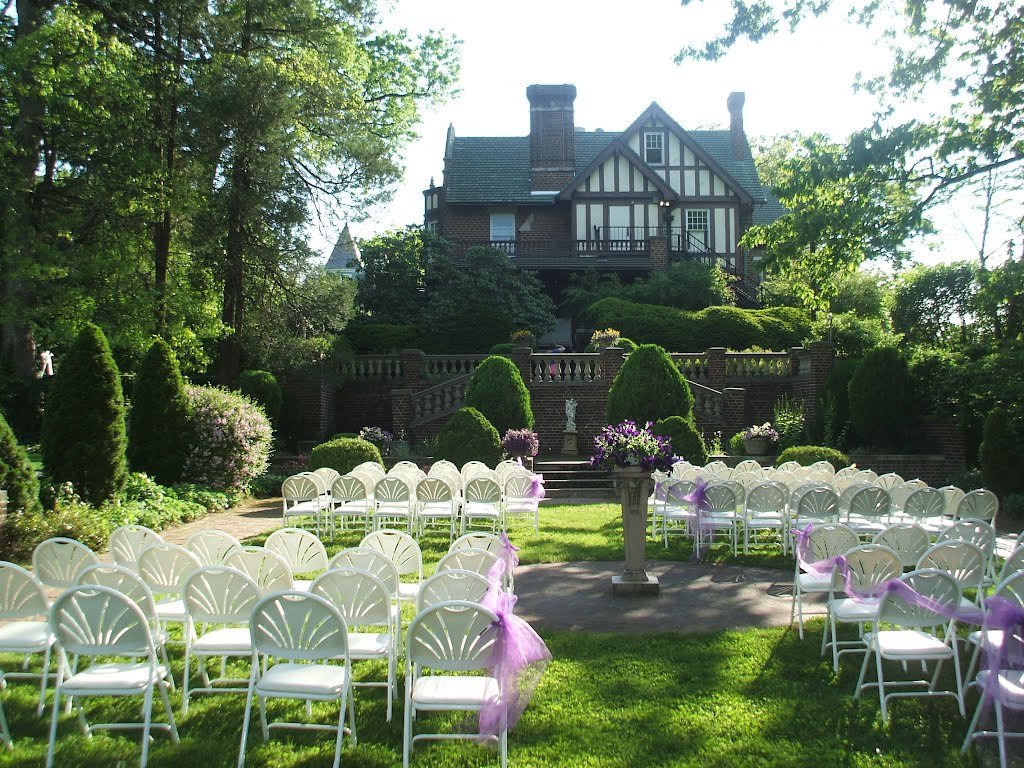 The mansion's large foyer with stone carved fireplace, piano and open staircase.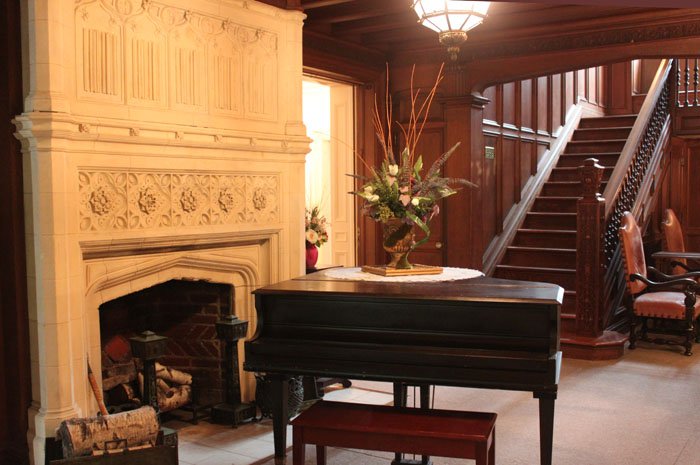 Another room within the mansion with period accents and furnishings.
An early drawing of the mansion and gardens.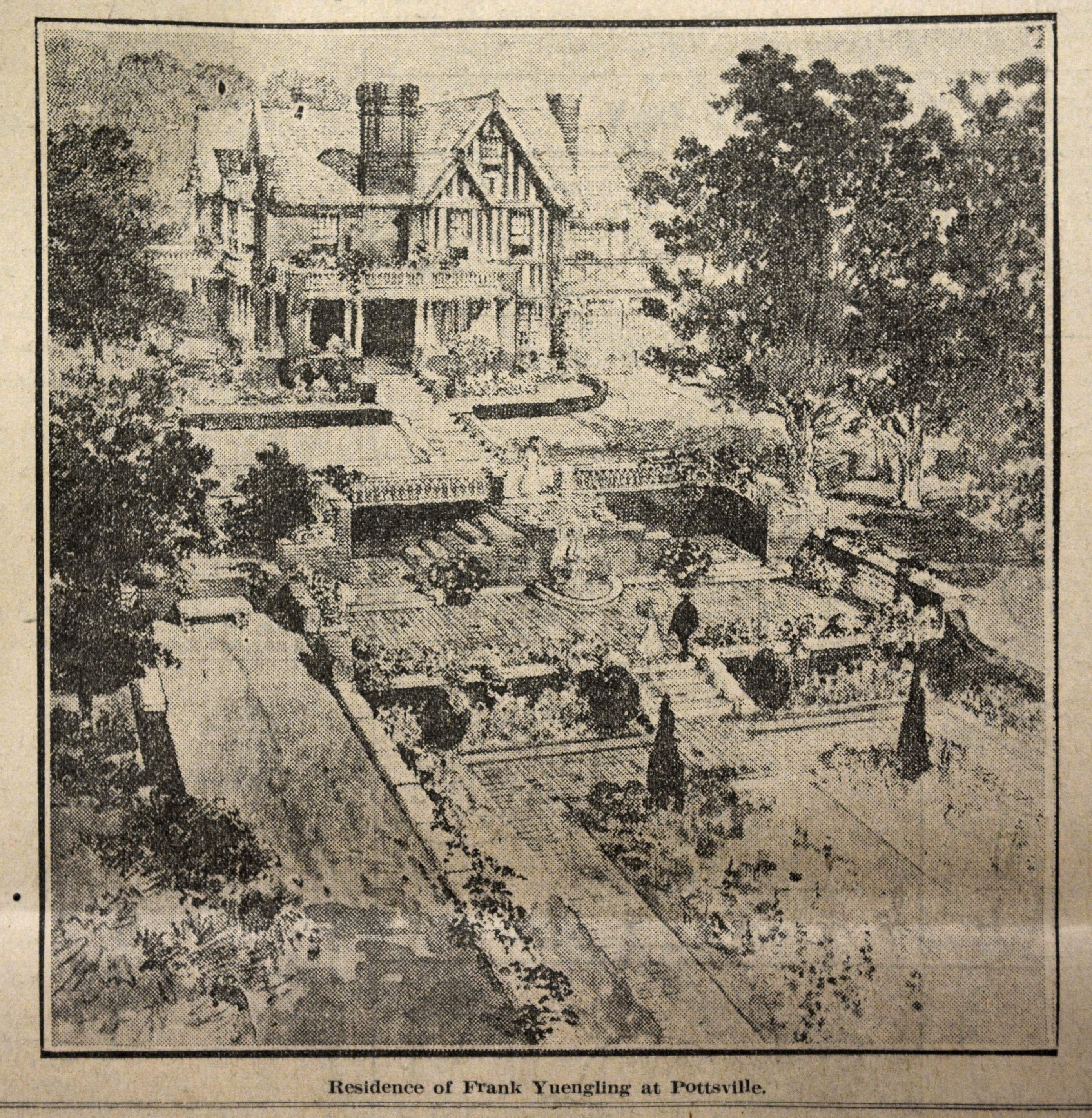 Backstory and Context
Frank D. Yuengling, born into the famous family of brewers in 1876 and assumed management of the D.G. Yuengling Brewery in 1899 upon the death of his father, Frederick. The brewery had been established by his grandfather, David, in 1829 and is considered to be the oldest, continuously operating brewery in America. Soon after Frank assumed control of the brewery, he began to make plans to build a home befitting of his status. He hired Reading architect, Harry Maurer, in 1912 to design a large, Tudor style mansion with Jacobethan accents and Maurer did not fail him.
Maurer designed a three-story home with an exterior that featured a gable roof, balconies, upper floors of brick, stucco and half-timbers, large porches, stone trim and leaded windows. Inside, the mansion contains over 20 rooms with eight on the first floor which includes a massive foyer that extends the length of the house to a large porch in the rear. The foyer's most impressive features are the large carved stone fireplace and open staircase. The first floor also is home to the Braun Music Room with its lovely craved wooden mantel, a dining room, living room with mahagony paneling, study, kitchen and butler's pantry. The remaining rooms take up the second and third floors while a billardroom and wine cellar occupy the basement. On the grounds, the Yuenglings added a sunken garden with decorative statues, walkway and sundial.
Frank and his wife, Augusta, moved into the mansion in 1914 and Frank, a graduate of Princeton, came to control much of what went on in Pottsville. At one time or another, he served as president of the Pennsylvania National Bank and Trust Company, Yuengling Realty Company, Pottsville Feed Company and the Yuengling Securities Corporation. However, he is best remembered as the manager of Yuengling and Sons Brewery for 64 years. He died in 1963 at the age of 89.
Upon Frank's death, the mansion and grounds passed to his widow, Augusta, and her heirs deeded both to the Schuylkill County Council for the Arts in 1978 and they have been in their possession since. The SCCA offers the community various educational and cultural opportunities. Those opportunities include its arts and academic based Seedling preschool program, various workshops such as its Carriage Haus Arts program, adult and teen art classes, summer art camps, and numerous special events and lectures. The mansion is also a popular spot for wedding photography, receptions and ceremonies
Sources
O'Malley, Michael. "National Register of Historic Places Nomination Form." United States Department of the Interior/National Park Service. October 17, 1978. Accessed February 2, 2018. http://www.dot7.state.pa.us/CRGIS_Attachments/SiteResource/H000926_01H.pdf
"History of our Building: The Frank D. Yuengling Home." Schuylkill County Council for the Arts. Accessed February 2, 2018. http://www.sccarts.com/history-of-our-building/
Devlin, Ron. "Reading architect designed Yuengling mansion." Reading Eagle. December 12, 2013. Accessed February 2, 2018. http://www.readingeagle.com/apps/pbcs.dll/article?AID=/20131212/NEWS/312129944
Additional Information