Fort Baker
Introduction
Built between 1902 and 1910 Fort Baker is part of the Golden Gate National Recreation Area. Fort Baker is one of the best examples of the army's "Endicott Period" military construction. Playing a vital role in coastal defense positions on the west coast and logistic support facilities in the Golden Gate. During its time of use during the war, Fort Baker was home to the Coast Artillery Corps, the 91st Infantry Division, and the Sixth ARADCOM Region. Fort Baker was included in a historic district listing on the National Register of Historic Places in 1973.
It is home to several recreational and educational facilities, including the Bay Area Discovery Museum, a conference center, and a lodging facility. Some former military buildings have been repurposed for new uses, including housing for park staff and a restaurant. "Future plans for Fort Baker call for a new waterfront center in the old boat shop, where visitors will be able to rent bikes, get trail maps and snacks, and learn about park activities."
Images
Coastal fortifications along Fort Baker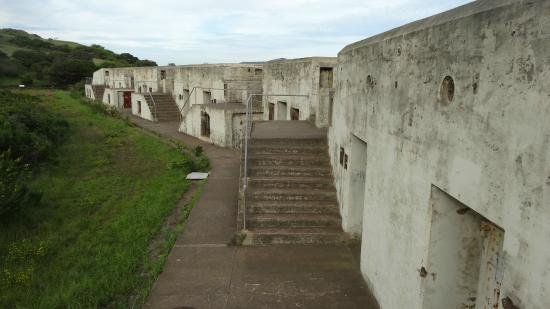 Hill view of Fort Baker and Golden Gate Bridge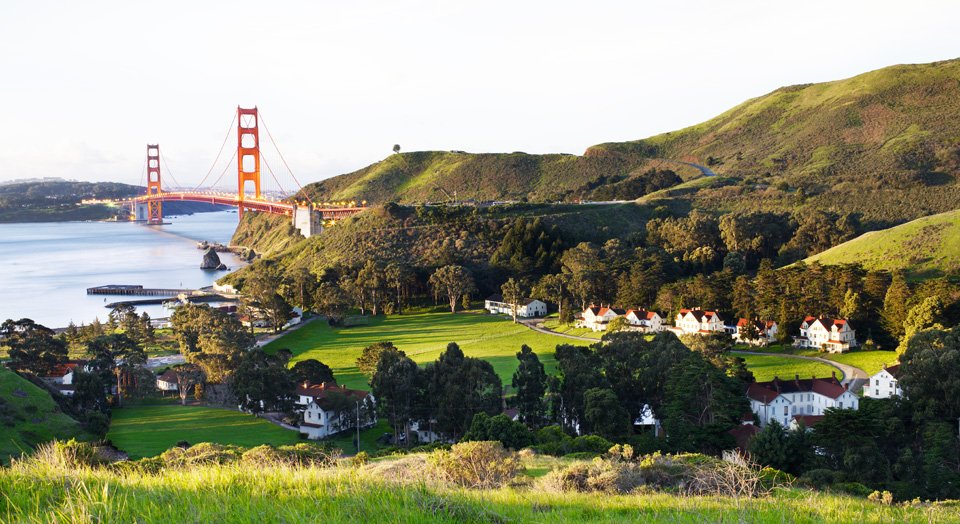 Aerial map view of Fort Baker
The Sixth ARADCOM Headquarters building in the background with a military parade for visiting military dignitaries in the foreground.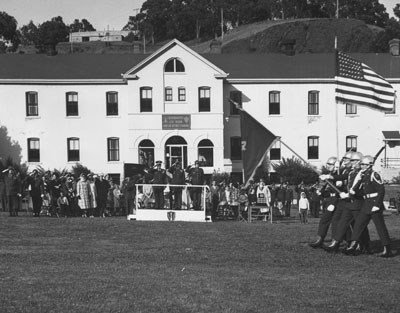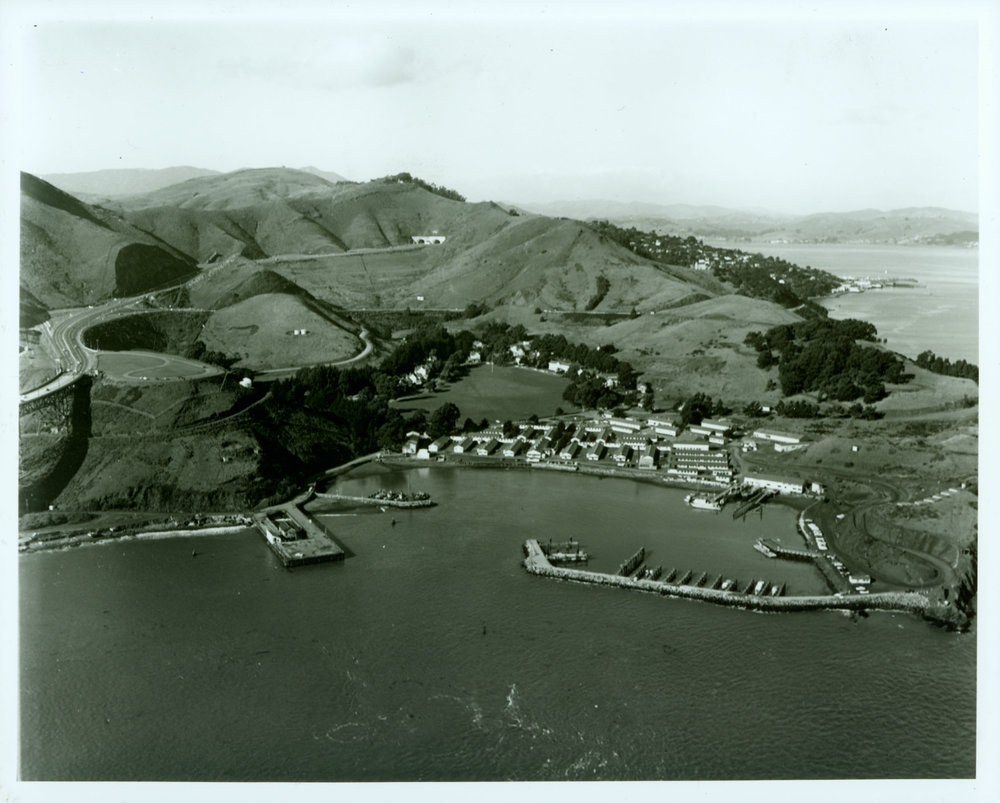 Backstory and Context
"Fort Baker is a historic army post located in the Marin Headlands," near the city of San Fransisco. It was built between 1902 and 1910 and was used as a coastal defense installation during World War II. It was named after Edward Dickinson Baker, a U.S. Senator from Oregon who was killed during the Civil War.
Fort Baker is 335 acres of land north of the Golden Gate Bridge. A parade ground surrounds the fort which protects the collection of historic military buildings. New eco-friendly and to create program space and lodging, architecturally sensitive buildings on the footprint were built by partners. Horseshoe Cove The main post is overlooked by Horseshoe Cove, and more than one mile of it is a pristine rock bay shoreline. The fort is surrounded by open spaces and hillsides, which habitat endangered mission blue butterfly, contributing to its overall importance of it. There are also many exploration opportunities because of the extensive amount of trail systems. With the warm temperatures compared to several other coastal sites and lack of fog, Fort Baker is quite the place to visit. 
In 1866, the United States government acquired the area where Fort Baker stands today. They created a military reservation along the Marin Headlands to safeguard San Francisco Bay. In the 1870s simple earthwork batteries were constructed. Of these, Battery Cavallo was created. Battery Cavallo is one of the most significant examples of seacoast fortification of that period. 
Fort Baker was officially established in the 1890s. Along with the bluffs, massive concrete batteries with the latest long-range guns were built to try and reconstruct coastal fortifications for major U.S. harbors. By 1910 the construction of the post was completed. In the fort, there were eleven Colonial Revival-style officer's homes, barracks, and community buildings for the troops. They were laid out in curves around a grassy parade ground with plantings of pepper, elm, and eucalyptus trees to reduce wind and dust. 
After World War I, the post became inactive, and almost all long-range guns were removed. However in the 1930s, when world tensions started increasing, Fort Baker was reactivated as a mine depot. Over three hundred underwater mines guarded the Golden Gate. The guns of Battery Yates were manned against surprise surface raids.
During the Cold War, Fort Baker was used for training Army Reserve troops, and as headquarters for the anti-aircraft missile units defending the Bay Area. After the Cold War in the 1970s, the Army's presence at the fort was significantly reduced. 
The former army site is now a part of the Gold Gate National Parts. Hiking, fishing, viewing wildlife, and views of the Gold Gate and the Marin Headlands await visitors to Fort Baker.
Sources
Fort Baker. Golden Gate. January 09, 2018. Accessed February 06, 2018. https://www.nps.gov/goga/learn/historyculture/fort-baker.htm.
Coast Artillery Corps. Accessed February 20, 2018. http://cdsg.org/.
Accessed April 20th, 2023. https://www.parksconservancy.org/parks/fort-baker .
Accessed April 20th, 2023. https://www.nps.gov/goga/learn/historyculture/fort-baker.htm.
Accessed April 20th, 2023. https://www.fortbaker.net/pages/history.html.
Cultural Landscape Report for Fort Baker Golden Gate National Recreation Area.
Historic Resource Study Fort Baker, Berry, Cronkhite, of Golden Gate Nation Recreation Area California. 
Additional Information