Frederick Douglass Farm
Introduction
The South Ave farm is the residence in Rochester that Douglass stayed in for the longest time. He first moved into the house in 1852 and it was a residence for him and his family all the way up to 1872. The reasons behind him moving into this house were twofold. A big part of the move was that he had three kids with his wife and there simply was not enough room for everybody to fit into the house that he owned at that point. Another big reason was that with the passage of the fugitive slave act of 1850, it became very difficult to help out with the Underground Railroad in the house he had in the middle of the city. The new farm on South Ave had a private drive and no neighbors so he was able to help out fugitive slaves much easier than he could before. The farm unfortunately had many negative feelings associated with it on top of the more positive ideas of family and helping those in need. The farm burned to the ground in 1972 in what were some very suspicious circumstances. It was believed to be arson but was never truly investigated as such. This act of violence was also the last straw for Douglass. After he came back from DC to check on his family and the state of the farm, he never returned to Rochester, until he was eventually buried here. It is unfortunate that a place that was often associated with such positive thoughts had to lead to such negative feelings from Douglass. This entry is part of a public history project developed by the RIT Museum Studies program in celebration of the bicentennial of Frederick Douglass's birth (February 1818). The information on the site can be found here http://www.gccschool.org/freedom/places/fdsouth.htm
Images
This illustration depicts Douglass coming back to Rochester to check on the state of his farm after the fire. His whole family and many of his possessions were saved. http://www.gccschool.org/freedom/pics/housefire_thumb.jpg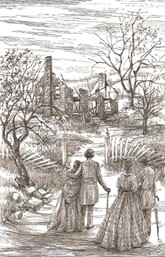 Backstory and Context
The South Ave farm is the residence in Rochester that Douglass stayed in for the longest time. He first moved into the house in 1852 and it was a residence for him and his family all the way up to 1872.
The reasons behind him moving into this house were twofold. A big part of the move was that he had three kids with his wife and there simply was not enough room for everybody to fit into the house that he owned at that point. Another big reason was that with the passage of the fugitive slave act of 1850, it became very difficult to help out with the Underground Railroad in the house he had in the middle of the city. The new farm on South Ave had a private drive and no neighbors so he was able to help out fugitive slaves much easier than he could before.
The farm unfortunately had many negative feelings associated with it on top of the more positive ideas of family and helping those in need. The farm burned to the ground in 1972 in what were some very suspicious circumstances. It was believed to be arson but was never truly investigated as such. This act of violence was also the last straw for Douglass. After he came back from DC to check on his family and the state of the farm, he never returned to Rochester, until he was eventually buried here. It is unfortunate that a place that was often associated with such positive thoughts had to lead to such negative feelings from Douglass.
This entry is part of a public history project developed by the RIT Museum Studies program in celebration of the bicentennial of Frederick Douglass's birth (February 1818). The information on the site can be found here:
http://www.gccschool.org/freedom/places/fdsouth.htm
Sources
Cools, Amy. Frederick Douglass, Rochester NY Sites. Ordinary Philosophy. June 07, 2016. Accessed February 08, 2018. https://ordinaryphilosophy.com/2016/06/07/frederick-douglass-rochester-ny-sites-part-2/.

Please see the digitized scrapbooks related to Frederick Douglass in the Monroe County Library Collection:
http://www.libraryweb.org/~digitized/scrapbooks/rsc00001color.pdf
http://www.libraryweb.org/~digitized/scrapbooks/rsc00002color.pdf

Additional Information