Discus Thrower Statue
Introduction
Originally given as a gift to the city of New York following the 1924 Olympics, the Discus Thrower reflects the history of the early Olympic Games and the city's efforts to preserve and expand the role of Randall's Island Park as a place for recreation. The bronze statue was created by Greek sculptor Kostas Dimitriadis and stood in Central Park until 1970, when it was placed in storage to prevent further damage. After restoration work and a rededication ceremony in 1999, the historic statue has become one of the highlights of Randall's Island Park.
Images
The Discus Thrower Statue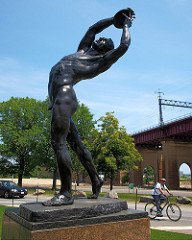 Backstory and Context
The Discus Thrower welcomes visitors into the entry of Randall's Island Park and reflects the early history of America's participation in the Olympic Games. The sculpture was awarded to the City of New York as a prize at the 1924 Olympic Games held in France. This statute was created by Kostas Dimitriadis, a Greek sculptor who worked and studied in London and Paris. Dimitriadis was inspired to create this sculpture after studying models from classical antiquity as well as the work of modern sculptors such as Auguste Rodin.
In 1926, the awarded bronze sculpture was installed in New Yorks' Central Park, just behind the Metropolitan Museum. The statue's granite pedestal was commissioned by Ery Kehay and designed by the architectural firm of McKim, Mead, and White. In 1936, the statute was relocated from Central Park to the entrance of the newly opened Triborough Stadium (now known as Icahn Stadium). A replica of this statue can be found outside of the Panathinic Stadium in the Zappeion gardens in Athens, Greece. Triborough Stadium, or now Icahn Stadium, was host to the American Olympic track and field trials.
Throughout the years, the sculpture was damaged by acid rain, graffiti, and the theft of the discs and one of the sculpture's arms. The statue was removed and placed in storage for safekeeping in 1970. In 1999, Randall's Island Sports Foundation (now Randall's Island Park Alliance) with funding from Michael Bloomberg, sponsored a project to conserve and replicate the missing components and restore the statue to its original appearance.
After the restoration of the statue, a re-dedication ceremony took place when the state was installed at this location on July 21, 1999. The ceremony included nine-time New York City Marathon victor Grete Waitz and four-time Olympic gold medalist discus thrower Al Oerter. In the years that followed, the Discus Thrower has become one of the symbols of the renaissance of this municipal park and athletic facility. The statue is part of the logo of Randall's Island Sports Foundation and welcomes visitors to Randall's Island Park.
Sources
New York City Department of Parks & Recreation. Randall's Island Park - Discus Thrower Statue. NYC Parks. Website. https://www.nycgovparks.org/parks/randalls-island/highlights/10824
Randall's Island Park Alliance. (2018). Historical Timeline. RIPA. Website. https://randallsisland.org/timeline/
Additional Information