Niles - Essanay Film Museum
Introduction
The Niles-Essanay Film Museum focuses on silent film history, especially that involving the Essanay Film Company. Essanay was founded in Chicago, but founder Gilbert Anderson decided to build a studio in Niles because of its warmer weather and scenic landscape. Co-founder George Spoor agreed, and the studio was completed in 1913. That same year, the Edison Theater, the current home to the Niles-Essanay Film Museum, opened. Essanay shut down production in 1917 after releasing 2,000 films starring such personalities as Gloria Swanson and Charlie Chaplin.
Images
The Niles-Essanay Silent Film Museum.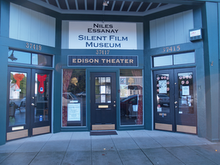 The Essanay Studios in Niles, 1913.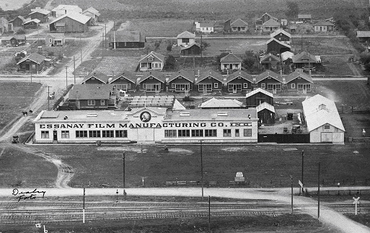 Backstory and Context
The Essanay Film Company was founded by George Spoor, a film distributor, and Gilbert Anderson, an actor. The men's initials, "S" and "A," were the inspiration for the company's name. Essanay was originally based in Chicago and primarily made comedies and Westerns. The studio in Chicago was completed in 1915 and featured Essanay's logo, the face of a Native American, around the terra cotta entry way. It was in Chicago that Essanay contracted its biggest stars, including Gloria Swanson and Charlie Chaplin. But, the cold winters of the city led Anderson, known as "Bronco Billy" in his films, to look for a more temperate shooting location. After deciding against San Francisco because of its rain, he settled on the small town of Niles, California, which had an ideal landscape for Westerns.
In 1912, Anderson and others from Essanay came to set up a west-coast base. It did not take long for local businessmen to see potential in the town's new filmmaking residents. They offered Anderson a barn to lease as a studio. He accepted the deal and set out to raise money from locals for the first rent payment. The citizens of Niles supported his endeavor. Anderson also bought a row of bungalows to house his cast and crew. In 1913, construction began on a larger studio in Niles, designed by architect George W. Page. The completed studio was 200 feet long and 50 feet wide, equipped with Western sets, a horse stable, and a glass-enclosed stage. It was there that Chaplin made most of his films with Essanay, including The Tramp and The Champion.
Most of Essanay's 2,000 movies would be filmed in Niles. The studio closed in 1916, with the Chicago studio following suit in 1917. One cause was the move of Chaplin from Essanay to the better-paying Mutual Film. Spoor described the problems that plagued his company as follows:
"I'd make stars out of [directors and actors] and other producers would offer them more money. I had to meet the offers or lose the stars. Had I met all the offers, I would have gone broke myself, constantly doubling salaries. So, I locked up the place and took a good, long rest."
Today, there is a museum dedicated to the memory of Essanay and other pieces of silent film history in Niles (now a district of Fremont, California). The museum sits in the Edison Theater, which was built in 1913. The theater was renamed the "Bell Theater" in 1914 and went on to become a dance hall. The non-profit group Niles-Essanay Silent Film Museum began renovating the building in 2004. Shortly thereafter, the group started screening silent films. Now, the museum is home to all sorts of artifacts from the Silent Era, such as scripts, costumes, cameras, and editing tools.
Sources
The Essanay Film Company. Niles Film Museum. Accessed February 14, 2018. http://nilesfilmmuseum.org/?tv=5889760833830912. Photo and information source.

Geha, Joseph. Fremont: Niles silent film museum expanding view on history. East Bay Times. February 22, 2017. Accessed February 14, 2018. https://www.eastbaytimes.com/2017/02/22/fremont-niles-silent-film-museum-expands-visitors-view-of-hi....

About the Museum. Niles Film Museum. Accessed February 14, 2018. http://nilesfilmmuseum.org/?tv=5785178517536768.

Home. Niles Film Museum. Accessed February 14, 2018. http://nilesfilmmuseum.org/. Photo source.


Additional Information