Idaho Museum of Natural History
Introduction
The Idaho Museum of Natural History is home to permanent and special collections in Anthropology, Earth Sciences, and Life Sciences, a place where researchers pursue scholarly study of the collections and publish their findings in peer-reviewed and museum-sponsored publications. Through the Idaho Virtualization Laboratory, the Museum is helping to pioneer the growing field of precise digital collections, making it possible for researchers around the world to study collections housed anywhere, anytime. Exhibitions emphasize the collections and mission of the Museum, and include permanent and special offerings.
Images
The Museum is located on the campus of Idaho State University, east of the intersection of 5th Avenue and Dillon Streets in ISU Building 12.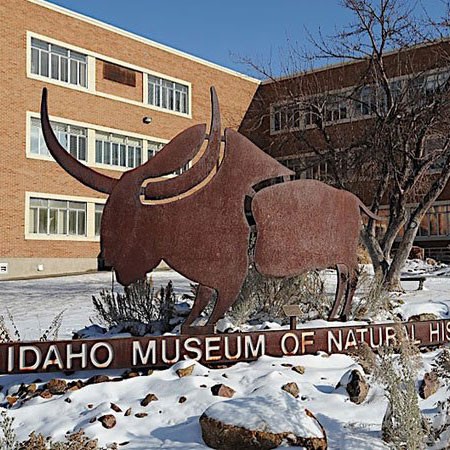 Backstory and Context
The Idaho Museum of Natural History was founded in 1934 in Pocatello as the Historical Museum at the Southern Branch of the University of Idaho, as Idaho State University was then called. The Museum was established by a group of professors in an effort to collect, preserve, and display the region's natural and cultural heritage.
The earliest collections, consisting of about 5,000 objects, were primarily anthropological, archaeological and historical artifacts largely donated by the Pocatello Chamber of Commerce and faculty and supporters of the Southern Branch. The biological collections were developed by faculty in the Biological Sciences Department at approximately the same time. The Museum was governed by a 17-member Historical Museum Committee until the mid-1950′s when it was renamed the Idaho State College Museum and its first full-time director was appointed. In 1963, Idaho State College became Idaho State University, and the Museum changed its name to the Idaho State University Museum.
For many years, the Museum's holdings were strewn about the ISU campus in a variety of buildings. In 1976, Museum offices, exhibits and collections finally found a permanent home in the old library building, now known as the Museum Building. In 1977, the museum reoriented its mission to focus on natural history and the Ray J. Davis Herbarium and zoological collections were formally transferred from the ISU Department of Biological Sciences. Its historical collections were handed over to the Idaho State Historical Society, the Bannock County Historical Society, and the Idaho State University Library.
Sources
http://imnh.isu.edu/home/index.php/visitor-info/about-the-museum/
Additional Information