Fairmount Cemetery
Introduction
Fairmount is the largest cemetery in Jackson, Ohio. With graves dating back as far as 1840, it is also one of the oldest cemeteries in the county. Among the buried is Private John Wollam of Company C, 33rd. Ohio Infantry. Wollam was born in Hamilton, Ohio in 1840 and enlisted in the Union Army on August 24th, 1861. He received a Medal of Honor in 1864 for his participation in the failed Andrew's Raid of 1862.
Images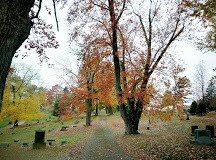 A photo of Private John Wollam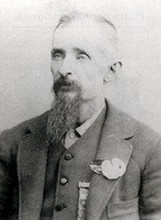 Backstory and Context
John Wollam was born in Hamilton, Ohio in 1840. He later enlisted in the Union Army during the Civil War and participated in Andrew's Raid, also known as the Great Locomotive Chase. The goal of the raid was to capture a locomotive called "The General" at Big Shanty, Georgia and then destroy the rail and telephone lines that traveled north to Chattanooga, Tennessee. This would cut off a major source of supplies and communication for the Confederate Army.
On April 7, 1862, twenty-two men (including two civilians) left their training camp in Shelbyville, Tennessee and headed towards Marietta, Georgia. Only twenty men actually participated in the raid on April 12, 1862. As planned, the group boarded the train and took control. But, the Confederates were not slow to find out the scheme, and a chase ensued. Eight hours later, the locomotive ran out of steam, and the raiders abandoned the train. Seven of the men were hanged as spies because they had been dressed as civilians. Another seven were captured and imprisoned. Six, including Private John Wollam, escaped.
Though the raid was unsuccessful, it was still considered heroic. The first-ever recipients of the Medal of Honor were the members of the raid who were hanged. The honor was presented by Secretary of War Edwin Stanton in Washington, D.C. in March 1863. Private Wollam received his Medal of Honor on July 20th, 1864. He died in Topeka, Kansas on September 27th, 1890 and was interred in the Fairmount Cemetery in Jackson.
Sources
Jackson County, Ohio: History and Families, 175th Anniversary, 1816-1991. Vol. 1. Paducah, Kentucky. Turner Publishing Company, 1991. Via Google Books.


Additional Information