Moses Elias Levy Historical Marker
Introduction
Dedicated in 2015, this historical marker commemorates the life of Moses Elias Levy, a pioneering Jewish settler who drafted a detailed plan for the gradual abolition of chattel slavery. Levy was born in Morroco and came to this part of the future state of Florida in 1821. Levy acquired 50,000 acres and worked to promote the area as both a haven for European Jews seeking refuge from persecution and as a thriving agricultural community built upon free labor. Levy formed the community of Pilgrimage a few miles northwest of this marker. Although that communitarian settlement did not survive the turmoil that plagued many settlements during the Second Seminole War, trade with Pilgrimage contributed to the growth of Micanopy. In addition to his efforts to promote free labor and his support of gradual abolition, Levy was an advocate of public education and the father of David Levy Yulee. A leading planter and the first U.S. Senator of Jewish heritage, David Yulee converted to Christianity. Unlike his father, Senator Yulee was a staunch defender of slavery.
Images
This marker commemorates the life of Moses Elias Levy and was dedicated in 2015 thanks to the Jewish American Society for Historic Preservation and the Florida Dept of State.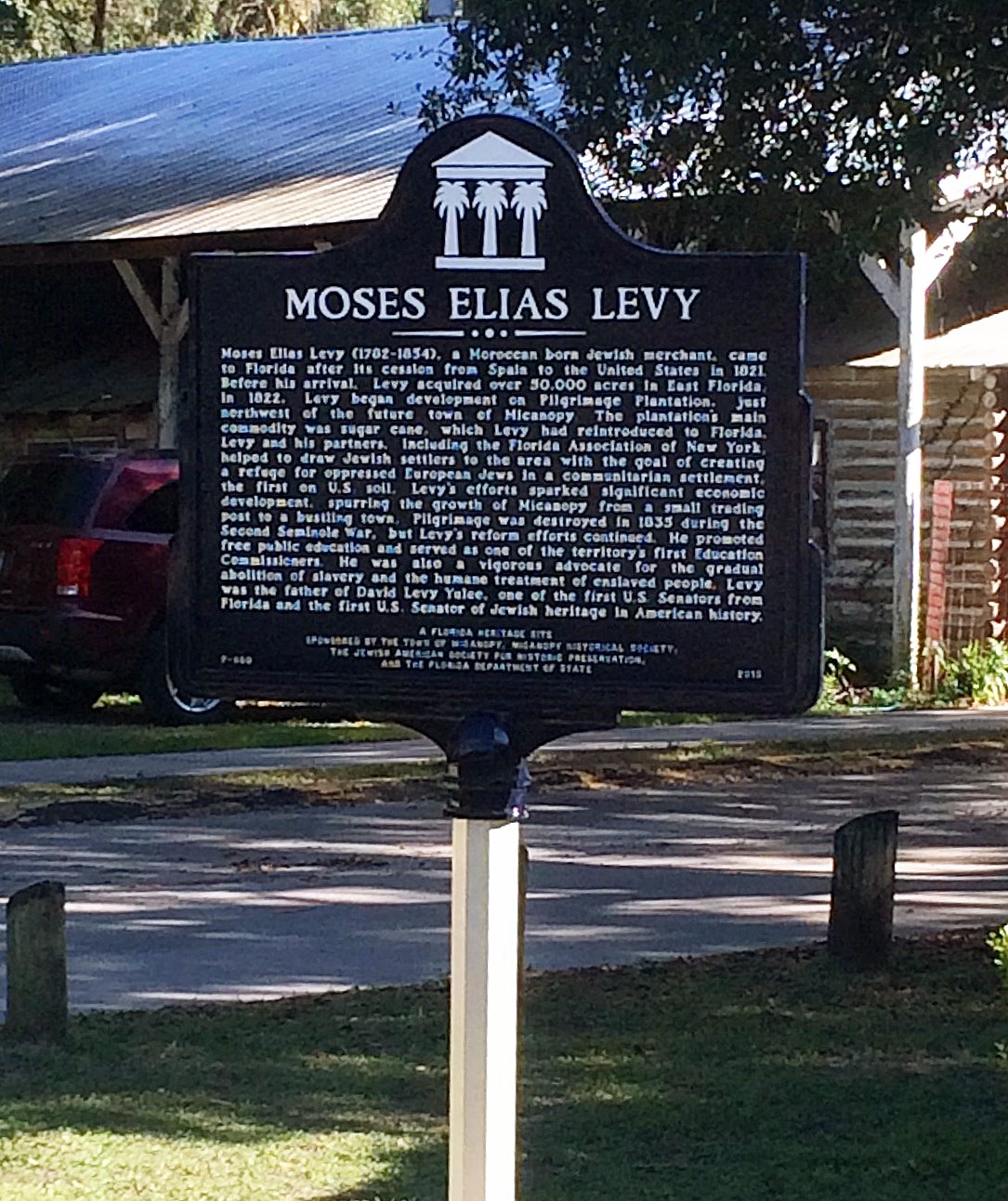 Backstory and Context
For many years, Levy was known only as an early settler and the father of Senator David Levy Yulee. Recent work by C.S. Monaco, a courtesy professor of history and the University of Florida, suggests that Levy's life offers a window into understanding the Atlantic World as well as theories related to slavery and abolition in the early antebellum South. Levy created a settlement that attracted Jewish settlers from Europe as a proto-Zionist refuge from growing European antisemitism. The settlement lasted for thirteen years. Although Levy was a slaveholder whose work to reintroduce sugarcane to this region hastened the expansion of slavery in southern Florida, he also created a plan for the gradual abolition of slavery at a time when most slaveholders were increasingly committed to expanding slavery in every sense of the word.

Levy's agricultural community created a sugar boom that led to the growth of the town of Micanopy. Levy also led efforts to create public schools in Florida at a time when few American communities in the South operated free schools. Most importantly, Monaco determined that Levy was the author of a non-attributed anti-slavery tract that circulated throughout England in the late 1820s. Levy's "Plan for the Abolition of Slavery" came at a time when English abolitionists were beginning to exert substantial influence in London. Levy's plan for gradual abolition called for children of slaves to be free and under the care of the state, a plan similar to that of New Jersey's gradual practice of gradual abolition where the children of slaves were free while their parents were still property. As a result of this paradoxical arrangement, New Jersey officials used public funds to support homes for children of slaves who were separated from their parents or they offered monthly payments to slave owners for the care of the children even as they enslaved their parents.

Levy's decision to publish his plan anonymously was likely a result of the hostility abolitionists faced in all parts of the United States during his lifetime and the reliance of Levy and others on the plantation system. Today, Levy is best known for this publication, for his work creating the community of Pilgrimage as a refuge for European Jews, and for introducing sugar production to this part of Florida. Levy County was formed in 1845 and was named in his honor of his son. The dedication of this historical marker is part of renewed efforts to study the life of this Jewish pioneer in America.
Sources
James M. Denham. Review of Monaco, C. S., Moses Levy of Florida: Jewish Utopian and Antebellum Reformer. H-Florida, H-Net Reviews. March, 2006.

Moses Levy of Florida: Jewish Utopian and Antebellum Reformer (Baton Rouge: Louisiana State University Press, 2005).
Additional Information