Longmont Museum & Cultural Center
Introduction
The new Longmont Museum & Cultural Center, housed in a unique contemporary building, features changing exhibits in history, art, and science, as well as long-term exhibits on the history and culture of this region. Permanent exhibits document the 14,000 years of human history in Longmont. Of special note is the Longs Peak Room Tower and Interactive Gallery, with a panoramic view of the mountains and plains, and interactive exhibits for all ages.
Images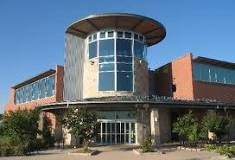 Backstory and Context
The Longmont Museum was founded in 1936. In 1940, the first exhibits opened to the public in the carriage house at the Callahan House. The Museum outgrew that space, and, in 1954, moved to the basement of the Memorial Building in Roosevelt Park.
The Museum became more officially structured with the in corporation of the Longmont Museum, Inc., on October 4, 1961.
In 1970, the Museum changed from a private, nonprofit organization to a department of the City of Longmont. Shortly after that, the Museum moved again, this time to a converted Sorenson garage at 3rd and Kimbark. The new space opened its doors on September 13, 1970. In 1973, the garage was torn down and the Museum moved to a converted City warehouse and garage at 375 Kimbark Street.
In November 1999, Longmont voters approved $5 million in a bond issue to build a newmuseum and cultural center. The bond issue was approved by over 77 percent of voters. The Longmont Museum & Cultural Center was further enhanced by an anonymous $1 million gift. Now located at 400 Quail Road, just east of Main Street in south Longmont, the Longmont Museum & Cultural Center invites visitors to come and see our regularly changing exhibits, experience our education programs, and enjoy the views from our Longs Peak Room tower.
Additional Information