Hering House
Introduction
For nearly 40 years - from 1925 until its closure in 1963, the Hering House provided recreation, arts, leadership training and a sense of belonging to generations of Black youth. The building housed a church. Frank Hering, who coached Notre Dame football prior to the hiring of Knute Rockne and his wife Claribel Hering acquired the structure, moved it and then donated it to the city's Black community where it served as a center of cultural activity.
Images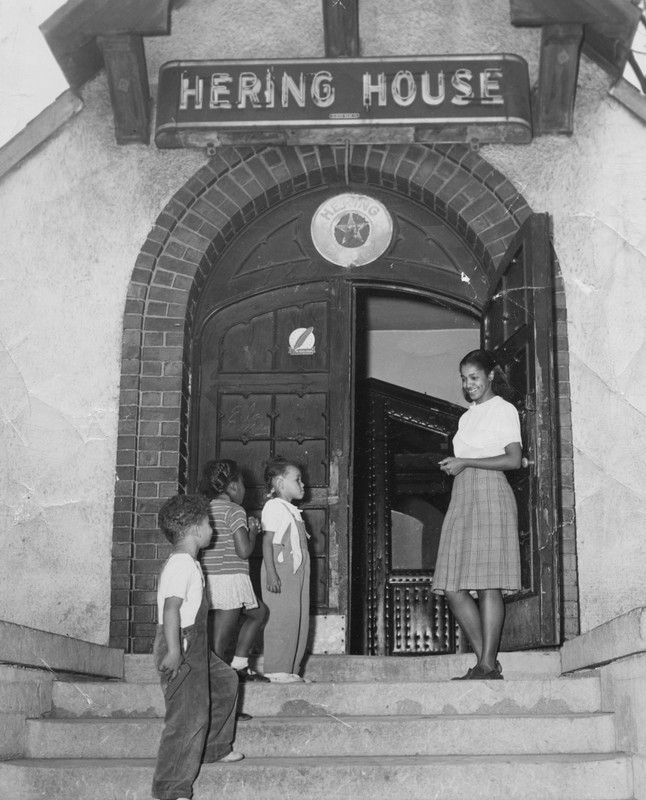 Backstory and Context
Frank Hering was one of the first football coaches for the University of Notre Dame. The building had been the place of worship for the Church of Christ, Scientist, but the congregation soon outgrew the facility. Hering and his wife, Claribel Hering, eventually donated the facility and paid to have it moved started the bought an old church building and paid to have it moved to what was then South Bend's Division Street (Western Avenue).
They called it "Hering House," and considered it to be their gift to the African American community. The center was part of the Settlement House Movement in which college graduates brought visual arts, music and social services to urban and immigrant neighborhoods. Yet, their gift came with strings. They required the Board of Directors to be majority white—nine out of twelve members. This barrier to leadership remained until 1951.
In spite of this, Hering House became a popular center. The H.T. Burleigh Music Association, founded by Josephine Curtis, presented annual spring operas and fall concerts. Teachers ran early childhood programs, after-school athletic clubs, mother-daughter and father-son bonding activities, and more.
As segregation in South Bend ended in many areas, former whites-only places like the YMCA made a separate facility like Hering House unnecessary. Hering House struggled to keep their members, and by 1963, they closed.
Sources
Swedarsky, Lisa. A Place With Purpose: Hering House, 1925-1963. On Their Shoulders. South Bend, IN. Wolfson Press, 2009.

Civil Rights Heritage Center. African American Landmark Tour. 2013. . https://www.iusb.edu/civil-rights/african-american-landmark-tour/Hering%20House.php.


Additional Information