Robertson's Department Store
Introduction
Many older South Bend shoppers recall this locally owned department store. It was more open to African Americans than any other.
Images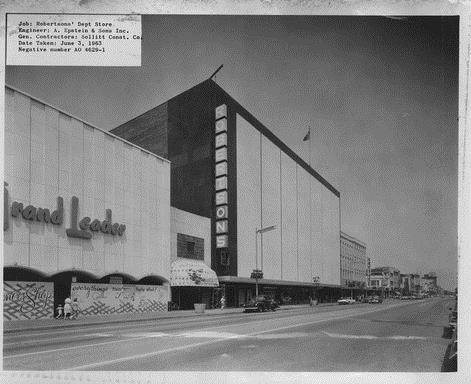 Backstory and Context
Robertson's
was considered the best location for African Americans to shop downtown because they were treated fairly and with respect by the proprietors. The Robertson Brothers opened their first store in 1904, but the
Robertson's Department Store
flagship location was opened at this site in 1925. It was the premier department store in the greater South Bend area and the cornerstone of downtown South Bend's once vibrant downtown shopping and business district.

Unlike most of the downtown shopping district,
Robertson's
allowed African Americans to try on clothing.
Barbara Brandy
was one of the one of the first African American secretaries hired downtown at Robertson's. As shopping malls became popular, and South Bend failed to invest in its downtown, buildings were razed and parking lots dotted the once vibrant city center. Robertson's began having severe financial trouble and faced decline in a city that was experiencing
urban decay
, population loss, and
deindustrialization
following the
collapse of Studebaker
and the onset of the
Rust Belt
in the 1970s and 80s
.

Robertson's closed in 1986 and remained unused until the
South Bend Heritage Foundation
redeveloped the building to house affordable apartments downtown for seniors 55 and older. The decline of Robertson's marked the
decline of South Bend's downtown
, as stores closed and relocated to the University Park Mall in Mishawaka, as well as to Scottsdale Mall, located on Ireland Road on South Bend's southeast side. Robertson's was the heart of the once dynamic downtown of South Bend. New groups are attempting to bring this sort of vibrancy to
Downtown South Bend
yet again.
Sources
Civil Rights Heritage Center. African American Landmark Tour. 2013. . https://www.iusb.edu/civil-rights/african-american-landmark-tour/Robertsons%20Department%20Store.php.